MENU WATCH
Surprise Service
We've rounded up brunch favorites that also serve dinner and evening hot spots that have under-the-radar a.m service to help you avoid the lines at Portland's popular restaurants.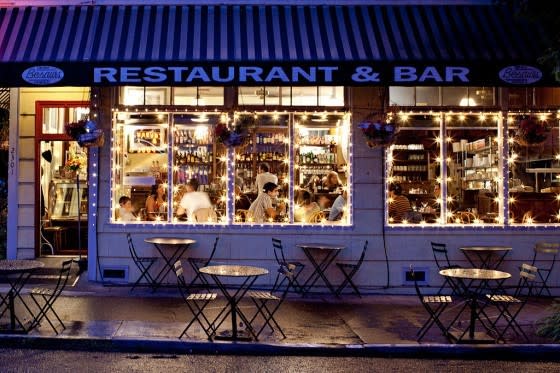 "I didn't know they were open for dinner!"
Besaw's 2301 NW Savier Street; 503-228-2619
A Northwest 23rd brunch institution, this cozy eatery dials up the romance when the sun goes down. Dinner service—offered Tuesday through Saturday until 10 pm—features candle-lit cafe tables perfect for quiet conversation (a far cry from the hustle-and-bustle of the morning rush) and a full menu of Northwest ingredient-driven dishes.
Eat Me: Starters include sweet potato skins topped with prosciutto, chives, and house-made truffle oil or the perfect-for-sharing Besaw's Board with cured meats, cheeses, fresh local fruit, olive chutney, local wild honey, and plenty of housemade bread. Fresh pasta boasts flavorful sausage and veggies from the kitchen garden, and must-try entrees like Columbia river salmon with beluga lentils and pickled fennel salad or a killer meatloaf drenched in pan gravy taste even better without the hour-long wait for your table.
Drink Me: Dinnertime drinks like the Blossom (with house-infused lavender gin, herbes de Provence vermouth, and Cointreau) or the Rhubarb Mojito (with rum, house-made rhubarb reduction, mint, and soda) are as seasonally inspired as the food.
Broder 2508 Southeast Clinton Street; 503-736-3333
Portland's most popular Swedish restaurant can be intimidatingly crowded—even on weekday mornings—but come dinner (served Wednesday through Saturday, 5 pm to close), you can enjoy the full breakfast menu and plenty of nighttime specials without worrying about the line of people waiting for your table.
Eat Me: A big bowl of Swedish meatballs drenched in savory gravy is the ultimate comfort food, and a perfectly-spiced lamb burger topped with chevre and house-made ketchup will surely hit the spot.
Drink Me: True to its Swedish inspiration, Broder boasts a fine selection of Aquavit and Genever cocktails, including the summertime favorite Norwegian Punch with Linie aquavit, brandy, orange juice, lemon, and lingonberry.
Slappy Cakes 4246 Southeast Belmont Street; 503-477-4805
This family-friendly DIY pancake spot is best known for its morning rush, when kids and adults alike are encouraged to express their inner culinary artistry with squeeze bottles of pancake batter, fun mix-ins, and a hot table-top griddle. But on Friday and Saturday nights from 5 to 10 pm, the space grows up, offering the enviable opportunity to dive into breakfast for dinner without the wait.
Eat Me: Dinner is the perfect time to explore the savory options of the pancake menu, so grab a bottle of buttermilk or whole-grain batter and load up on crispy bacon, cheddar cheese, shopped scallions, and roasted mushrooms. Nighttime at Slappy Cakes also features the made-to-order specials, like pork belly benedict, savory bread pudding, chicken tinga, chicken-fried bacon, and huevos rancheros. There are also plenty of vegan and gluten-free options.
Drink me: If you're going to go breakfast for dinner, go all the way with Slappy Cake's signature Bloody Mary.
"I didn't know they were open for brunch!"
Navarre 10 NE 28th Avenue; 503-232-3555
This tapas-inspired restaurant has a loyal evening following, but the cozy space is ultra-charming in the morning during the wait-less weekend brunch (Saturdays and Sundays starting at 9:30) when you can fill your table with savory and sweet breakfast dishes that showcase the kitchen's creative prowess. Dishes include French, Spanish, and Italian-inspired, seasonally-driven flavors with produce fresh from the farm.
Eat Me: Whatever you order, you must indulge in a large plate of bread. Yes, bread. The normally-marginalized ingredient is king at Navarre, in the form of thick slices of griddled wheat peasant bread served with a huge chink of good french butter and house-made preserves. Also try the savory gratin, crab cake benedict, and a hearty variety of salads and vegetable-powered sides.
Drink Me: Start off your morning with some bubbles—in the form of a well-made Mimosa or a bottle of Cava—and your weekend is well on its way to perfection.
¿Por Que No? 3524 N Mississippi Ave; 503-467-4149 or 4635 SE Hawthorne Blvd; 503-954-3138
A local favorite, this colorful taqueria blending Mexican flavors with fresh Northwest ingredients offers Saturdays and Sunday brunch from 11 am to 3 pm, dishing up latin-inspired dishes with a healthy, fresh twist. Show up at 11 on the dot to grab a table without the wait that will welcome you nearly every other hour of the day.
Eat Me: Chilaquiiles, eggs with chorizo and potatoes, Heuvos Mexicanos (eggs with beans, pico de gallo, and cheese), and pork belly and potato tacos.
Drink Me: Morning is the perfect time to try Por Que No's Aquas Frescas (fresh seasonal fruit juices) and horchata, though there's also a full list of cocktails to get the party started early.
Now it's your turn! Where are your not-so-secret spots for flipping the tables on am or pm dining? Share your tips in the comments, or give us a shout on Twitter at @PoMoFood.