MARKET EATS
Think Global, Eat Local
Opening day of the Lents International Farmers' Market is just around the corner, once again bringing together global flavors like bitter melon, amaranth leaves, pipicha, and huauzontle. Stop by to stock up your international pantry every Sunday, st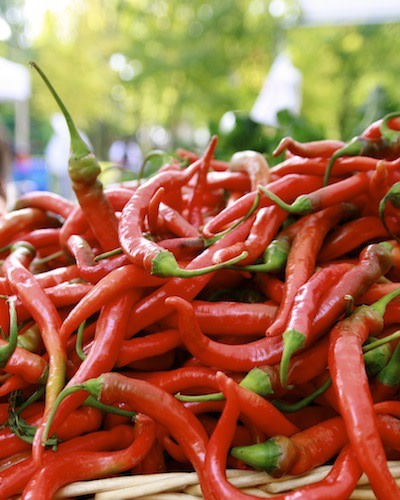 Stepping up to the stalls of Portland's only globally-focused farmers' market is a true adventure for novice cooks and seasoned chefs alike.
On Sunday, June 17th, from 11 am to 4 pm, Lents International Farmers Market kicks off their 2012 season with a celebration of the diverse East Portland community. Bringing together Hmong farmers and Mien gardeners offering hard-to-find Asian vegetables, Latino farmers growing over fifteen different varieties of chiles and an unbeatable selection of herbs, Russian vendors selling raw, unfiltered honey and pickling cucumbers, as well as hot Somali and Vietnamese food perfect for a satisfying lunch on the farm, Opening Day of this market is sure to be the most flavorful party in town.
Managed by Zenger Farm, the Lents International Farmers Market is a one-of-a-kind resource, offering profitable farm-direct sales opportunities to local immigrant and emerging farmers while providing access to fresh, healthy, and affordable food to residents in Lents and the surrounding neighborhoods of outer Southeast Portland.
Shoppers can look forward to filling their baskets with yardlong beans, snow pea tips, gai lan (Chinese broccoli), yu choy, amaranth leaves, chrysanthemum leaves, fresh garbanzo beans, huauzontle, papalo, pipicha, epazote, yerbabuena, Russian Bull's Heart tomatoes, sunflower seeds, Asian pears, kiwi berries, and plenty of fruit and vegetable starts for your own international garden. Market visitors will also find fresh baked goods, flowers, seafood, salsas, and hot prepared food that you won't find anywhere else in Portland, all to the tunes of live global music—think Russian bard singers, accordion and saw duos, and Latina trios—all day long.
Foodie Freebies: On opening day, the market's first one hundred customers will receive free seed packets, and all visitors will have a chance to win garden starts, market gear, and gift certificates in the season kick-off raffle. Raffle tickets are free for dads (it will be Father's Day, after all) and $1 for everyone else.
Visit the Zenger Farms website for more information about the market's vendors, matching program for SNAP/EBT dollars (formerly known as food stamps), and a one-of-a-kind "Community Table" where neighbors bring together their own garden harvest for sale.
The global market will run every Sunday through the end of October, so stop by throughout the summer and watch how our local bounty changes through the seasons.
Lents International Farmers Market Opening Day
Sunday, June 17th from 11 am to 4 pm
The northwest corner of SE 92nd and Foster Road