EAT HERE NOW
Weekday Breakfast at Otto
Southeast Hawthorne's mid-century hideaway began daily a.m. service this week, dishing up affordable made-to-order plates for the whole family.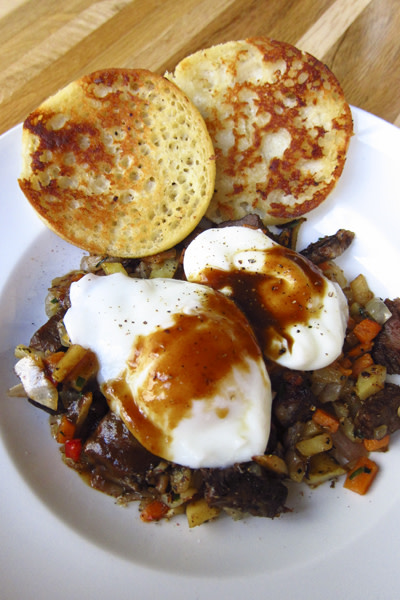 After over a year quietly dishing up some of the most comforting and creative dishes on the east side, chef/owners Francis and Kim Stanton of Otto on Southeast Hawthorne have opened their doors for daily breakfast, starting at 8 am.
With light pouring in through the windows (even on a cold and blustery June-uary morning) the cozy counter and booths beckon to hungry neighbors near and far, promising affordable and plentiful dishes that are sure to hit the spot.
The space, once home to the much-loved but short-lived restaurants Sel Gris and Fin, now mixes midwestern sensibility with mid-century modern design and the combination is perfect for a casual breakfast with the family. No wait bonus: with walk-up counter service and ample seating, there's little chance you'll have to stand around for a table.
The menu boasts dishes savory and sweet, with small plate selections—like beignets, zucchini fries, or spicy fried green bean salad—and a list of entrees that provides pretty much anything you'd want to eat in the morning.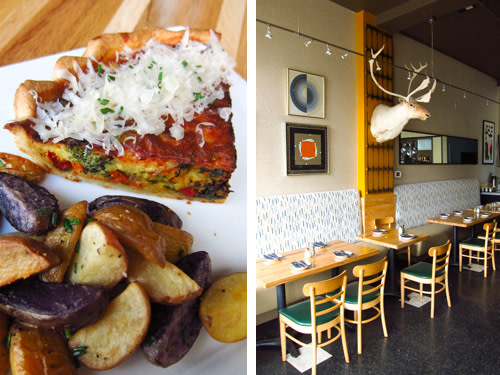 Hungry for hash? There's a veggie version that will surely satisfy, and the short rib hash is bursting with big pieces of savory, tender meat topped with poached eggs and a fresh-from-the-griddle housemade English muffin. Want a sandwich? There's a spicy lamb burger with olives and sun-dried tomatoes or a liverwurst sandwich with pickled red onion.
Given the excellent $6 quiche packed with spring veggies and nutty manchego cheese, $4 breakfast sandwich with pork belly, egg, and cheddar, and the big $5 breakfast burrito packed with scrambled eggs, potatoes, chiles, and cheddar, it'd be difficult to name another SE restaurant serving such delicious dishes at lower-than-food-cart prices.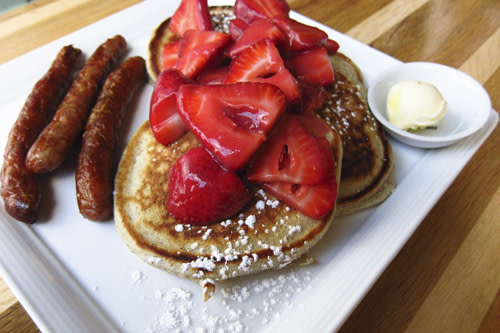 For those who wake up with a sweet tooth, try the strawberry and rhubarb buckwheat pancakes, served with real maple syrup and a hearty serving of sausage or bacon, or the $5 "Breakfast Polenta" with berries and vanilla honey Greek yogurt.
If weekday mornings aren't the best time for meals out in your world, Otto serves up many of these dishes during their weekday brunch, from 8 am to noon on Saturdays and Sundays. Stop in for a hearty plate, and bring the family—kids are treated like royalty. There's no official childrens menu, but the Stantons are happy to chat with the little ones and their entourage to see what they'd like to eat, then tailor a meal to their liking.
With that kind of service, those prices, and the lick-the-plate tastiness of most everyone on the menu, Otto is bound to be your new favorite breakfast joint, rain or shine.
Otto
1852 SE Hawthorne Blvd; 503-517-7770
Open seven days a week, 8 am to 10 pm