INTERVIEW
5 Questions for SE Wine Collective's Thomas and Kate Monroe
With a new urban winery in the works off of Southeast Division, these passionate winemakers are set to bring their community together around wine, one glass at a time.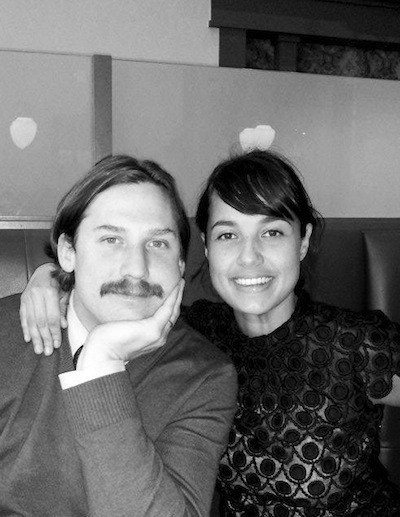 Thomas and Kate Monroe—along with their faithful dog Cass—can't wait to roll up the doors of their new urban winery and offer you a glass. The Southeast Wine Collective—set to open for crush in August and tasting in September—will bring together small-production winemakers in one of Portland's hottest neighborhoods in order to demystify the winemaking process and provide a place for new winemakers to hone their craft.
The 5000-square-foot space behind the new Cibo and Townshend's Tea—just off of SE Division—will house a full winemaking facility, lab, and glass-encased barrel room, as well as a 500-square-foot tasting room with indoor and outdoor seating. All the rooms will be divided by roll-up doors, allowing tasters a front-row view of the winemaking process.
I sat down with Thomas and Kate to chat about their decision to make wine within city limits, their desire to attract new wine lovers, and the future of the collective.
1. What spurred the idea for an urban winery in Portland?
Thomas: I first fell in love with wine in California, and we got married in Sonoma, but we had Oregon wine at the ceremony. We didn't realize it at the time, but everything started coming back to Oregon. When we moved to France, we were searching for an approach to wine that would be very "us." We're very much city people, so we didn't think setting up a life on a vineyard would be our style, so the urban winery evolved out of that.
Kate: For us, the purpose of having an urban winery is not only to be able to live in town, but also to welcome the entire community into the winemaking process from start to finish.
2. What are your goals for the space as far as creating an "incubator" for winemakers?
Thomas: We hope that the collective with be a nurturing ground for young winemakers—people who don't have access to a retail store or a full winery—to help them develop their winemaking ideas and give them an outlet to share their wines with the public.
Kate: There are so many wonderful wine brands in the valley, but there's so little actual production space. We were so fortunate that Methven Family Vineyards allowed us to use their space when we were just starting, but we've heard that more often than not it's hard for up-and-coming winemakers to find a little corner to make their own wine. In the future, we'd love to provide a space for people to actually learn about winemaking, to come in for classes about necessary paperwork, grape sourcing, and techniques. We'd love for home winemakers to bring in questions—that's one of the most exciting parts of being in a residential community.
3. How did you select the first winemakers to participate in the collective—Vincent Fritzsche of Vincent Wine Company, Scott and Dana Frank of Bow & Arrow Wines, and Anne Ebenretier Hubatch of Helioterra Wines—with your own Division Winemaking Company?
Thomas: We have been running in the same circles for a few years, seeing each other at tastings or events and at friends' houses, and we got to talking about this dream of an urban wine collective. It progressed very organically. Portland is a small town in many ways, so it was easy to gather a group with a similar natural winemaking philosophy. We couldn't do this without other people who are passionate about these ideas, and we're so lucky to have gathered the team we have now. As for the future, there's no pressure for winemakers to stay forever, but there's also no pressure to move on and make space…we want to make sure everyone does what's best for their brand.
4. KitchenCru—Portland's culinary incubator—provides marketing assistance for many of the members of the prep space. Will you be offering any to your member winemakers?
Kate: The number one marketing tool we'll be providing to our collective members is the tasting bar. For a small brand, having a retail tasting outlet is the number one way to get your wines into people's mouths—not social media or ads. All of the wines made in our facility will be available at the tasting bar, many on tap. There will be a cycle of what's available by the glass, to keep things interesting and show the natural progression of winemaking and release through the year.
Thomas: We're also talking about doing a house wine, something we all collaborate on, that would be available all the time.
5. How do you think the Southeast Wine Collective could play a role in attracting new wine lovers?
Kate: In order to increase the numbers of people who are drinking wine, we have to continue to approach people who are curious about it. If it's affordable and accessible to them—within walking distance of their homes—and if they're able to actually be a part of the winemaking process, we're just creating gateways for wine lovers. There's this idea that wine is stodgy and super expensive, and if you don't know about wine, it can be awkward to talk to people to learn more.
Thomas: I hope that us being young, and many of our winemakers being young, will help break that guard down a bit. We also want to bring in events and allow neighbors to use this new space in their community for whatever they want—even if they aren't already wine lovers. There's a lot of downtime in winemaking, so we have the space to have really fun and casual pop-up wine dinners with local chefs, bring-your-dog happy hours, and family-friendly activities that will attract a crowd that maybe never felt welcome at wine events before. That reminds me, we need a good bike rack.
Southeast Wine Collective
2425 SE 35th Place
503-887-8755