BEST OF PDX
Hot Summer Sips
Portland's top bartenders suggest this summer's must-have cocktails, including refreshing and fruit-centric spins on boozy classics along with brand new creations.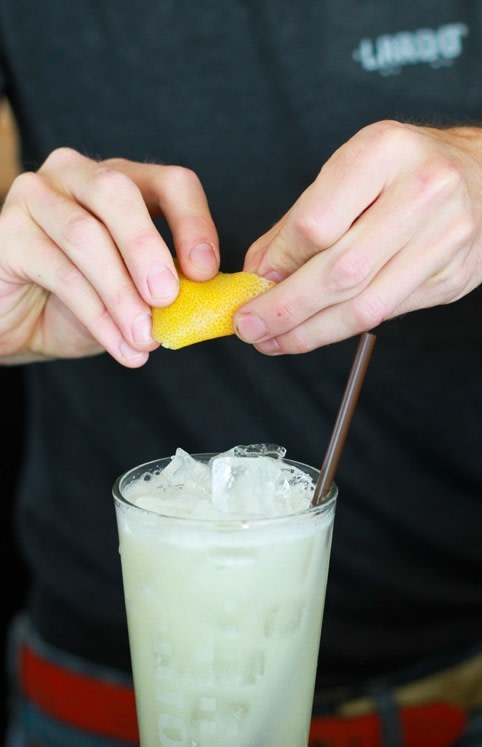 In search of the perfect summer cocktail? Leave it to the pros. Portland's favorite 'tenders know that these Northwest "summers" can leave a lot to be desired, so they've captured the sun in a series of drinks that will have you thinkin' hammocks and palm trees, rain or shine.
Riffle NW
333 NW 13th Ave; rifflenw.com
Shaker's Pick: Riffle's beverage director Dave Shenaut recommends the RNW Pimm's Cup spiked with watermelon, lemon, and cucumber. The perfect accompaniment to Riffle NW's inspired yet approachable seafood dishes, this cocktail will make you want to break out the sunscreen and hit the coast to find your own fresh catch.
Also Try: The Zip Tie (with Lillet Rosé, vodka, and apricot) or the Queen's Consent (with cava, rhubarb, and mint).
The Woodsman Tavern
4537 Southeast Division Str; woodsmantavern.com
Shaker's Pick: The Woodsman Tavern's beverage director Evan Zimmerman wants you drinking the Cafe Racer, with rum, lime juice, lemon verbena syrup, and a float of floral red wine. With this drink in hand, grab a table outside the tavern, order a big plate of iced oysters, and you're ready to go.
Also Try: The Saw Tooth, a spin on the scotch sour with watermelon (think blended scotch, lime juice, simple syrup and muddled watermelon). Summer in a glass.
Clyde Common
1014 SW Stark St; clydecommon.com
Shaker's Pick: Clyde barmaster Jeffrey Morgenthaler prescribes the Fool's Gold, an original collaboration between Morgenthaler and bartender Junior Ryan. The crisp cocktail combines Boca Loca cachaça, Lillet blanc, fresh lime, tarragon syrup, and Galliano.
Also Try: The Kingston Club (with Drambuie, pineapple, lime, Fernet, Angostura bitters, and orange peel) or the Second Base (with vodka, grapefruit, lime juice, Combier Pamplemousse, and Peychaud's bitters).
Teardrop Lounge
1015 NW Everett St; teardroplounge.com
Shaker's Pick: Teardrop bartender Art Tierce offers up Love in the Afternoon, with Rittenhouse Rye, fresh pluots, and lemon basil demerara soda topped with a basil leaf. The balance of the bright and fresh basil soda with the sweet and tart fruit will have you knocking back a few of these before you realized there's 100 proof Rye whiskey in the mix.
Also Try: The One.Ping.Only. punch (with Hendrick's gin, Viridian Farm strawberries, cre?me de cacao, lime, honey, Rodenbach Belgian ale, and Chartreuse).
Lardo
1212 SE Hawthorne Blvd; lardopdx.com
Shaker's Pick: The shakers over at Lardo, Portland's hottest outdoor dining spot this summer, recommend their spin on the Grapefruit Margarita (with Cazadores Anejo, house-made sour mix made from fresh-squeezed juice, and Gran Gala orange liqueur). Hot sandwich + cold drink on the rocks = your summertime menu.
Also Try: The Bicicletta (with Campari, Guild pinot blanc, soda water, and orange over ice) or a good old-fashioned Crater Lake root beer, fresh from the tap.
Where's your current summery cocktail crush? Tell us in the comments!