MENU WATCH
Animal Kingdom
The Country Cat's resident meat master Adam Sappington is unveiling a new "Animal of the Week" menu, complete with nose-to-tail dishes highlighting the region's best beef, pork, duck, and lamb.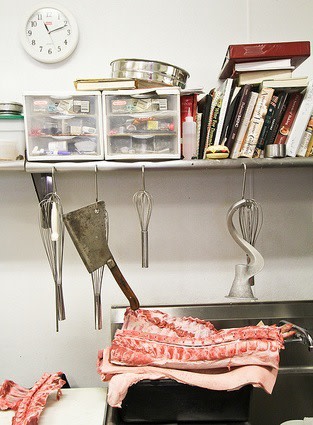 This just in from the man who helped make whole-hog cuisine a PDX staple: The Country Cat's Adam Sappington has announced the launch of a new weekly menu that's set to make the most of your meat eating.
Once a week at the Montavilla neighborhood establishment, Sappington will break down a whole animal, nose to tail, and map out seven days worth of "Animal of the Week" specials. The inventive dishes—including a la cart small plates and entrees—will encourage diners to sample every last bit of the region's sustainably-raised animals, from lamb belly to pork bones.
First up? Sappington shows lamb some love with four pasture-iffic choices, including lamb bacon-wrapped peaches with hazelnut brown butter ($7), Parmesan lamb meatballs with creamy orzo "risotto" ($13), grilled leg of lamb with a roasted mushroom lacy potato cake ($15), and a "Flintstone" lamb chop with tomato-braised green beans ($15).
When the lamb is gone, look forward to beef, pork, duck, and game dinners as the summer continues, courtesy of the reigning king of house-butchered meat.
The Country Cat Dinnerhouse & Bar
7937 SE Stark St; 503-408-1414