BREAKING FOOD NEWS
Camden Does Doughnuts
Local burger meister Micah Camden plans to debut artisan sweet treats in a downtown storefront.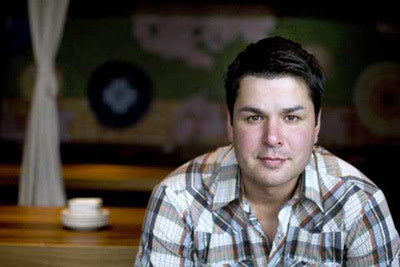 Irrepressible Portland entrepreneur Micah Camden, founder of the Little Big Burger mini-chain, is tackling another American food icon: doughnuts. Blue Star Donuts will take up shop this fall at the corner of SW Washington Street and 13th Avenue. Camden tells Eat Beat he just signed for the space, which sits next door to Chefstable's Corazon, which is still retooling.
American dining has seen the reinvention of staples that have been industrialized, commoditized, and degraded over the past 100 years. "The doughnut is the last frontier," says Camden. The welcome re-creation of bygone foodways has already resulted in nationwide proliferation of hand-crafted cheeses, breads, chocolates, beers, and burgers.
Camden figured it was time for doughnuts to join the local artisan roll call. Similar shops exist elsewhere, like Chicago's Doughnut Vault or New York's Dough and Doughnut Plant. Blue Star's model calls for scratch-made doughnuts made fresh throughout the day with organic flour, real butter, and natural flavors. "Most doughnuts are made with pre-packaged mixes," says Camden. He plans to fry raised and old-fashioned-style options in rice bran oil, touted for its relative healthfulness while costing "twice the price of standard frying oil." It's a small trade-off, he figures. Production will be in full view of passers-by through floor-to-ceiling windows that surround the space.
Camden says Blue Star will be under the watch of a "top-level California pastry chef" recruited from internet ads placed in New York, Chicago, Los Angeles, and San Francisco. Camden will identify the chef once notice has been served to their current employer. Camden is also in talks to integrate an established coffee vendor into the space.
Camden already has expansionist plans, with new locations already on the drawing board of his mind—but no spin-off commitments are in the works. Let's see what the first one yields. The opening is tentatively slated for late September. Stay tuned for details…or send your own.