FOOD AND DRINK EVENTS
Eat Beat Weekly Planner
Our digest of Portland's top upcoming food and drink events, including a crawfish boil at Bar Avignon and a Din Din Supper Club Champagne dinner with Ambonnay's David Speer.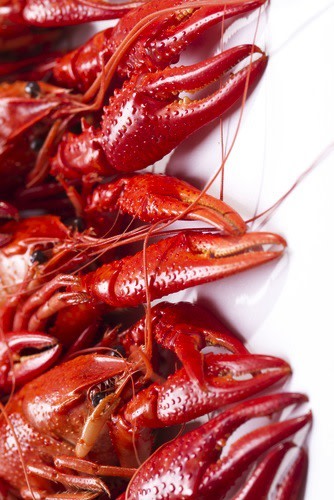 Bar Avignon Crawfish Boil
What: To celebrate summer, chef Eric Joppie is cooking up batch after batch of Lake Billy Chinook crawfish with andouille sausage, new potatoes, and corn along with classic sides like wedge salads, creamy slaw, and cheddar cornbread all night long.
When: Wednesday, July 18th starting at 5 pm, while supplies last.
Where: Bar Avignon 2138 Southeast Division Street
How Much: $17 for a one-pound platter of crawfish, sausage, potatoes, and corn. Sides $5-6.
Novo Fogo Bars on Fire at Rum Club
What: Happy hour cocktail prices featuring the bar stylings of guest 'tenders Tommy Klus of Kask and Art Tierce of Teardrop Lounge, hosted by Novo Fogo Cachaça. The night-long party will feature caipirinhas and a broad range of other cachaça cocktails, like Tommy Klus's Cherry Batida (with Silver Cachaça, Combier Roi René Rouge, lime juice, vanilla cane syrup, and mint) and Art Tierce's Jogo Bonito (with aged Cachaça, cream, Fernet, demerara syrup, Brazilian Coffee Bitters, and an egg).
When: Wednesday July 18th from 6 to 9 pm.
Where: Rum Club 720 SE Sandy Blvd
How Much: Happy hour prices on select cocktails.
Din Din Supper Club Champagne Dinner with David Speer
What: Ambonnay's David Speer joins forces with Din Din Supper Club's Courtney Sproule for a fun, eclectic, and delicious four-course Champagne dinner. Speer and Sproule aim to demonstrate that Champagne can hold up to a lot more than oysters, so expect the unexpected when it comes to pairings.
When: Friday, July 20th at 7 pm
Where: Red Slate Wine Company, 107 SE Washington Street
How Much: $120 per person, including 4 courses, Champagne pairings, and gratuity. Space is limited so call Ambonnay at 503-575-4861 to make reservations.
Whole Foods Market Best Butcher Contest
What: In partnership with FEAST Portland, Whole Foods Market butchers from across the West Coast will battle for the title of Best Butcher during a block party in the Pearl District. Meat lovers are invited to watch as competitors demonstrate butchery skills in fierce cutting and merchandising contests (the regional winner will earn a trip to the National Best Butcher Finals at Meatopia in New York City). The event will also feature lectures on cheese making and raising chickens, a beer garden and food tent, a variety of vendor booths and live music from local bands.
When: Saturday, July 21st from 11 am to 3 pm
Where: NW Couch Street in front of Whole Foods Market in the Pearl (1210 NW Couch Street)
How Much: Free! For more information and to reserve a free ticket, visit the Best Butcher website.
Pre-

IPNC

Austrian Wine Dinner at Gruner
What: Gruner wine director Greg Cantu will host Andreas Wickhoff of Premium Estates of Austria at an informative and festive six-course wine dinner at Gruner. The pairings will include top picks from Wickhoff's collection—a Pannobile, a select Pinot Noir, a Gemischter Satz, as well as a Grüner, Riesling, and Sparkler—alongside Austrian cuisine (think real Weiner Schnitzel and goat cheese ravioli with Viennese baked tomatoes).
When: Thursday, July 26th at 6 pm.
Where: Gruner's Glacier Room at 527 SW 12th Avenue
How Much: $150 per person, including food and wine. Call the restaurant at 503-241-7163 to reserve a seat.
White Burgundy vs. Oregon Chardonnay Tasting at Cork
What: With so many producers descending on the Portland area for IPNC this month to showcase all things Pinot Noir, the folks at Cork bottle shop can't resist putting on a little friendly competition of the other primary Burgundian grape, Chardonnay. This tasting will pit 3 examples from Burgundy against 3 examples from our own Willamette Valley.
When: Friday, July 27th from 4 to 7 pm
Where: Cork 2901 NE Alberta Street
How Much: $15 tasting fee, free for Cork Club members.
Townshend's Division Street Teahouse Grand Opening Celebration
What: Celebrate the opening of Portland's newest tea shop! During the day, 25% of sales will be donated to ECO (Ecology in Classrooms and Outdoors), a local non-profit organization that provides hands-on science enrichment programs to elementary schools throughout Oregon. There will also be a free tea tasting in the evening and giveaways throughout the day.
When: Friday, July 27th from 9 am to 10 pm. Free tea tasting from 6 to 8 pm.
Where: Townshend's Division Street Teahouse 3531 SE Division
How Much: Free tasting and prizes, tea prices during the day vary.
Know about a great event coming up that should be on our radar? Shoot me an email at [email protected] or give me a shout over on Twitter at @allisonejones. Now get out there and start eating!