NEIGHBORHOOD NEWS
Eat Beat's News to Chew
Top food news stories from around Portland, including openings of Jamison and Cibo, as well as a major chef shake-up at Tabla.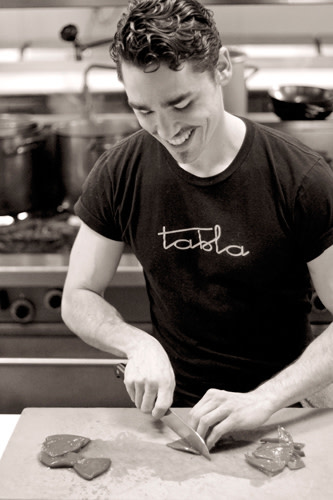 Northeast
NE 28th: This just in: Chef Anthony Cafiero has left Tabla Bistro, the Northeast 28th eatery he's helmed since 2009, effective immediately. In a statement released to Eat Beat, Cafiero stated: "I have started working on a modern tapas/cocktail bar concept, complete with floor plan, business plan, the whole thing. Leaving Tabla is a great opportunity to work with my chef friends, and explore kitchens and styles of restaurants around town. For now, I am taking the month off to explore this restaurant idea further, and look at spaces while I work with my friends in the industry. I am looking forward to my future in Portland, and all the opportunities this food city holds." Stay tuned here on Eat Beat for a full exit interview with Cafiero in the coming days. 200 NE 28th Ave
Southeast
SE Ankeny: Beginning next week, July 11th, dinner at Abby's Table—known for family-style gourmet four-course meals made without gluten, dairy, or soy—will be available 3 nights a week (Wednesday, Thursday and Friday). Make reservations on the Abby's Table website. 609 SE Ankeny
SE Division: Chef Marco Frattaroli's new Italian eatery Cibo is now officially open, serving oven-fired pizzas, gluten-free chickpea flatbread, seasonal entrees, and homemade gelato. Look for Opening Week photos here on Eat Beat this week. 3525 SE Division Street
SE Division: Portland's "non-traditional" banh mi shop Double Dragon chef/owner Rob Walls has announced new hours: Monday through Thursday, 11 am to 8 pm; Friday, 11 am to 9 pm; Saturday, noon to 9 pm; Sunday, noon to 8 pm. 1235 Southeast Division Street #101
SE Washington: Beaker & Flask has announced some summer news sure to make fans of the eatery very happy. The Tuesday Pig Roast will return for another year, kicking off Tuesday, July 3rd at 5 pm, while supplies last. In more happy news, Beaker's Happy Hour has returned! Chef Anthony Walton has developed a rotating menu of $5 food specials that will be paired with a $6 cocktail of the day and a few wine selections. Happy Hour will only be available at the bar, and will run from 5 to 7 pm, everyday. 727 Southeast Washington Street
Northwest
NW 11th: Christopher Handford and Blake Smith's jamison—in the former Fenouil space off of Jamison Square—is set to open Tuesday, July 3rd at 5 pm. The "new American" restaurant will kick off with dinner-only service, with lunch and brunch to follow soon. Chef Gavin Ledson has prepared a neighborhood-friendly menu of salads, flatbreads, sandwiches, plates, veggie sides, and more. 900 NW 11th Ave
The 'Burbs
Milwaukie: Pascal Sauton's Milwaukie Kitchen & Wine has announced new summer hours—8 am to 6 pm daily—and is now serving weekend brunch every Saturday and Sunday from 10 am to 2 pm. 10610 SE Main Street
Got a food news tip? Send it my way at [email protected]!