Beer Bulletin
Explore Your Craft
Widmer pairs artisan brews with gourmet eats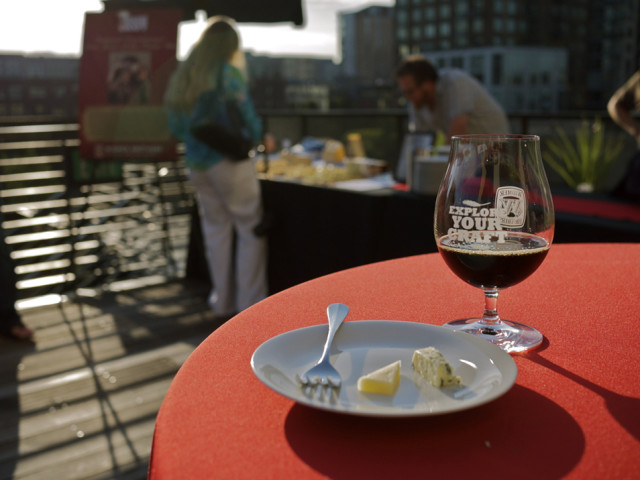 On Friday night, the city-hopping Explore Your Craft event brought an unlikely sight to a rooftop in the Pearl District, namely, a small but swanky beer festival. With smartly dressed attendees sipping Widmer brews accompanied by laidback pop songs as the sun set over the West Hills, one attendee remarked, "It feels like beer prom."
The soiree (presented by Draft magazine and Widmer Brothers Brewing, which provided all the beer) was a fairly high-concept happening loosely themed around the art of expression. Guests gathered on the rooftop patio of the EcoTrust Building to watch artist Samuel Robinette create a Widmer-themed painting, help craft a collaborative bottle-cap mosaic, nod appreciatively to music from the Sami Rouissi Band, witness a home-brewing demonstration, and, of course, taste a superb array of beer and food pairings.
Widmer livened up their familiar roster of draft beers with bottled selections from the limited-edition Brothers Reserve line. Both Steve Jones from Cheese Bar and Elias Cairo from Olympic Provisions were on hand to chat with guests about their well-stocked tables of artisan cheeses and cured meats, respectively, each recommended to pair with a different brew. Whole Foods caterers filled the remaining buffet tables, with dishes including ancho-rubbed buffalo sirloin, an arugula and goat cheese salad, orange-and-chili pork sliders, pimento cheese spread, and some truly addictive rosemary potato chips.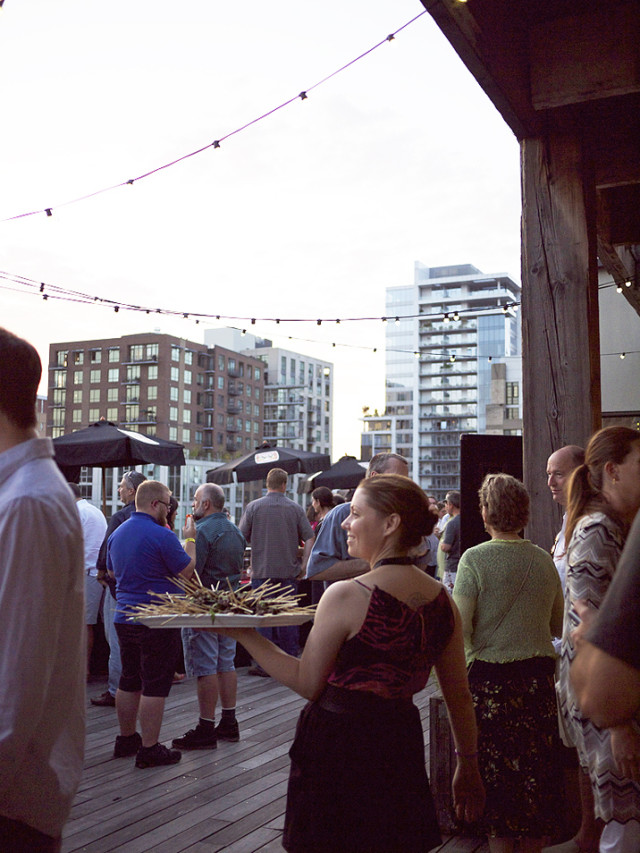 The most buzzed-about brew of the evening was undoubtedly the Kill Devil Brown Ale. Touched with molasses and conditioned in Puerto Rican rum barrels, this limited-release was fairly sweet but nicely balanced with notes of oak and licorice. The Kill Devil was beautifully complex, and made me question how well I really knew Widmer beers.
The Raspberry Russian Imperial Stout was another limited-edition highlight. When paired with the Rogue River Blue Cheese (a Best in Show award-winner from the American Cheese Society in 2011), the beer's deep-roasted malts and chocolate flavors made it taste full-bodied and rich; however, tasting the stout with a dark chocolate brownie with raspberry aspic made the previously subtle raspberry notes take center stage. Contrasting these pairings made the beer come alive in ways that traditional tastings usually miss.
At $45 a head, the event had no tasting tickets or punch cards: just a glass. The beer flowed freely from taps and special reserve bottles throughout the evening, and many guests went back for seconds of their favorite dishes. In Beervana's busiest month, Widmer has carved out a pleasant and uncrowded niche for itself. Keep this one on your calendar for next year.