FOOD AND DRINK EVENTS
Feast Portland Brings the Brunch (and new guest chefs!)
The folks behind Portland's upcoming international food and drink festival have just released additional lineup details, including a new brunch event and more food celeb attendees.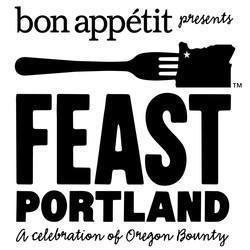 The list of big-ticket names on the docket for Feast Portland isn't done growing! Today, several new star chefs and events have been added to the festival lineup that's set to take over Portland September 20th through 23rd.
New to the Feast Portland culinary hall of fame are NYC's Marco Canora (Hearth Restaurant) and Riad Nasr (Minetta Tavern), Seattle's Ethan Stowell (Ethan Stowell Restaurants) and Molly Moon Neitzel (Molly Moon's Homemade Ice Cream), and Austin's Paul Qui (Uchiko), Ned and Jodi Elliott (Foreign & Domestic), and Philip Speer (Uchi). Walter Robb, CEO of Whole Foods Market, will also make an appearance.
The festival's Sunday itinerary will be anchored by the Feast Stumptown Brunch at the Woodsman Tavern, featuring a raw bar buffet, Stumptown coffee, and exclusive brunch dishes from chef Jason Barwikowski for $60 per person. Tickets are available for one of four seatings here.
In addition to the new brunch event, several exciting Director Park panels have also been announced, including Coffee That Rocks, Oregon Wine Pioneers, The World of Sake, Pork & Pinot Noir, Gin and Juice: Celebrating America's Cocktail Culture, and The Noble Grape: Oregon Chardonnay.
As previously reported, Feast will kick off on September 20th with Portland Monthly's Sandwich Invitational, featuring the sammy stylings of Bunk's Tommy Habetz and Nick Wood, Charm City Cake's Duff Goldman, Beast's Naomi Pomeroy, Imperial's Ben Bettinger, Ned Ludd's Jason French, Ethan Stowell, Riad Nasr, and many more. Get your tickets here.
Additional exclusive events include the two-day tastings in Pioneer Courthouse Square and Director's Park, Andy Ricker's international street food Night Market at Ecotrust, intimate pairing dinners, and a "High Comfort" event featuring upscale bites from local and national VIPs. For the full line-up, head to the Feast website. Festival proceeds benefit national childhood hunger relief organization Share Our Strength and local hunger-related charity Partners for a Hunger-Free Oregon.
Seriously, folks. You don't want to miss out on this game-changing weekend. Get your tickets here, and happy feasting.
Feast Portland
September 20th through 23rd
FeastPortland.com