OPENING NIGHT
Inside Jamison, Now Open in the Pearl
Christopher Handford and Blake Smith's new "industrial country" eatery celebrates their opening this week with sharable charcuterie, veggie-powered small plates, and artful entrees inspired by the family-friendly neighborhood around Jami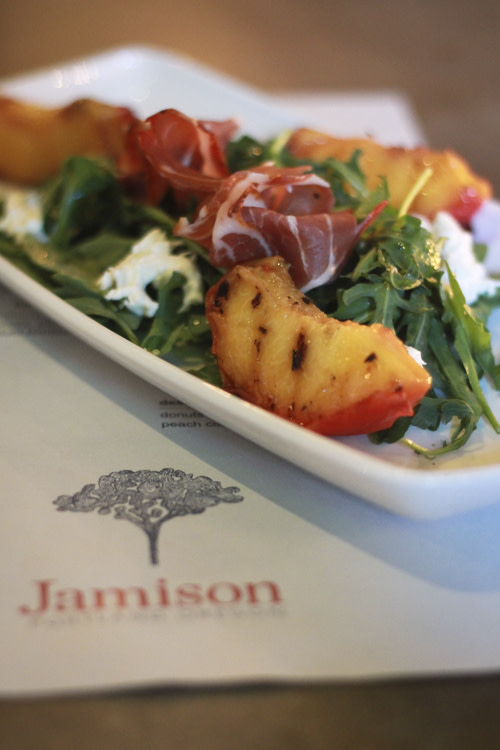 Set just off of popular family hang-out Jamison Square, the Pearl District's newest neighborhood eatery Jamison debuted this week to the soundtrack of children splashing in the nearby fountain under sunny skies.
When Christopher Handford and Blake Smith of Davis Street Tavern announced their takeover of the former Fenouil space, diners familiar with the building knew the partners had a big job ahead of them.
The storied modern space was dressed to the nines in its previous life, and the new owners have preserved much of the class while creating an entirely fresh identity for the lofty restaurant—by attempting to incorporate the neighborhood feeling exemplified by the park just outside their doors.
Key to the transformation of the restaurant was the use of thousands of square feet of reclaimed Oregon barn wood and vintage farm tools, living walls of lush green plants, and the kind of casual-chic menu that is bound to please just about everyone.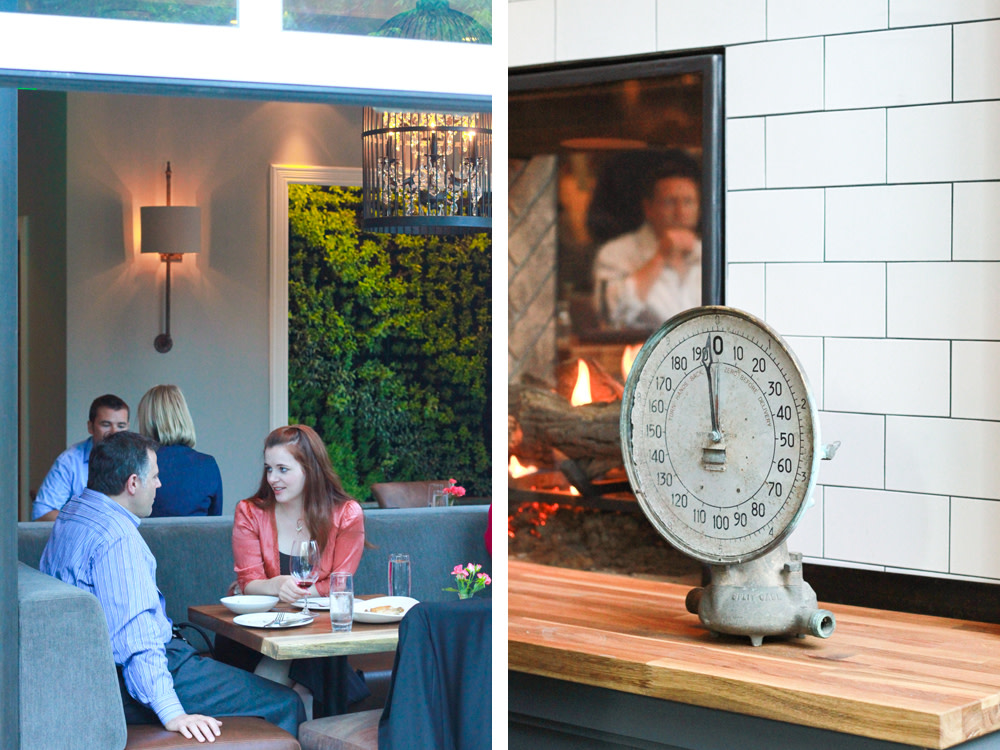 Chef Gavin Ledson's dinner menu is a sharable feast, including $3 mix-and-match charcuterie options (think country pork pate, speck, foie torchon, salumi, fruit preserves and plenty of pickles), perfectly composed $8 salads (like the gorgeously summery grilled peach salad with burrata, arugula, and spicy coppa pictures above), $11 wood-fired flatbreads, a twelve-item section of $7 vegetable plates (like green beans with ball onions and garlic confit, grilled artichokes with caper butter, and a crave-worthy Parmesan potato gratin), and a variety of small plates (featuring fried squash blossomes with tallegio and truffle-infused honey, charred octopus with tomato and orange, and a tuna tartare with yuzu and avocado).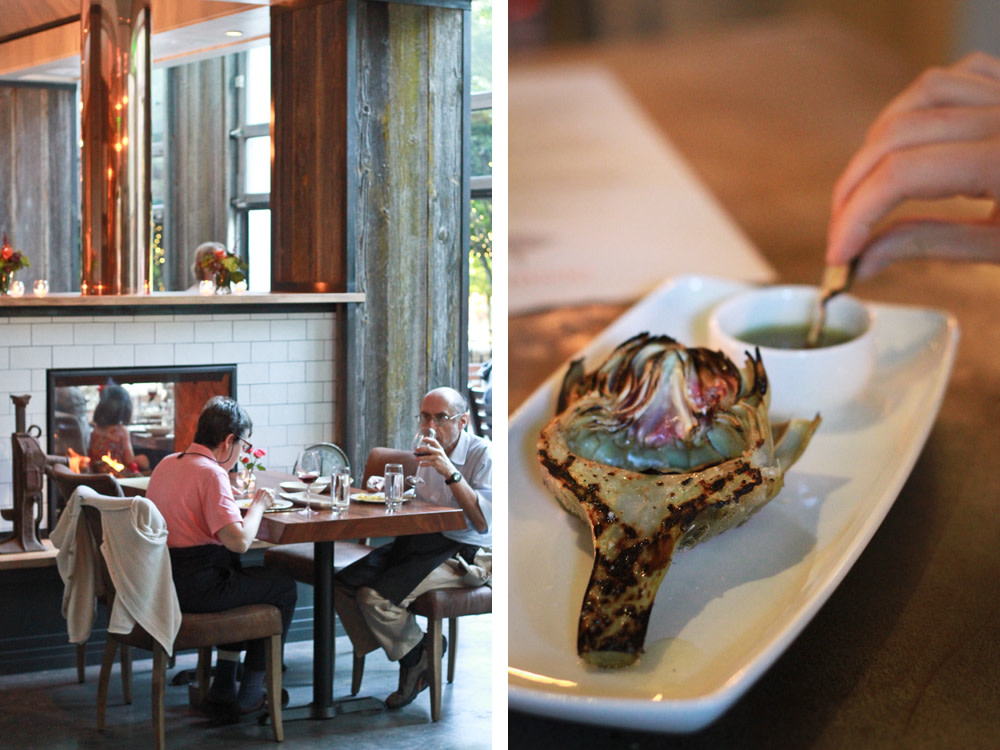 The menu also features a diverse selection of entrees, like a bone-in ribeye with chimichurri and onion rings, lamb chops with English peas, and roast chicken stuffed with ham and smoked blue cheese with a side of wild mushrooms. These plates range from $11 to $28, so there's plenty of options for diners on any budget.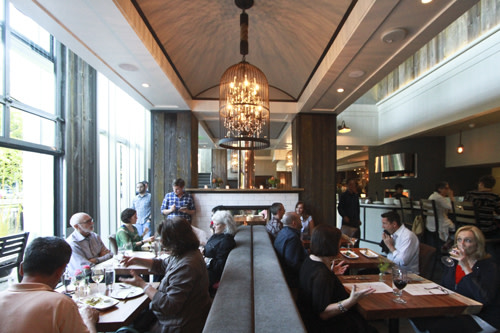 The light-filled split-level space has been divided into distinct dining areas, including a cozy bar with plenty of two-seat and communal tables, fire-side nooks, and booth-lined dining room. The upstairs mezzanine—with plenty of tables for large groups offering an amazing view of the tree-filled park—is expected to open within three weeks.
The communal bar table's chairs were made from reclaimed wine barrels (which, with a similar design featured at Marco Frattaroli's Cibo, is officially a thing). The restaurant's many bird-cage chandeliers give off a warm glow that makes the moss-flecked barn wood walls absolutely glow.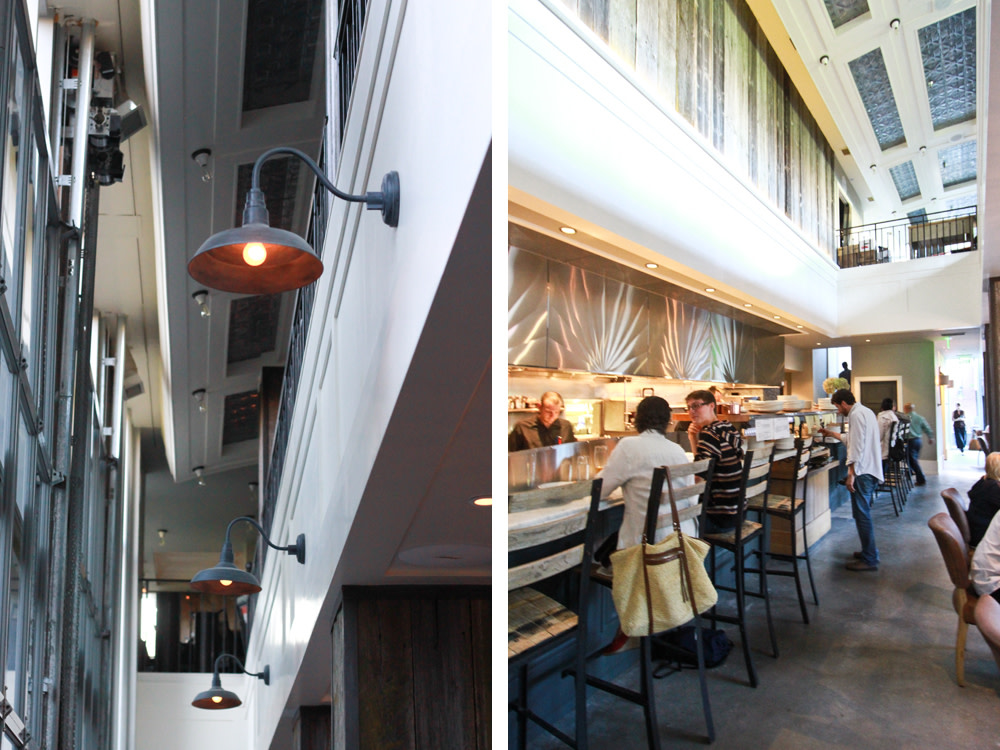 The 26-foot ceilings and walls of roll-up windows mean Jamison is always drenched in natural light, whether the weather is cooperating or not. At night, the space—from the plush booths to the chef's counter seats—is illuminated by "industrial country" lighting to set the mood.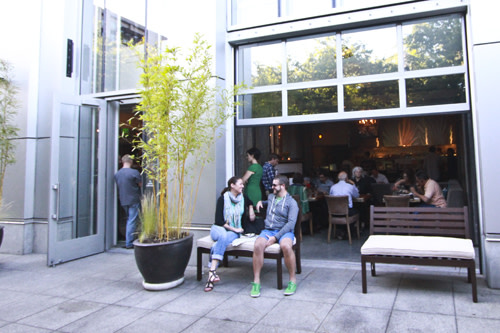 Jamison's outdoor patio furniture is expected to arrive within a week, along with the soon-to-debut lunch service, (which will be offered Tuesday through Sunday). Now that summer is officially here, the patio at Jamison will be a welcome addition to the outdoor dining options in the Pearl District—perfect for a great meal after a sunny day in the park.
Jamison
900 NW 11th Avenue; 503-228-8888
Follow Jamison on Facebook or on Twitter
Reservations available online