OPENING WEEK
Inside Marco Frattaroli's Cibo, Now Open
Southeast Division's neighborhood pizzeria Cibo debuted this week, featuring an eclectic design and traditional menu from the chef/owner of Portland Italian institution Bastas Trattoria.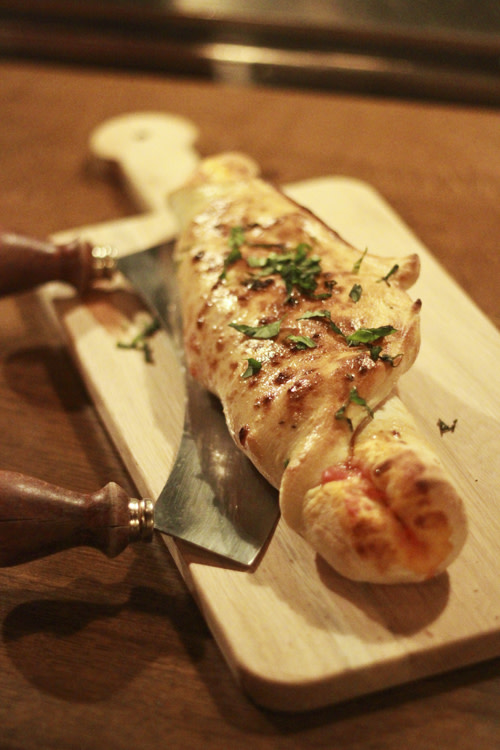 One of the most exciting things about Portland's vibrant food scene is the opportunity for seasoned chefs to explore new ideas in spinoff restaurants. These "second spots" are often more casual than their big siblings, billed as neighborhood eateries with a focus on friendly service and 21st century style. What's more, these new restaurants get to kick off with a clean slate, whereas established spots must wrestle with decades of adoring regulars who would throw a coup if their favorite dishes were nixed from the menu.
After over twenty years dishing up authentic regional Italian fare at his NW 21st Avenue Bastas Trattoria, chef Marco Frattaroli is ready for a fresh beginning at Cibo, which opened its doors on Southeast Division this week. With a focus on oven-fired pizzas, stromboli, and cecina along with a select few family-style entrees, Cibo (pronounced chee-bo; Italian for food) is the quintessential second spot—a place for experimentation, casual fare, and friendly service decked out in decor that's decidedly 2012.
While Bastas' architecture and decor is rooted in Portland history—the restaurant occupies a former Tastee-Freeze from the Alphabet District's less glamorous days—the brand new mixed-use building that houses Cibo was a blank canvas for Frattaroli's creative impulses. The seasoned chef designed the 2000-square-foot space from the ground up, from the thirty bar stools made from wine barrels to the wooden-beamed walls featuring photos Frattaroli himself shot in Italy during the 1960s.
The minimalist menu is also a labor of love, featuring fresh seasonal salads, house made charcuterie, hand-tossed pizzas and whole fish baked quickly in the ultra-hot, hand-painted Ligurian oven, bar snacks like arancini and fried artichoke hearts, pared-down pasta selections, and fresh gelato to round out the meal. Since the restaurant is anchored around the bar, drinks are also a focus, with seven local beers on tap, craft cocktails shaken to order, and a well-curated European and local wine program from Will Prouty of neighboring Division Wines.
Cibo's every detail has been lovingly planned and executed, reflecting Frattoroli's comfort at the helm of an established restaurant as well as that punchy degree of irreverence that comes with a second eatery. Let's hope that in another twenty years he'll be battling the next round of seasoned regulars—because it certainly inspired him to keep things fresh.
For now, enjoy some shots from Opening Night, and stop in soon to try the hot-from-the oven treats from Cibo, at 3525 SE Division Street. Cin Cin!