OPENING WEEK
Inside What's the Scoop? Ice Cream Shop
Eat Beat's got the photos and first bites from What's the Scoop?'s ice cream epicenter on North Williams Avenue, now open.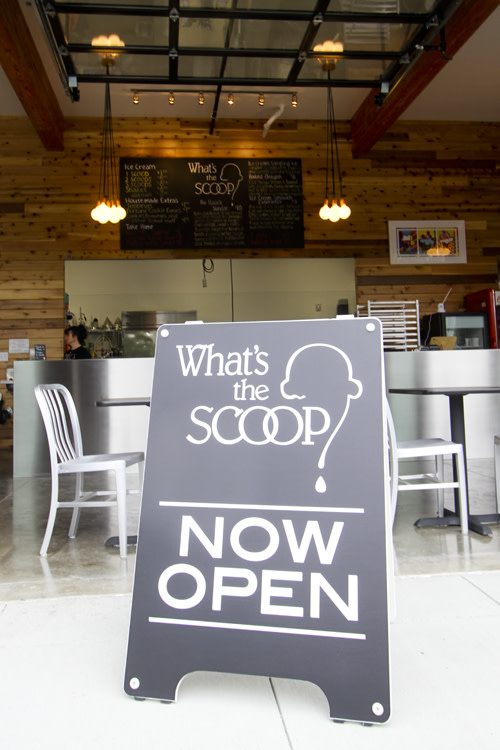 After over a year of satisfying wholesale and pop-up customers with their signature liquid nitrogen ice cream, Jodie and Brian Ostrovsky's What's the Scoop? now has a permanent home on North Williams.
The new scoop shop—decked with a combination of sleek modern metal and rustic wood—opened this weekend at 3540 North Williams Avenue, offering a dozen creative ice cream flavors, from-scratch toppings and sauces, and plenty of space to relax and enjoy the view of bikes zooming by the busy street.
What's the Scoop? ice cream combines time-honored flavors with 21st century technology, and the shop's interior was designed to showcase the high-tech process with an extra helping of old-school service. The open kitchen gives customers a front-row view of the ice cream making—complete with large tanks of liquid nitrogen and the giant mixer where the magic happens—while smiling scoopers help guests navigate the difficult choice of picking a flavor.
While Portlanders have been known to wait upwards of an hour in a snaking line for a scoop of ice cream, the folks behind What's the Scoop? have implemented a deli-style take-a-number system and completely separate tasting station to avoid the line-out-the-door phenomenon. Thanks to the separate sampling and scooping stations, you won't have to feel guilt about taking tiny tastes of every flavor while your fellow ice cream lovers stare you down. Take it from this indecisive ice cream lover, that's a welcome innovation.
What's the Scoop?
3540 North Williams Avenue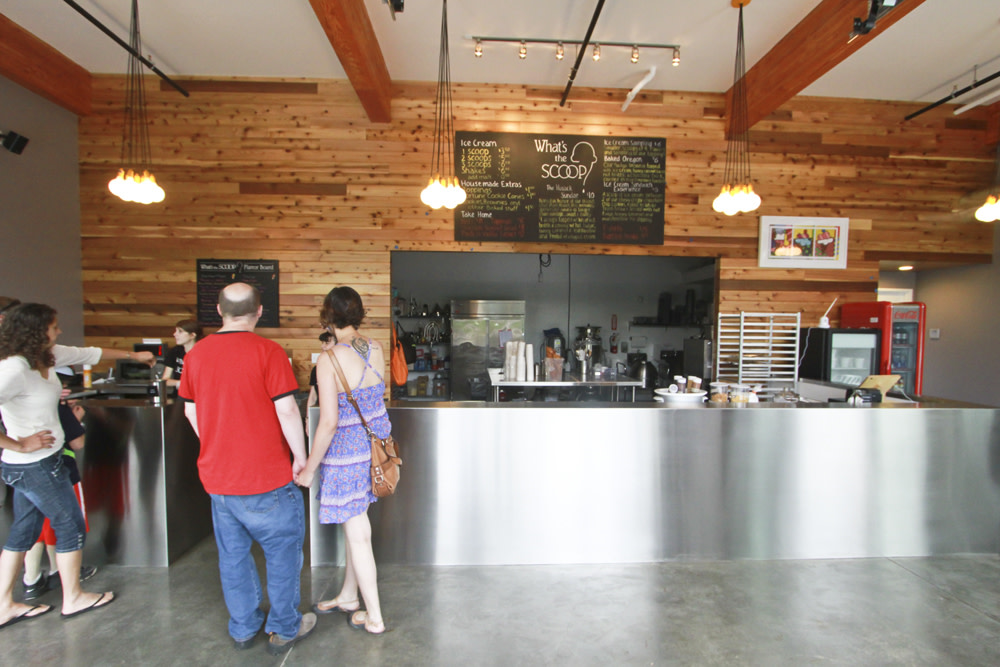 The scoop shop's stainless steel counters, concrete floors, roll-up garage doors, open kitchen, and rustic wood beams are a mash-up of modern Portland restaurant decor, allowing the space to fit right in with the rest of North Williams' trendy eateries and shops.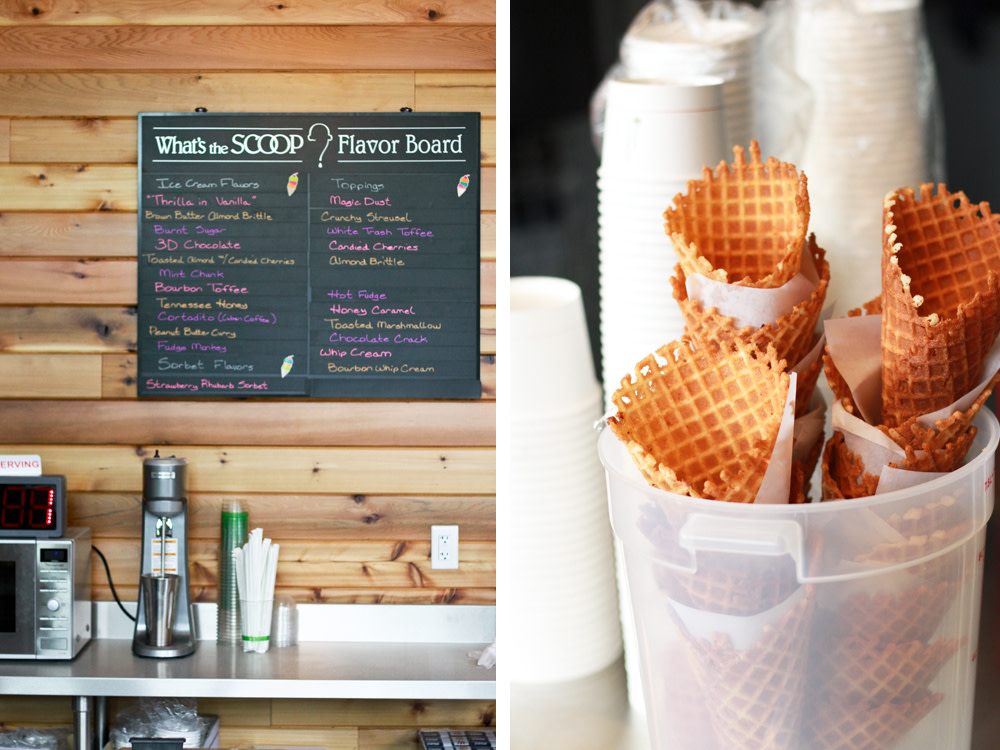 Owners Jodie and Brian Ostrovsky revealed several new flavors for the shop's opening, including Peanut Butter Curry (all natural peanut butter and golden curry), Toasted Almond with Candied Cherries (nutty almond ice cream with house-candied cherries and chopped almonds), Cortadito (Cuban coffee flavored ice cream with a hint of caramel), and Bourbon Toffee (Maker's Mark Bourbon ice cream with White Trash Toffee made from saltine crackers).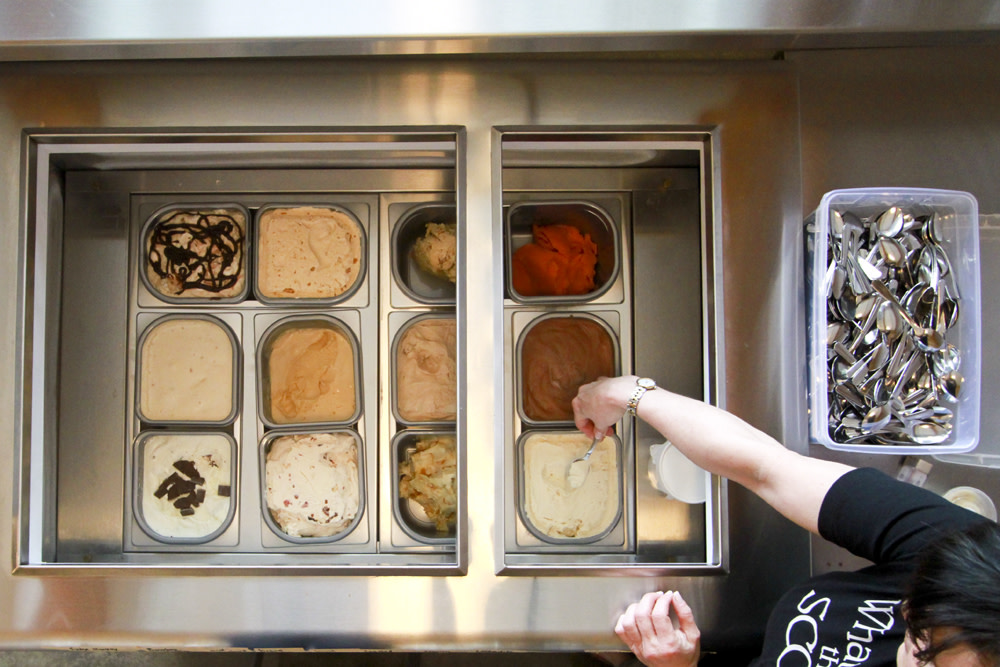 Guests are welcome to step up to the sampling counter to try a spoonful of any and all of the inventive ice cream flavors and toppings, then choose between cups, cones, shakes, ice cream sandwiches, or a signature sundae.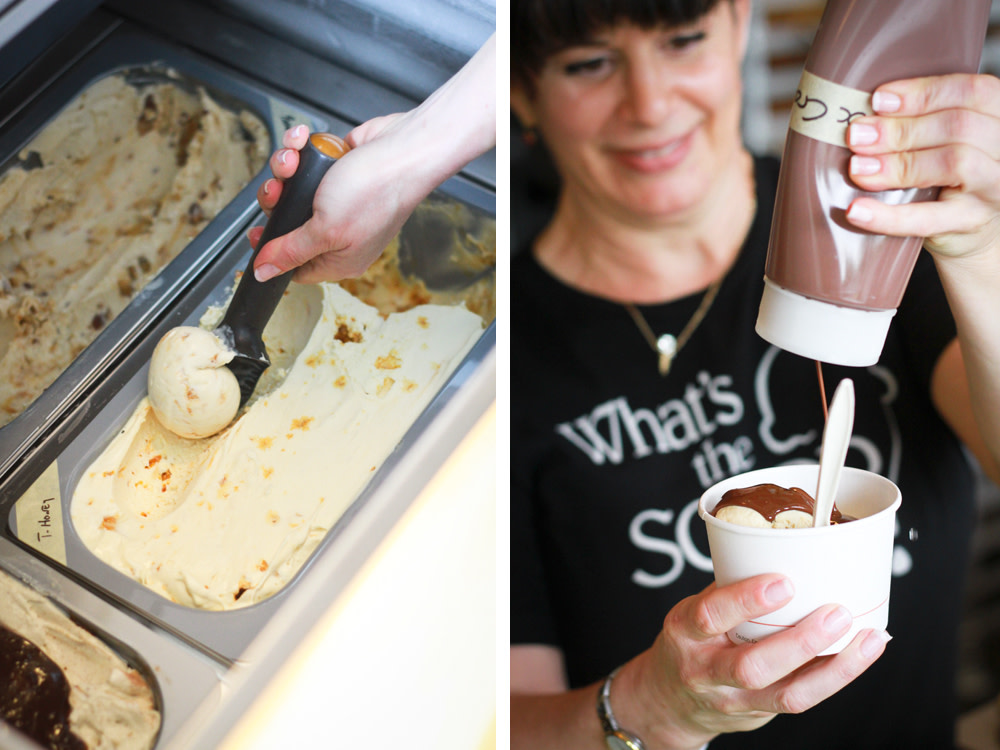 The housemade "Magic Crack" topping is made with raw coconut oil that solidifies on contact with the frozen treats, for an old-school chocolate shell topping. Guests can also top their scoops with hot fudge, honey caramel, or bourbon-infused whipped cream.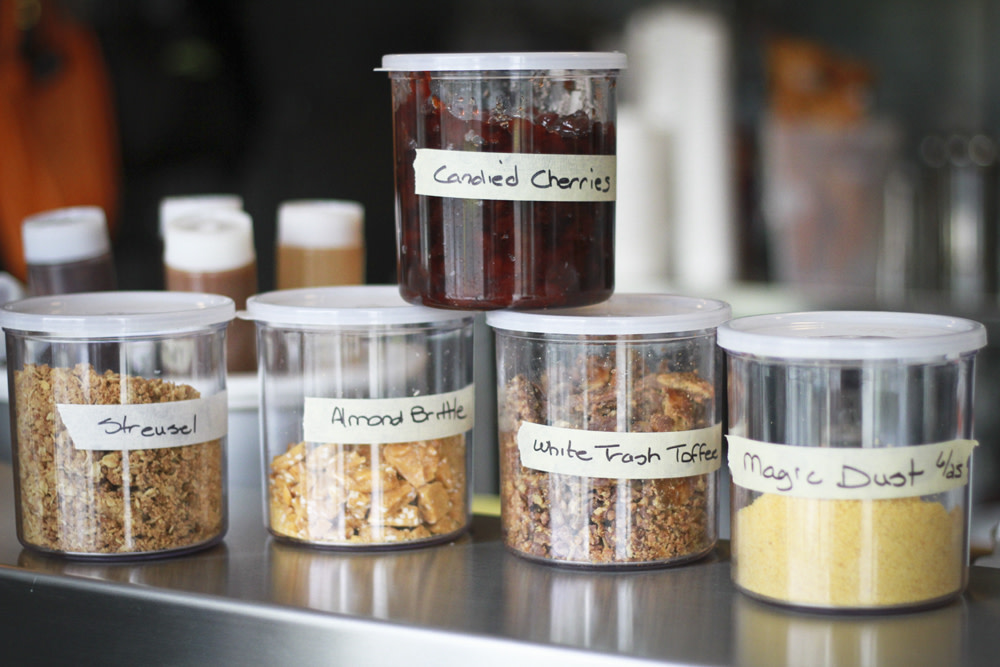 All toppings and sauces—like crunchy struesel, white trash toffee, candied cherries, almond brittle, and and "magic dust"—are made fresh in the What's the Scoop? kitchen, and many are available for sale to take home.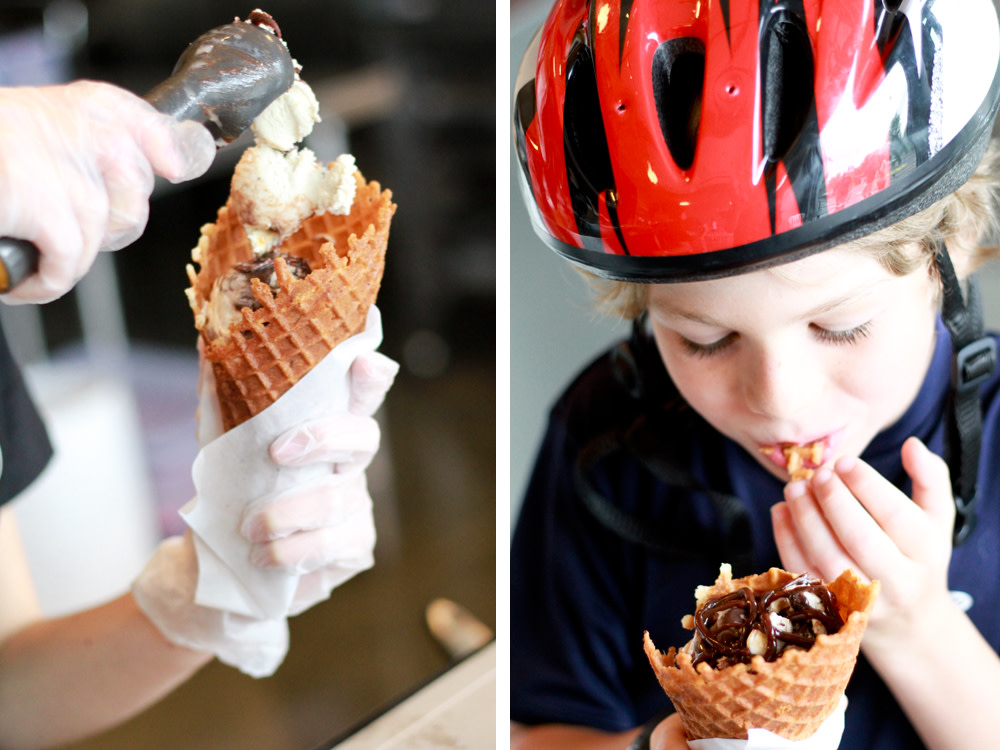 All flavors are available in a freshly made fortune cookie batter ice cream cone, the perfect container for two scoops topped with hot fudge.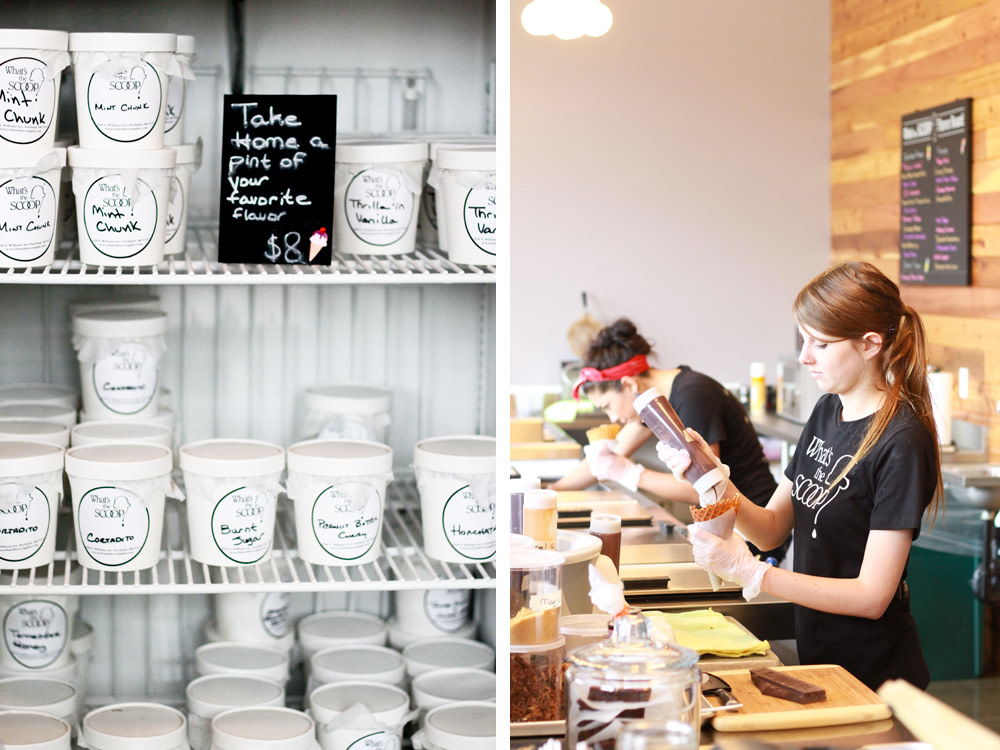 Ice cream pints are available to-go for $8, so you can take to extra-creamy liquid nitrogen to dinner parties (or stock up for late-night snack attacks).