Market Watch
It's Summer; Are You Grilling – Again?
This time of year, it's hard to go inside. But sometimes the grilling routine needs some freshening up.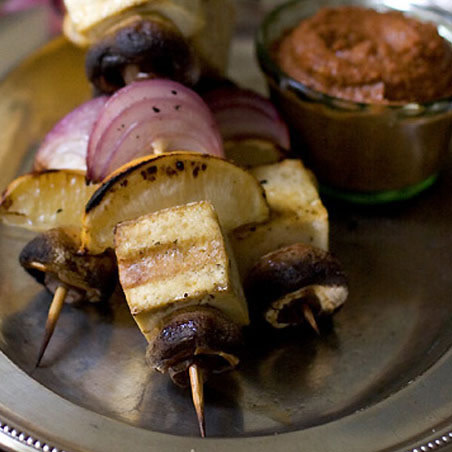 It's Portland. It's summer. It's beautiful outside. And it's time for dinner. So, you ask, what are we going to make? Are we grilling, again? Well, yes. We can't bring ourselves to be inside for long! But that doesn't mean we have to do the same ol' same ol' every single day.
Grilling can mean more than the usual burgers, chicken, salmon or veggies-on-a-stick. And when we throw on an exotic sauce to an unusual array of kabob-ed items, it can be downright different – and delicious.
The always inspiring veggie cooking maven Heidi Swanson's recipe for Muhammara-Slathered Kabobs is an easy and much appreciated detour from the normal route to a grilled outdoor dinner. In her book Super Natural Cooking, she shares with us the secrets for making the robust, spicy yet sweet Middle Eastern red pepper and walnut spread, plus the simple onion, mushroom, tofu and lemon combo to skewer and serve with it. (The recipe is also on her 101 Cookbooks website).
Swanson's instructions include prep steps which can be ignored and replaced with store-bought if you like: pick up a jar of roasted red peppers if you don't want to roast your own; the breadcrumbs need not be homemade either. (The toasted walnuts are too easy not to do yourself, and not likely to be found pre-toasted at the store.)
Makes 6 kabobs
For the Muhammara Spread:
1 tablespoon crushed red pepper flakes or 1 small red chile
1/2 teaspoon ground cumin
3/4 cup walnuts, toasted
1/4 cup whole-grain bread crumbs 
1/4 cup extra-virgin olive oil
2 tablespoons pomegranate molasses
1/4 cup tomato paste
2 to 3 roasted red peppers
1/2 to 1 cup warm water
1/2 teaspoon fine-grain sea salt
For the Kabobs:
2 red onions, each cut into 6 wedges
3 lemons, each cut into 4 lengthwise wedges
12 ounces extra-firm tofu, cut into 12 equal-sized cubes
12 mushrooms
extra-virgin olive oil, for brushing
fine-grain sea salt
Special equipment: 6 wooden skewers
Prepare a medium-hot grill; if the temperature is right, you should be able to hold your hand a few inches above the grate for 4 or 5 seconds.
In the meantime, make the muhammara. Using a hand blender (preferably) or a conventional blender, puree the chile flakes, cumin, walnuts, bread crumbs, olive oil, pomegranate molasses, tomato paste, and red peppers to a smooth, even consistency. Mix in the warm water in increments to achieve an easily spreadable consistency similar to a thick yogurt. If you're going to use it for dipping, you might want to leave it a bit thicker. Stir in the salt and adjust the seasonings if needed.
(Note: Swanson writes, "When constructing kabobs, I don't bother soaking wood skewers in water. I just load them up with food from tip to tip, which seems to solve any problems with the wood igniting." Smart lady.)
Onto 6 medium-length skewers, thread an onion wedge, a lemon wedge, a cube of tofu, and a mushroom, then repeat. Brush each kabob generously with olive oil and season with salt. Put the kabobs on the grill and cover. Cook, rotating regularly and brushing with olive oil every few minutes, until the onions are tender, about 12 minutes altogether.
To serve, slather with the muhammara, slide off the skewers, and squeeze the juice from the roasted lemons over everything.
So, go on and grill again – and enjoy the weather while we have it!