Beer Bulletin
July On Tap
Craft beer month is here—and how!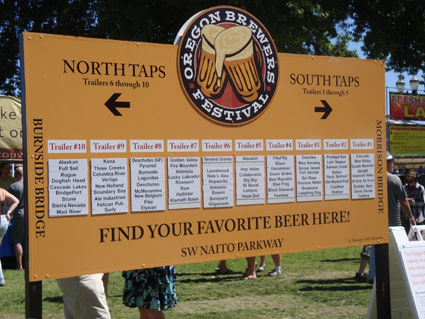 Oregon Craft Beer Month is officially in full swing, so in honor of our city's most beloved industry, brewers, beer barons, and thirsty citizens have assembled a staggering calendar of quaffing events. If this list appears overwhelming, it's simply a sign that your training regimen needs to be doubled. Feel free to imagine critical Portland Monthly writers standing behind you saying, "You call that drinking?" all month long. Portland, this is our time to shine.
Puckerfest 6 – July 13-19
We often hear Portlanders described as wild and a little funky, so it's only natural that we would want beers to match. Challenge your gutsiest beer-drinking comrades to the rotating assortment of 12-14 sour beers on tap daily at Belmont Station. Flat Tail Brewing out of Corvallis will kick off the event with the sourly delicious Skookumchuck Wild Ale and will later be joined by Block 15's matured Golden Canary and the rare New Belgium's Blackberry Whiskey Sour (to name but a few). Need a quick break from the not-so-subtle "slightly funky" or "motherpucking sour" brews? Listen to inspiring stories from everyday heroes during "Meet the Brewers" nights. The festival opens Friday, July 13 and is a cash-only event with an ATM on site.
Portland International Beerfest – July 20-22
While it's child's play to form a dependency to Portland's myriad craft beers, challenge your taste buds to some worldlier hops at the Portland International Brewfest. Specializing in rare and exotic beers, the good people of Beervana are bound to be pleased with these powerful pours. About 16 countries will be represented with an awe-inspiring selection of 150 handpicked beers, including Barley Wines, Imperial Stouts, Double IPA's, Barrel Aged Strong Ales, funky Farmhouse Saisons, and Sour Ales. Prost! Na zdraví! Skál! Cheers! (Sorry kiddies, that's all we know).
Le Tour de Belgian Biers – July 21
Beer traditions in Belgium date back to the age of the first crusades, and with big supporters in the Catholic Church, the Belgians have been perfecting their "dark and sweet" brews with a religious fervor ever since. Thus, it is not surprising that ale-lovin' Portlanders have jumped aboard the Belgian beer bandwagon—literally. Le Tour de Belgian Beers, in collaboration with Bazi Bierbrasserie and Brewvana Bus Tour, celebrates Belgium's Independence Day with a guided tour that provides exclusive access to prized Belgian varieties at Apex, Bazi Bierbrasserie, Beer Mongers, Belmont Station, and more. A wristband enables you unlimited hop on/hop off bus action, discounted Belgische bie, and VIP access to the International Beerfest in NW. We may not all be Belgian, but we can definitely pretend to be cultured and cool by sipping on their most noteworthy pours.
Third Annual IIPA Fest – July 21-22
Do you ever feel that the subtle nuances found in our favorite IPAs could stand to be kicked up a notch? Well, the craft beer enthusiasts at Saraveza could not agree more and to mark their devotion, they begat the Imperial IPA Fest. In classic Super Mario power-up style, the bar has been raised and mild-mannered IPAs will never be the same. Among the featured brews can be found excellent ales such as Hop Valley's "Infinite Hoppiness," Block 15's "Block Head," Deschutes' "Jedeye," and Amnesia's "Dopeacetic." We should also mention that the folks from Saravezo didn't stop at beer and will also be serving BBLTs. That's right, double the "b's" means double the bacon.
Oregon Brewers Festival – July 26-29
Ahh, the quintessential mixture of alcohol and 70,000 people—July would not be near as jolly without it. Work up a thirst with your beer-sipping companions on the annual pilgrimage to the Tom McCall Waterfront Park for one of the world's most popular beer festivals. Per usual, over 80 craft beers will be featured, so you are bound to find a new favorite or two—or twelve. And don't forget to head to Belmont Station for Fringe Fest on July 28, to taste Oregon brews that are not represented at the OBF, including drafts from Brewers Local 180, The Commons Brewery, and Heater Allen.
Bailey's Taproom Fifth Anniversary Celebration – July 30–August 5
It is difficult for us to remember a time when Bailey's Taproom was not serving the thirsty residents of Portland with their expertly curated rotating roster of beers. And yet, on the birthday of this gracefully aging watering hole, Bailey's still only thinks of its patrons by throwing a celebration where we benefit the most. Serving five new beers each day of the week from five variations of Great Divide's Yeti to five years of Sierra Nevada's Bigfoot to five rare Oakshire beers, the anticipation only rises for the weekend main event of the Barrel-Aged Beer Fest and VIP After Party on August 3-4.