OPENING WEEK
Pig Out: A Look Inside Lardo
Rick Gencarelli's highly-anticipated sandwich shop has opened on Southeast Hawthorne, and we're taking you inside the bright, pig-powered spot.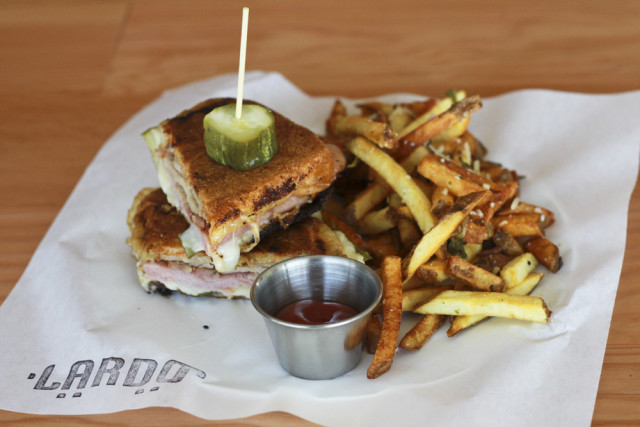 Praise the Lard: As first reported here on Eat Beat, pork master Rick Gencarelli of Lardo has moved from popular food cart pod Good Food Here to a brick-and-mortar location on the highly visible corner across the street from Cartopia.
In the light-filled space most recently home to Johnny B's Diner, the team at Lardo is dishing up a slew of sandwiches, house cocktails, and a top-notch draft beer program to neighborhood regulars and destination diners alike.
The larger space (as in, larger than Lardo's previous 50 square feet) means Gencarelli has plenty of room to expand his menu offerings. In addition to the full gauntlet of his crave-worthy sandwiches—the Porchetta with gremolata and caper mayo, the Double Burger with pork belly and cheddar, lardo sauce, the Pork Meatball Banh Mi, and the Smoked Coppa Cubano just to name a few—the new Lardo features french fries fried in rendered fatback, grilled rapini, a seasonal Farmers Salad and escarole caesar, six food-friendly cocktails, and $5 pints of fourteen (yes, fourteen) microbrews on tap.
Within a few days, Gencarelli will be joined by phenom Portland pastry chef Kir Jensen's dessert cart Sugar Cube, balancing Lardo's savory concoctions with sweets spiked with a bit of cheeky irreverence. Word on the street is that Jensen will also serve as a short-order scoop shop featuring Salt & Straw ice cream, making the corner of Southeast Hawthorne and 12th a one-stop shop for 2012 PDX must-eats.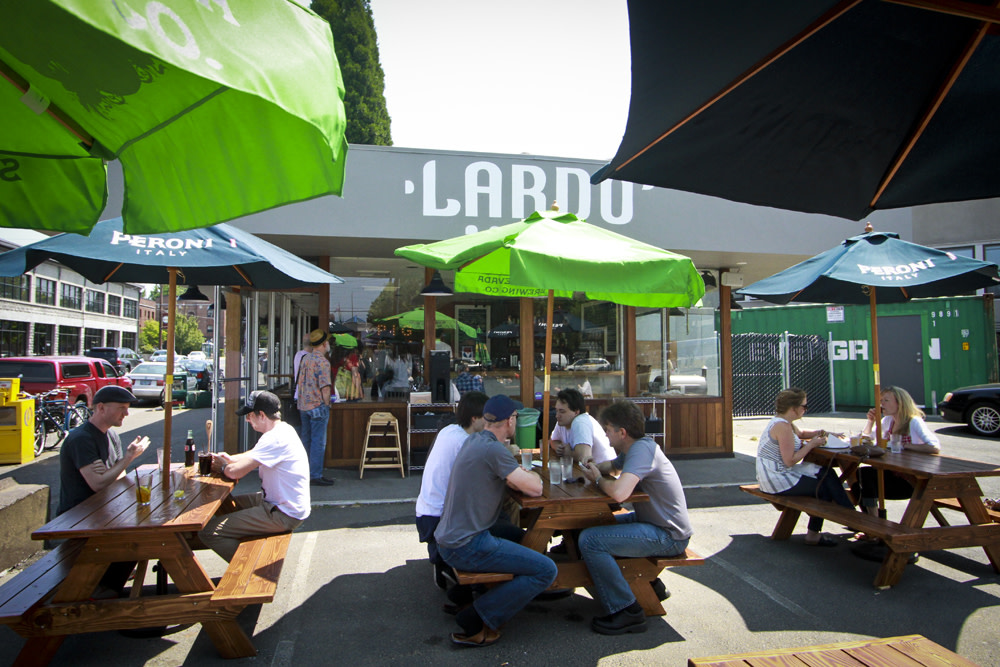 The food-cart-meets-beer-garden-meets-sandwich-shop concept is backed by ubiquitous restaurant mastermind Kurt Huffman of ChefStable, complete with outdoor patio in the former Johnny B's parking lot with enough tables to seat 100 hungry Porklanders.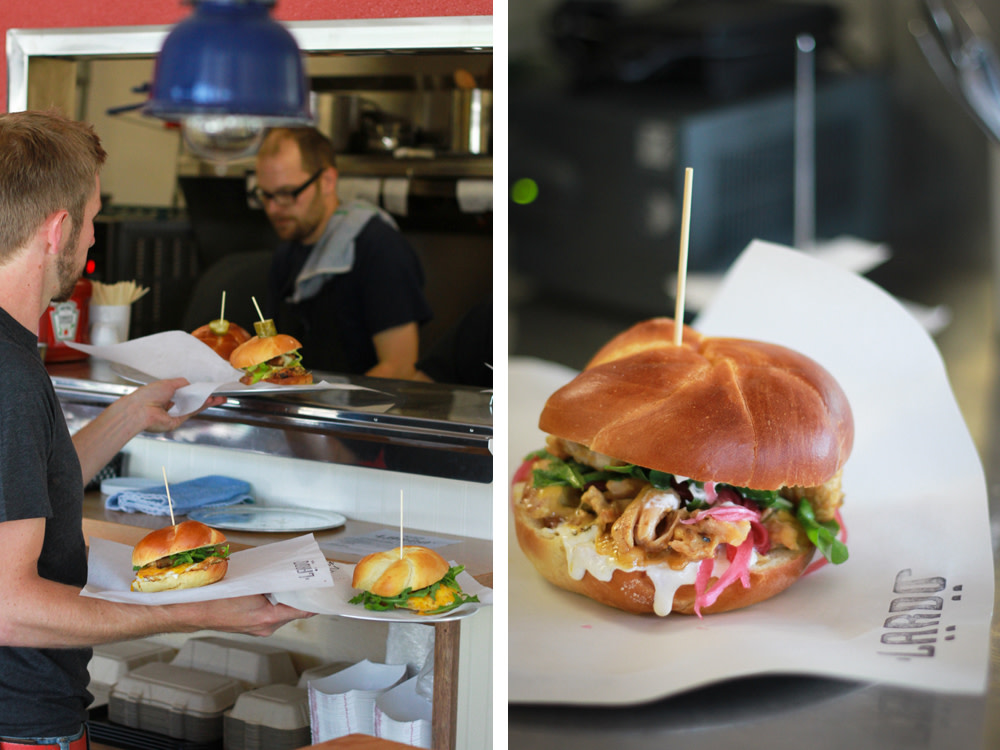 It's not all pork in these parts… the expanded Lardo menu also features a smoked chicken sandwich with crispy chicken skin, pickled red onion, horseradish, and arugula (pictured above), an Italian Tuna Melt with provolone, Mama Lil's peppers, and shaved fennel, and a Chickpea sandwich with yogurt sauce, cucumber, and pickled red onion.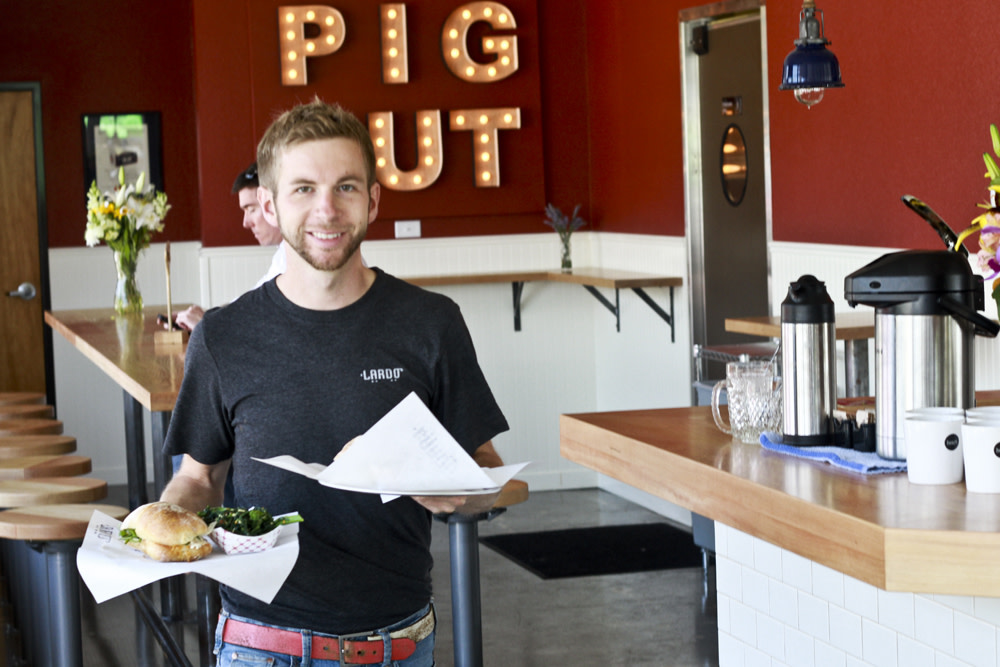 Gone are the days of waiting around for your name to be called from a food cart window—the new Lardo features that familiar counter service, but they bring the food to you (with a smile, to boot)!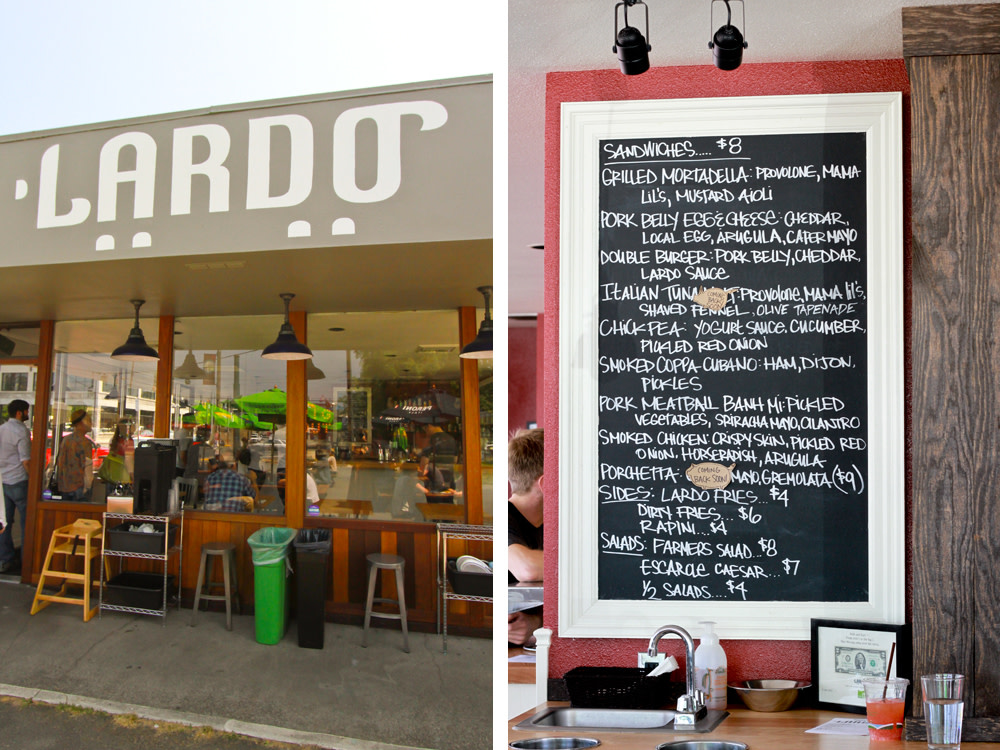 As a former farm-to-table chef in Vermont, Gencarelli is passionate about sourcing from local farms and culinary artisans. Lardo's meaty bits come from Tails and Trotters and Carlton Farms, , and the fresh vegetables from Simington Gardens and Viridian Farms for a mash-up of Italian flavors from Northwest ingredients.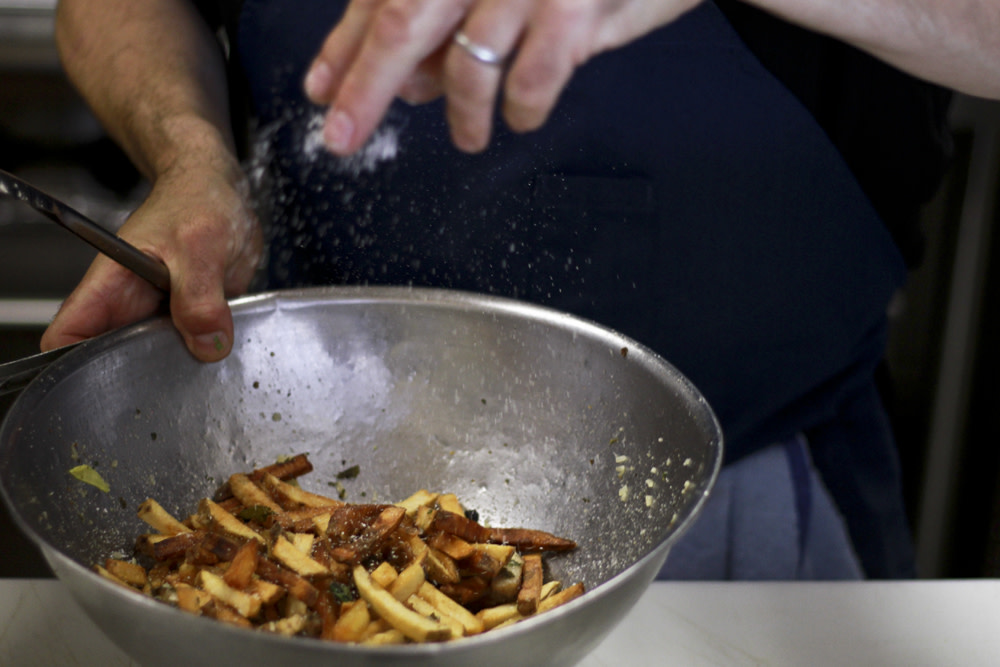 Lardo's near-addictive hand cut fries are cooked in rendered fatback (that's like bacon without the meat for newbies), then tossed with fried herbs and Parmesan.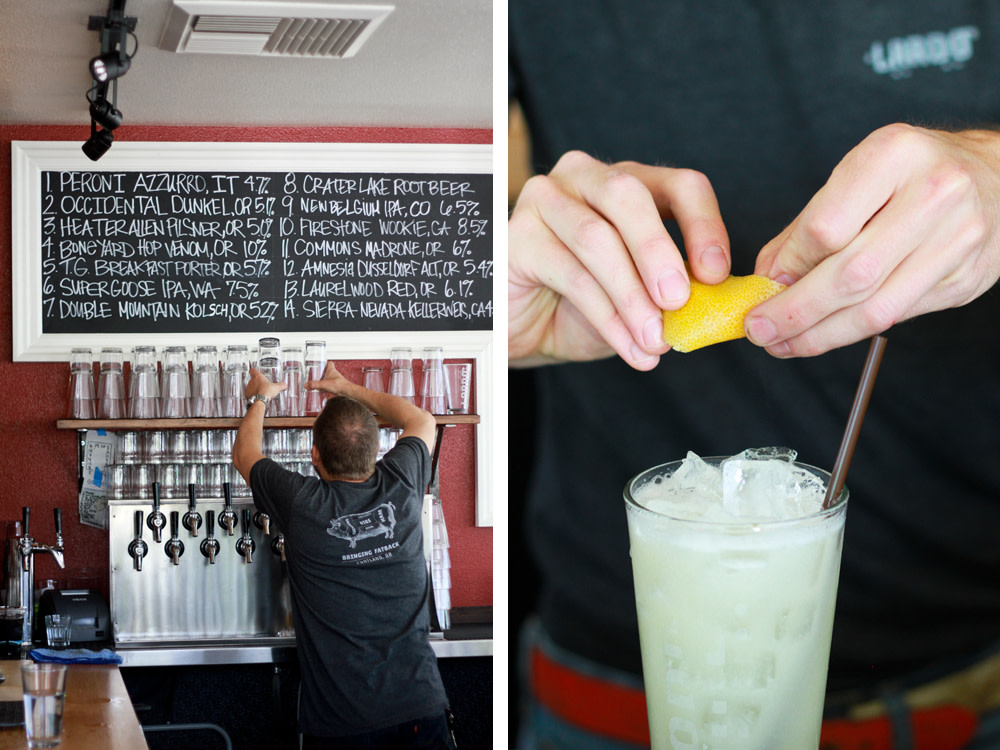 Lardo's impressive beer list will rotate often. Current selections from the fourteen-tap bar include Oregon's Occidental Dunkel, Heater Allen Pilsner, Double Mountain Kolsch, Amnesia Dusseldorf Alt, Commons Madrone, and Crater Lake Root Beer! The list of house cocktails includes the Lardo Sour (Old Grand-dad, house-made sour mix, and brandied amarena cherry), the Super Red Beer (Lardo bloody mary mix and ice topped with Supergoose IPA and Manzanilla olives), and the above Grapefruit Margarita.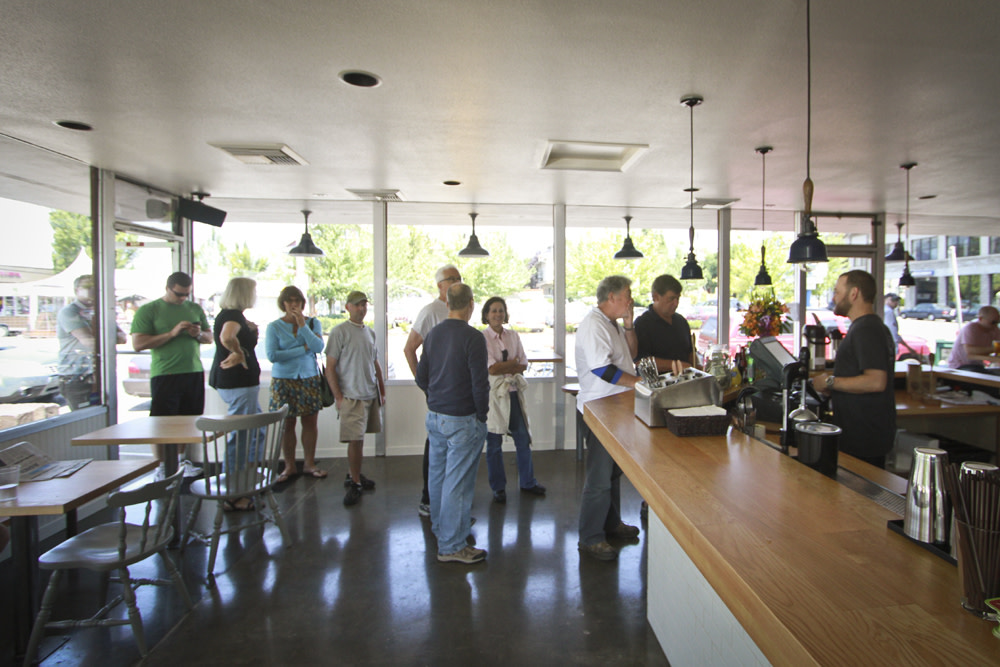 Yes, the lines are long at lunch, but if you can swing by after the noon rush and before the dinner crowds, you'll be enjoying your meal in no time. If there is a wait, don't worry. That's what beer is for.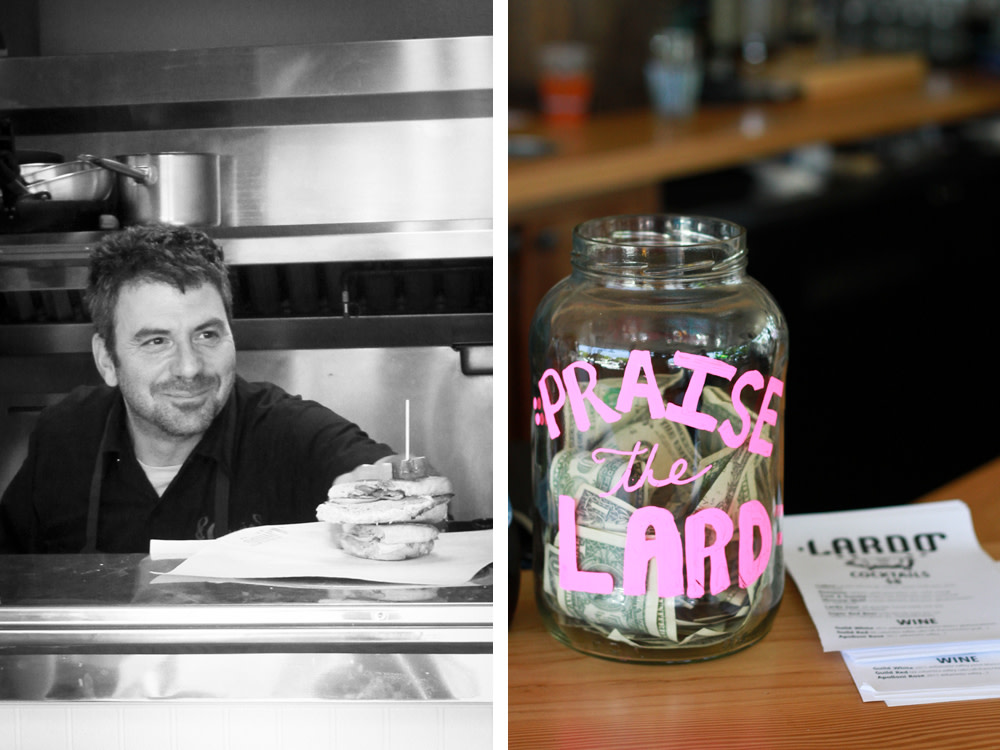 At Lardo, Chef Rick Gencarelli (above) is channeling decades of fine dining devotion to quality ingredients and classy service with a casual edge. Also joining the Lardo team is Kevin Sandri from the much-missed Garden State food cart, which shuttered October 2011.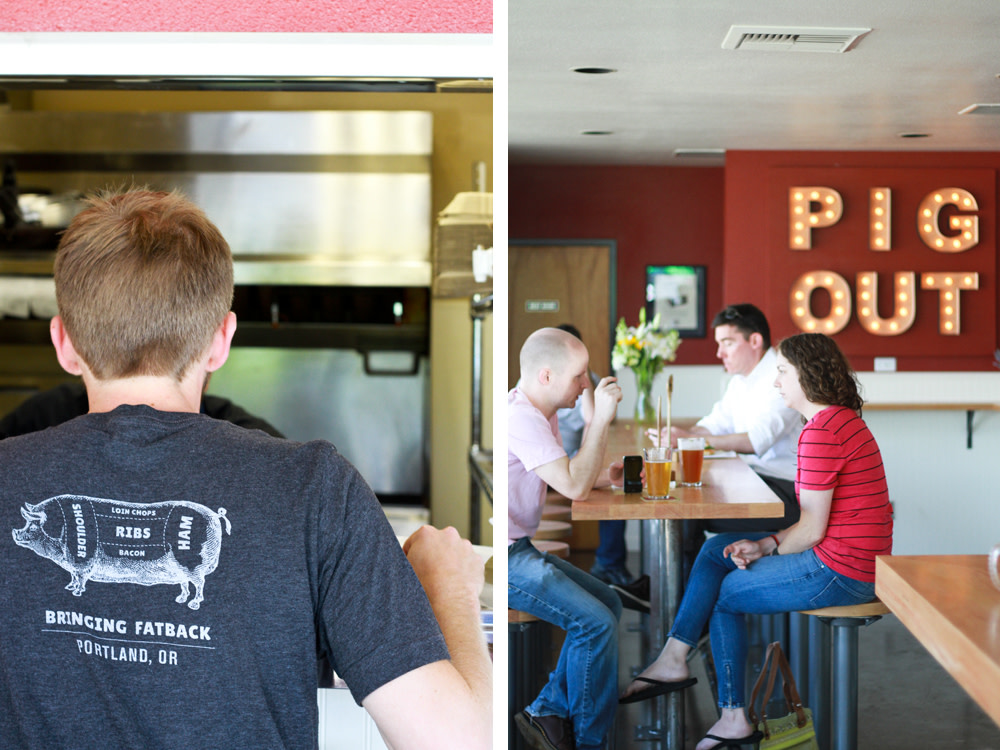 Lardo
1212 SE Hawhorne Blvd, 503-234-7786
Open Tuesday through Sunday, 11 am to Midnight
Follow Lardo on Twitter at @LardoPDX