FOOD AND DRINK EVENTS
Portland Picklefest 2012
The second annual Kenny & Zuke's Picklefest will showcase the top salty and sweet preserves from Portland's top restaurants on July 21st at Wallace Park.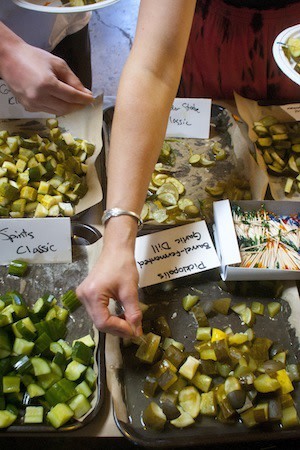 You're sure to find yourself in a pickle this weekend, because Kenny & Zuke's Picklefest is back and bigger than ever. The second annual pickle competition will take over Wallace Park in NW Portland on Saturday July 21st, from noon to 6 pm, with creative cured concoctions from some truly choice chefs.
You'll be able to sample pickled treats from Cool Moon and Salt & Straw ice cream, Wildwood, Oven and Shaker, Bamboo Sushi, Little Big Burger, Meat Cheese Bread, Biwa, St. Jack, Bluehour, Ned Ludd, Woodsman Tavern, Gruner, Kenny & Zuke's, and many more PDX eateries, and the offerings won't just be of the cucumber persuasion.
Contenders will be able to offer up their unique take on everything pickled in four categories: Sweet Pickles, Classic Cucumber, Not Involving a Cucumber, and Portland Weird. Exactly how weird, you're asking? Pickled Pigs Tails or Pickled Gluten-free Burger Bites, anyone?
Seven bucks covers your festival ticket, with all of the proceeds benefiting the Oregon Food Bank's efforts to feed every Oregonian in need. Entries will be picked apart by a panel of "celebrity" judges (including local food writers like yours truly) who, along with festival attendees and their People's Choice Award, will crown the pickle champion in each category.
The whole shebang is going down to the tunes of a live band, and BBQ and microbrews will be available for purchase in case a few plates full of pickles aren't enough to fill you up. Pucker up, PDX. This party will be preserved in your memory for years to come.
Portland Picklefest 2012
Saturday, July 21, from noon to 6 pm.
Wallace Park (Northwest 25th Avenue at Raleigh)