EAT HERE NOW
Songbird: Mt Tabor's Newest Perch
Judy Sleavin and Peter Niland put a bird on it with their new Southeast Belmont neighborhood eatery, complete with pastries, happy hour cocktails, and fresh shared plates.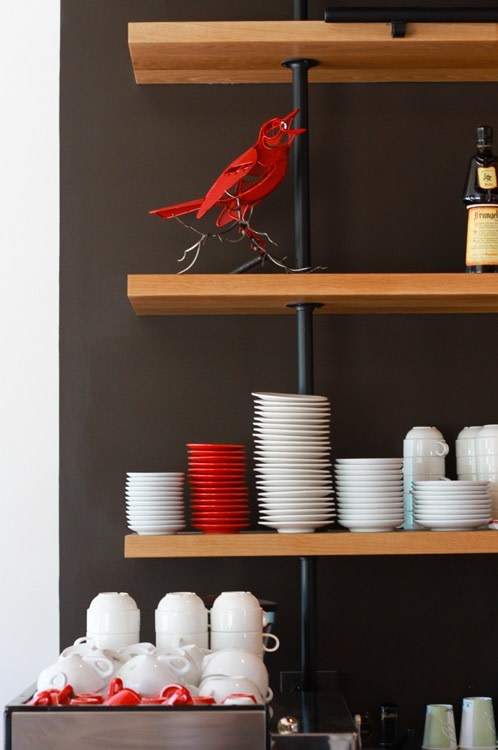 Try as we might to be a cosmopolitan city, Portland is truly a collection of close-knit neighborhoods. Despite the dozens of restaurants that open every month across town, Portlanders still get jazzed over the debut of a cozy eatery or coffeeshop in their neck of the woods.
Since a sign popped up in the window of a vacant building in the easternmost wilds of Southeast Belmont a few months ago, residents of the Mt Tabor neighborhood have been waiting with bated breath for the debut of a new neighborhood eatery within walking distance. As of this week, the wait is over: Songbird has landed.
Husband-and-wife team Peter Niland and Judy Sleavin, along with their friendly team of servers and a fresh-focused chef, have transformed the former Mt. Tabor Cleaners space into a farm-to-table eatery that would be at home in any small town, serving satisfying dishes with a smile from early breakfast to dinner. Niland—a New Zealand native who recently made the leap to American citizenship—had a hand in the buildout process, with the helpful guidance of restaurant veteran Sleavin (who opened her first eatery, Ohio's The Winds Café, in 1977) and the talented designers at bright designlab.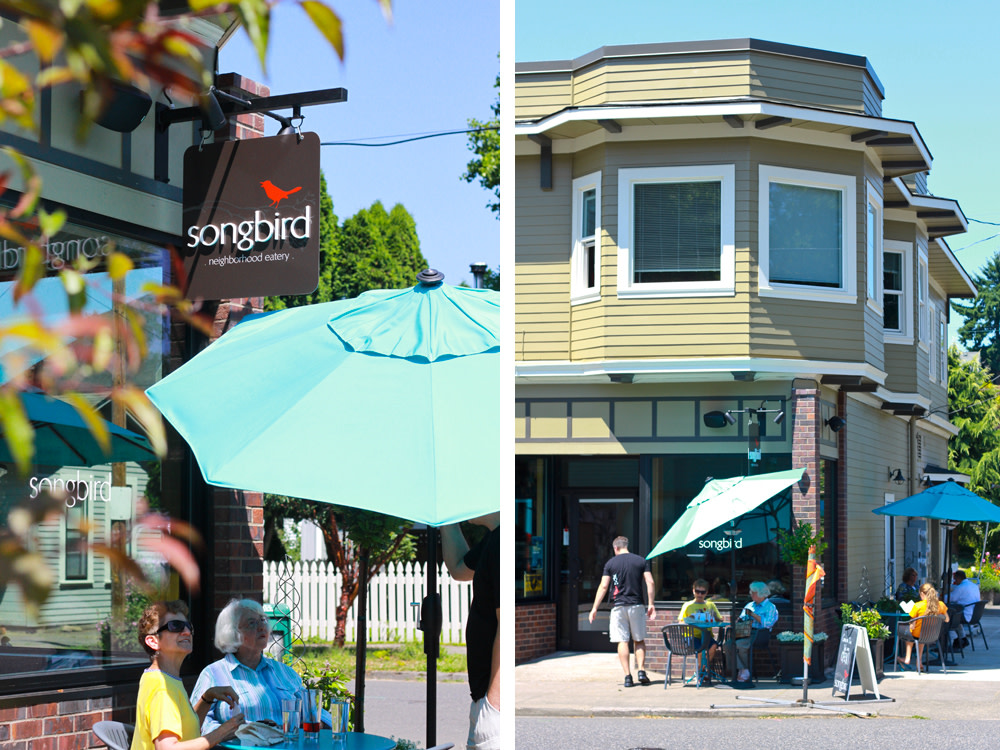 The 30-seat restaurant features a full bar and outdoor seating, clean modern lines, and punchy details in red and teal—perfect for brightening your coffee run or happy hour pitstop.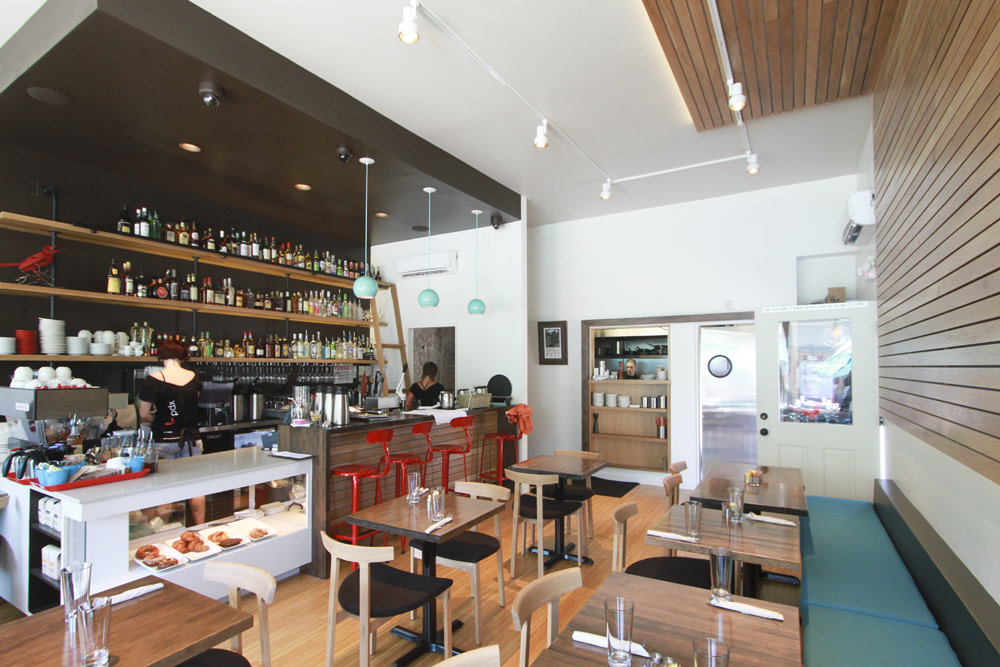 Chef Nick Roberts' menus are equally minimalist and fresh, with a focus on salads, sandwiches, and small plates inspired by the local bounty. Breakfast features specials like house-made granola parfaits, grapefruit brulee, and egg sandwiches with sauteed greens or genoa salami.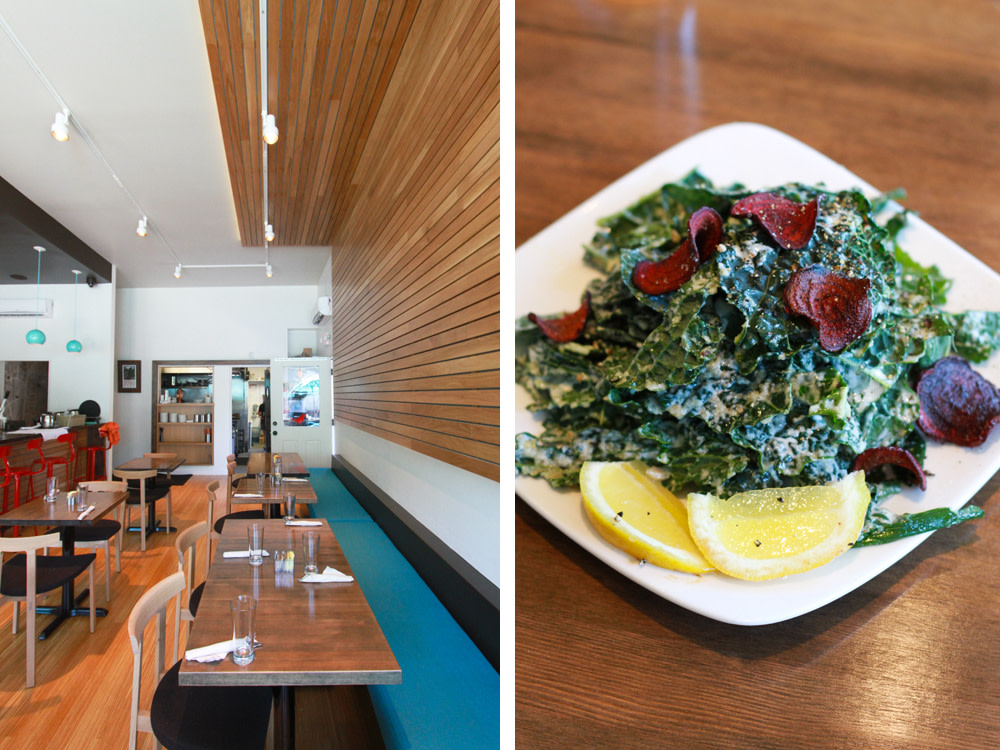 Lunch specials include fresh sandwiches, a phenomenal kale Caesar with beet chips, green salad with herbs, and arugula and apple salads decked with hazelnuts. All salads can be topped with a long list of add-ons, including poached eggs, goat cheese and grilled veggies, black bean burgers, shredded chicken, or hot-smoked salmon. Come dinnertime, small shared plates like a $10 charcuterie plate, lamb meatballs with yogurt, and fried cauliflower share menu space with larger entrees like Oregon cod and chips, moules-frites, and a grass-fed burger topped with gruyere and onion jam.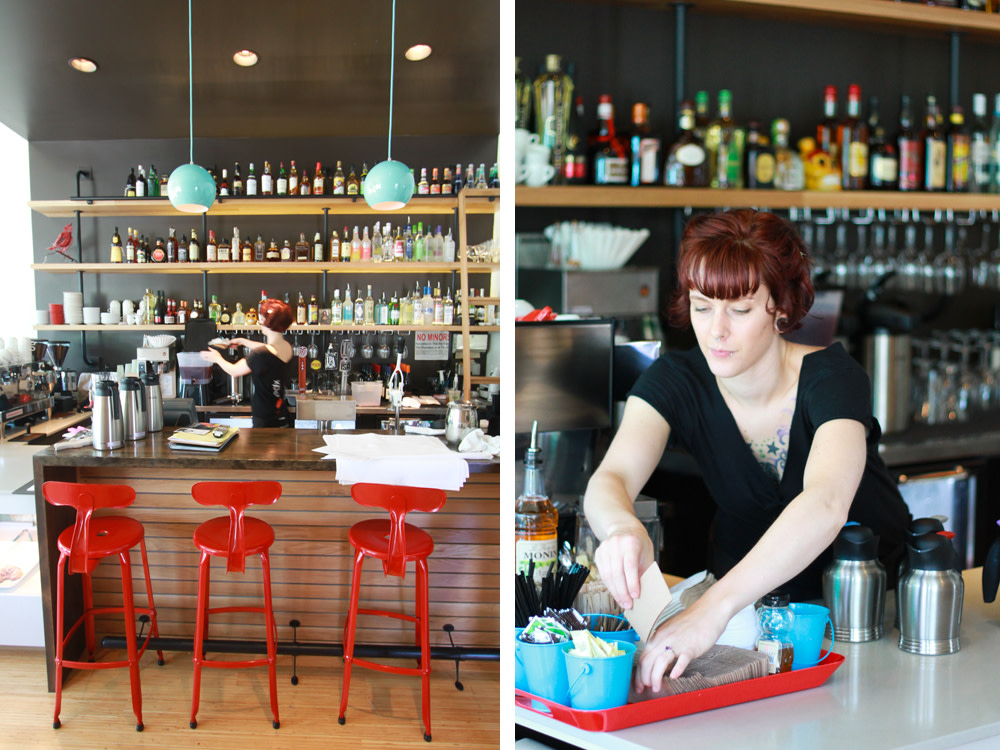 With kids menus, happy hour specials, and morning pastries and coffee, it seems as though Songbird has something for everyone. Stop by and see if the new neighborhood perch is worth tweeting about, so to speak.
Songbird
6839 SE Belmont Street; 503-477-6735
Open Monday – 7 am to 3 pm; Tuesday through Friday – 7 am to 10 pm
Saturday – 8 am to 10 pm; Sunday 8 am to 3 pm
songbirdpdx.com