Beer Bulletin
First Impression: Portland U-Brew & Pub
Buy brew gear, brew a beer, or have a pint or two
Where: 6237 SE Milwaukie Ave; 503-943-2727
Why: This folksy Sellwood operation pleasantly reminds me of a classic general store. The homebrewing enthusiast can come in and stock up on malts, yeasts, hops, and debate the merits of the latest equipment with the proprietors, and then retire to the back room to sample one of eight beers brewed on the premises by co-owners Aaron Gillham and Jason Webb. "It was always our plan to do it this way," says Gillham, an affable dude with a ponytail. While we're talking, a guy who works at a restaurant down the street comes in to chat for a few minutes about his own homebrewing adventures. "That's how it goes here," Gillham says. "People want to come in and talk and have a look around."
What the average looky loo sees is a welcoming, low-key establishment that also serves as a training ground for the novice brewer. For the reasonable sum of $150, Gillham and Webb provide the ingredients, equipment, and expertise to facilitate your brewing debut. The fledgling brewer can come in with a recipe, a style, or even just a vague idea, and the helpful lads will be there every step of the way, from conception to keg (or bottling). A typical 15-gallon batch yields about 140 12-ounce beers, so for a little over a buck a bottle, you can create your own craft beer. "We get a lot of people who want to brew batches of beer for a party or wedding," Gillham says. "Or they want to brew as a group, which makes it more fun." Gillham estimates more than 200 people have used their brewing facility in the year they've been open for business.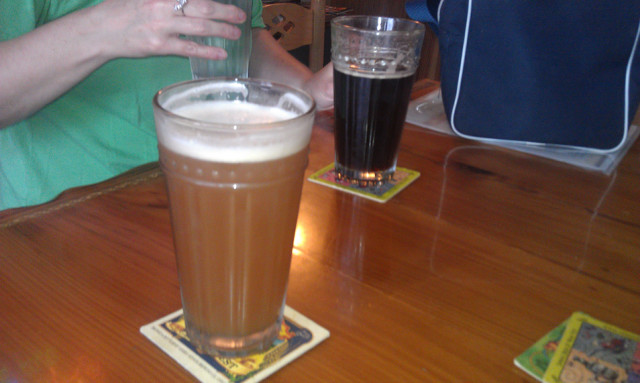 If such an undertaking seems too ambitious, the pub in the back is a fine place to tarry away an afternoon. At the moment, P.U.B. (Portland U-Brew) has eight very respectable beers on tap, including an IPA, a golden, an excellent red, and a sensational Rhubeerb Wheat, a tight and tangy fruit refresher, that I look forward to meeting again, very soon. All of the beers I tried were evenly balanced, with no single flavor characteristic dominating the drink. Happy hour is Tuesday-Sunday from 3-6, with pints going for $3.25. There's also a small food menu that changes regularly, featuring personal pizzas, sandwiches, kebabs, and the like. The business is closed Mondays.