INTERVIEW
5 Questions for God King Slave Wines' Christine Collier
One of Southern Oregon's freshest stars shares how young winemakers are carving their place into Oregon's wine industry one vintage at a time.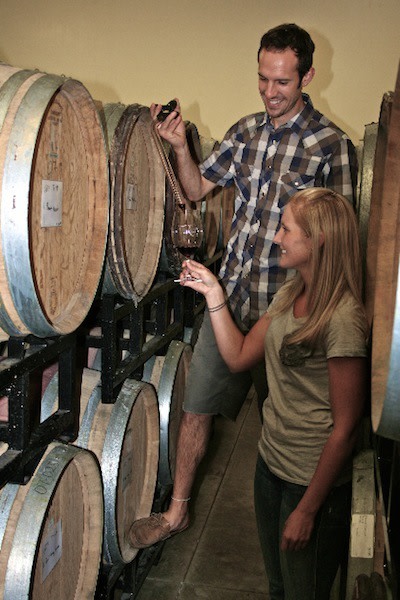 As Oregon's wine industry grows, innovation comes from all directions. Winemakers with decades of experience shake things up with new production techniques or new varietals, assistant winemakers at successful wineries branch off to create their own labels, and young winemakers bring a new level of commitment to taking our state's industry in new, exciting directions.
Oregon wine lovers can get a taste of this "new age" of Oregon wine during the next stop of the Young Winemakers of Oregon Tour. On Saturday, September 15th from 5 to 8 pm at Corkscrew Wine Bar in Sellwood, four wineries lead by young winemakers will be pouring their best in an informal setting. Guests will be able to sample 8 wines for $10, including selections from Alex and Aubrey Nichols' A.F. Nichols Wines, Nic and Gracey Donahue's Alchemy Wine Productions, Thomas and Kate Monroe's Division Winemaking Company, and Christine Collier and Chris Jiron's God King Slave Wines from Southern Oregon.
I sat down with Collier of God King Slave—who started making wine with her partner Jiron as a Junior at OSU—to find out what drives Oregon's young winemakers and to get some tips for young wine lovers to explore their winemaking potential without going broke.
1. What got you into wine at such a young age?
Chris was exposed to the wine industry as a young kid when he watched the bottling line at his family's boutique Southern Oregon winery in the late 80s and early 90s. He was always eager to help, but it took years of exploration in other areas before he came back to the realization that wine was his calling. He enrolled at the Northwest Viticulture Center in Salem, Oregon and soon found he had a study buddy in an unlikely person: me. I was majoring in Entrepreneurship at Oregon State University when I also took an immediate interest in Chris's studies. I pretty much moved in to the Corvallis Public Library until I read every book on wine I could get my hands on!
2. So you make wine in Southern Oregon, and founded the Southern Oregon Wine Blog. What drew you to make wine away from the Willamette Valley "bubble"?
I was intrigued by the quality of fruit, diversity of varietals, and the chance to get in on the ground floor that Southern Oregon provides. It made me dream that my hands could mold this region into one producing high-quality wines. When Chris and I see an opportunity or have a goal, we are all in. That's what Southern Oregon is to us. Since we were still in college when we started, we couldn't move right away, so we used social media to create our place in the region before we could physically be there by founding the blog. Upon graduating college, we moved to Jacksonville to work for local wineries, Chris at Folin Cellars and me at Troon Vineyard, while launching our own brand.
3. What is the most challenging part about being a young winemaker in Oregon?
It seems most people fall into wine after having other successful careers that granted them deep pockets (doctors, lawyers, wall street-types). I don't know how I missed that before! We started here, so we don't bring any capital to the game, but it also makes us appreciate everything we work for. This isn't a hobby for us. We really enjoy our work, but everything is on the line. In addition to our lack of resources from being young, but our region is also really young and doesn't have the reputation other regions have that producers can play off. Getting wine reviewers, distributors and consumers outside of the state to acknowledge that Oregon makes other wines besides Pinot Noir takes a lot of work.
4. What tips would you give a young wine novice who wants to dive into the world of wine without going broke or being totally intimidated?
The Northwest Viticulture Center where Chris earned his enology degree was an incredible resource and not just for the classroom component—he met so many people in the wine industry that have helped us along the way. There is also a new Enology and Viticulture program at Umpqua Community College in Roseburg offering online courses. These programs are a great way to get your feet wet before sinking all your savings. One of the most important things I have learned since being in the industry is that making wine is the easy part, selling wine and creating a customer base is what takes the most time and needs more consideration when deciding to start a solo project.
5. Is there a camaraderie or competition between other young winemakers in Oregon?
There is definitely camaraderie. We can share our trials, errors, and successes very freely and it is nice to have some understanding ears. Starting out as a new, unestablished brand is difficult. Chris and I only had one wine for our first vintage. Who is going to go to a wine tasting to try one wine? So our idea was to team up with winemakers from other brands who were in the same boat. We love pouring at the young winemaker events, but we really love when we go to dinner with our fellow young winemakers after the events and just let loose.