MENU WATCH
Biwa Shakes Things Up for Summer
Drawing on inspiration from a recent culinary research trip to Japan, Biwa's chefs share details behind the launch of a new new summer menu and cool changes to the hot spot's cocktail program.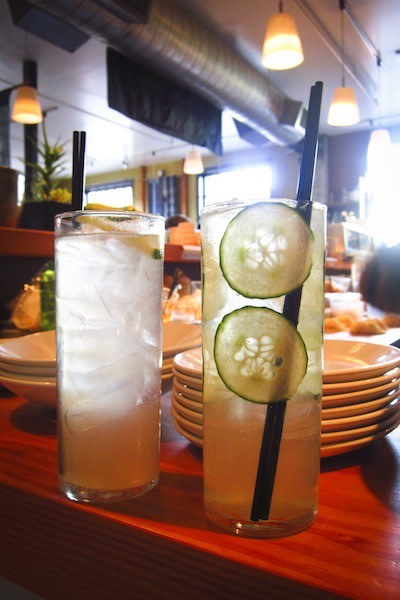 Earlier this year, Biwa's sous chef John Pickett and chef de cuisine Ed Ross were sent on a research trip to Tokyo in order explore the Japanese flavors and preparations that have made Biwa a staple of the Portland izakaya scene.
Their journey brought them to the fish market at Tsukiji, late night adventures at tiny izakayas throughout the city, and high-quality stand-up sashimi restaurants in East Tokyo. Best of all, their new summer menu brings the flavor memories of these experiences home to Portland for the rest of us.
New menu items like flavorful Oregon albacore tuna tataki with nori, a chilled ramen perfect for Portland's rare heat waves, and a series of nightly off-the-menu specials, featuring handcrafted sashimi featuring the best of local and international seafood. The menu also now featured house-made miso, using a custom fermentation method that results in a miso unlike any you've ever sampled before.
On the bar front, Biwa has welcomed a new beverage manager Liz Coleman, along with her unique take on Japanese cocktails. The new summer drinks menu features "chu-hai's"—Biwa's take on traditional Japanese iced highball cocktails made with shochu. These simple, refreshing drinks make the most of Biwa's housemade sodas, syrups, and produce, and are available in a variety of flavors—like ginger-orange-hai, pepper-hei with black pepper and fresh lemon, the melon-hai with watermelon syrup, the genmai-hai with toasted rice and vanilla, and the mugi-hai with barley tea and milk—most only $6 each.
In addition to the new chu-hai list, Biwa is featuring original summer cocktails utilizing herbs from the kitchen garden, including the "Kellen on Holiday" (with mescal, peach shrub and hyssop) and the "FLCL" (a "Vesper" made with Hakutake shiro, gin, and lemon bitters spiked with lemon verbena).
When the temps rise, it's time to go for the cold—and Biwa's summery chilled dishes and iced cocktails are just what the doctor (and your imaginary travel agent) ordered.
Biwa
215 Southeast 9th Avenue
503-239-8830
biwarestaurant.com