HOMETOWN PRIDE
Bon Appetit names PDX's Woodsman, Luce, and Ox among the Year's Best
Three Portland favorites nab spots on Andrew Knowlton's list of the country's 50 Best New Restaurants of 2012.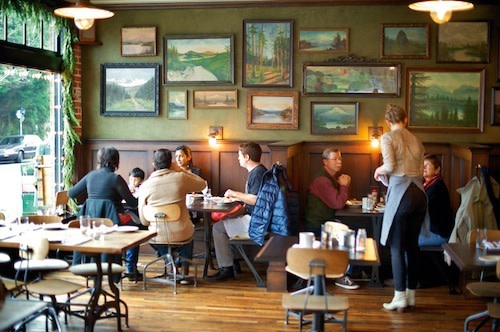 This week, Bon Appetit released their list of the year's top 50 new restaurants (nominees for the soon-to-be-released Top 10) and restaurant editor Andrew Knowlton reveals his affection for our fair city with three contenders from PDX.
John Taboada's East Burnside spot Luce charmed the national mag by showcasing "simple, Italian home cooking stripped down to its elemental ingredients (think olive oil, chiles, and pasta) by a husband-and-wife team working a postage stamp-size room".
Greg and Gabrielle Denton's soon to expand Northeast MLK sensation OX wowed Knowlton with the couple's creative spin on South American favorites. Says the restaurant editor: "Fans of Argentina's simple grilled meats (and empanadas) should head to this husband-and-wife spot, where a custom-made stainless-steel grill keeps things smoky, Pampas style." The must try dishes? Spicy braised octopus and beef tripe, house-made morcilla, and the flanken-style beef short rib.
Duane Sorenson's Southeast Division hunting-lodge-meets-speakeasy hot spot The Woodsman Tavern made an impression with their "stellar staff (say hi to Evan Zimmerman, behind the bar), a warm, hunting-club vibe, and a menu that takes full advantage of local ingredients" that "elevate this neighborhood gem". Recommended drink? The Harvest Old Fashioned.
Former Portland chef Matthew Lightner also earned props on the list for his new Tribeca spot Atera.
Check out the full list here, and look out for the paired-down list of the country's 10 best new restaurants (to be released on August 14th). Which Portland restaurant will make the cut? Who was snubbed? Share your speculations in the comments.