EAT HERE NOW
D Street Noshery Rises
Behind righteous Israeli falafel and big flavors from Guam, SE Division's playful pod is now a noteworthy food destination.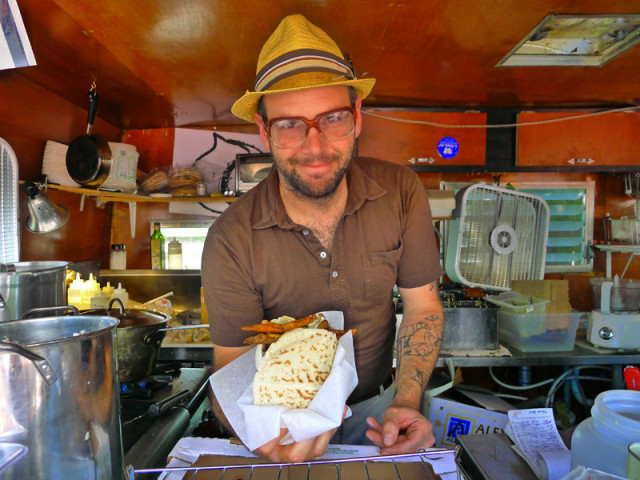 Where is Portland's best food-cart pod? The question continues to burn in America's street-food headquarters. But the answer flips with the season, as vendors come, go, relocate, or simply vanish, sometimes in the middle of the night.
Two years ago, Mississippi Marketplace (N Mississippi and Skidmore) ruled, firmly. Last year, Good Food Here (4262 SE Belmont St) topped the food-cart It List behind the double-whammy of Lardo and The Sugar Cube, now neighbors on SE Hawthorne. The summer of 2012 belongs to D Street Noshery (SE 32nd and Division). At Portland's most playful pod, appealing energy has steadily coalesced behind the zany Captured By Porches beer bus, the steady Koi Fusion, and the fruit scoop intensity of Oregon Ice Works, not to mention a cozy, tented "mess hall" with a funky wood-fired furnace on hold during this welcome blast of sun.
But two food-savvy newcomers have elevated D Street Noshery beyond quirky fun. PDX 671, fast-rising as one of Portland's best carts, offers a big taste of Guam on a small menu. One bite of diced chicken, served cool and shooting bright notes of grill char, lemon, and Thai chiles, and you're hooked. Scoop it up with warm, flaky coconut flatbread called "titiyas."
A few steps away, the three-month-old Gonzo delivers a genuine taste of Israeli falafel—complex, reeling in heat, shouting homemade condimentia, and teetering on top, crisp, bronzed fries. Owner and Israeli native Tal Caspi goes the distance, cooking garbanzo beans from scratch and considering every element, stuffed into bulging pita pockets.
Each sandwich is carpeted with fresh-made hummus. Then comes Caspi's take on skhug, a Yemini hot sauce boasting three kinds of pepper heat and plenty of cumin, and amba, a pickled mango chutney holding mustardy, curry notes. The stacking continues with tomatoes, cucumbers and hot MId-East pickles. Up next: falafel balls fuming with cilantro, garlic, and parsley, each one draped with creamy tahini because, as Caspi puts it, "Dry falafel just does not work." Finally, flailing on top: those fries—long, thin, and winking at the modern-day falafel now found on Israel streets.
Enjoy it all while it lasts. Rumors persists that D Street Noshery will soon be paved to make way for a project on fast-growing Division Street.