FOOD AND DRINK EVENTS
Eat Beat Weekly Planner
Our digest of Portland's top upcoming food and drink events, including a mid-week happy hour at Random Order, "Gastro Brew Sessions" at the Thirsty Lion, and a rooftop wine and aioli party at Olympic Provisions Southeast.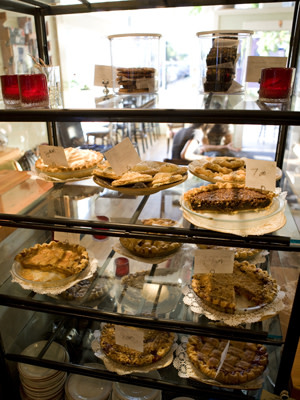 Random Order Wednesday Evening

SOUL

-cials
What: Every Wednesday, Random Order owner Tracy Olson will be offering all-day happy hour specials (on both cocktails and sweet treats) as well as a soulful evening DJ to mix up your mid week.
When: Every wednesday from 6:30 am to midnight (DJ starts spinning at 8 pm)
Where: Random Order Pie Bar 1800 Northeast Alberta Street
How Much: Specials vary—think $5 cocktails, discount pints, and plenty of pie to go around.
Salt & Straw Ice Cream Dinner at Lincoln
What: A multi-course collaborative dinner from Lincoln's executive chef Jenn Louis featuring a variety of Salt & Straw ice cream flavors from head ice cream maker Tyler Malek. For the dinner, Louis and the Salt & Straw team carefully chose ice cream flavors and textures that enhance the ingredients used in each dish—including Strozzapreti with hazelnut ice cream and braised pork with tomatoes, bacon and Summer Sweet Corn Buttermilk Sherbet.
When: Wednesday, August 15th at 6:30 pm
Where: Lincoln Restaurant 3808 North Williams Avenue
How Much: $50 per person. Reserve your spot by calling 503-288-6200.
Metrovino 9-Course Sherry Pairing Dinner
What: A 9-course dinner showcasing the Sherries of Emilio Lustau, highlighting the delicious diversity of today's Sherry offerings (from light and dry like a Mazanilla, to rich and sweet like a Pedro Ximenéz). Chef Dustin See and Todd Steele have collaborated with European wine expert Drake McCarthy of Europvin to create a Spanish inspired menu just as dynamic as the wines being showcased.
When: Wednesday, August 15th at 6:30
Where: Metrovino 1139 NW 11th Ave
How Much: $85 per person, including food and wine pairings. For more information and reservations call Metrovino at 503-517-7778.
Hawaii's Prima Pops Up at Iorio
What: A showcase of one of Oahu's hottest new restaurants, Prima. Chef owners Alejandro "Aker" Briceno, Lindsey Ozawa, and chef de cuisine Kevin Lee will take over the kitchen at Iorio for a night, offering an eight course tasting menu featuring the best of modern Hawaiian cuisine—think the freshest fish, beef, and produce from the Aloha State and Portland area. Serving a selection of craft cocktails to compliment the menu will be Dave Power, one of Hawaii's most respected bartenders and owner of The Feral Pig on Kauai.
When: Monday, August 20th at 6:30
Where: Iorio 912 SE Hawthorne Blvd.
How Much: $65 person for the eight-course menu plus gratuity. Beverages additional. For reservations, call Iorio at 503-445-4716.
Thirsty Lion Pub & Grill Gastro Brew Sessions
What: Thirsty Lion's Executive Chef Keith Castro and Widmer Brothers brewmaster Doug Rehberg have collaborated to create a dynamic six-course menu of gastropub cuisine, complete with recommended beer pairings. Guests are invited to move through the restaurant through several food and beer stations to learn about pairing food with beer. Think Widmer Citra Blonde paired with Citrus Marinated Mahi Mahi Ceviche Tacos, an Oatmeal Porter with Beer BBQ Pulled Pork Sliders, and much more.
When: Tuesday, August 21st from 6 to 8 pm
Where: Thirsty Lion Pub & Grill 71 SW 2nd Avenue
How Much: Tickets are $40 and include six beers with gastropub pairings and a Thirsty Lion chalice. Tickets can be purchased here.
Olympic Provisions Grand Aioli Dinner
What: Inspired by the French tradition of celebrating summertime, family style dining, and dipping the seasons bounty in pungent garlic aioli—called the butter of Provence—Olympic Provisions will host a rooftop grand aioli dinner featuring the best rosés from France along with OP's mouth-watering charcuterie, in-season Oregon Albacore Tuna, and plenty of aioli.
When: Sunday, August 26 at 6 pm
Where: Olympic Provisions Southeast 107 SE Washington
How Much: $55 dinner (plus $45 for optional wine pairings). To claim your spot, email [email protected] or call 503-954-3663.
Know about a great event coming up that should be on our radar? Shoot me an email at [email protected] or give me a shout over on Twitter at @allisonejones. Now get out there and start eating!