NEIGHBORHOOD NEWS
Eat Beat's News to Chew
Top food news stories from around Portland, including the opening of Xico on Division and Whey Bar, Ox Restaurant's new booze-fueled waiting area.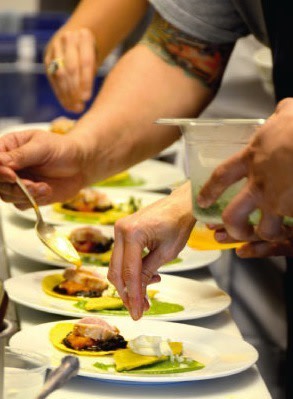 Southeast

SE Division: After "softly" opening on the 10th, Kelly Myers and Elizabeth Davis's Xico will officially open on Thursday, August 16th. The upscale casual Mexican eatery (pronounced chee-ko) will serve rotisseried chicken rubbed with chili, housemade tortillas, Sonoran hot dogs, pozole, mole, and other traditional dishes. Dine-in hours are from 5 to 10 pm, seven days a week, and lunch is available to-go from the restaurant's Lunch Window, Wednesday through Sunday 11:30 to 2 pm. 3715 SE Division St
SE Foster: IPA-centric bottle shop and tasting room N.W.I.P.A. opened on August 9th in the former Guapo Comics & Coffee shop in Foster-Powell, open daily from noon to midnight. The eat-and-drinkery will offer four IPAs on tap, 80 (mostly non-IPA) beers available by the bottle, and a small food menu featuring charcuterie and cheese plates. Every Friday night, the space will host an "Oysters & Ales" party with raw oysters available by the dozen. 6350 SE Foster Rd
Northeast
NE MLK: The new bar from Ox Restaurant's Greg Denton and Gabrielle Quiñonez Denton—dubbed Whey Bar—will open on Tuesday, August 14th. The expanded bar menu will feature a list of Ox favorites like Devil in a New Dress (tequila, red pepper, Combier orange, mescal) and Things Done Changed (Pisco, smoked lemon, jalapeno, egg white), a daily punch, and a 10-liter oak barrel of Fernet on tap. 2225 NE Martin Luther King Jr. Blvd
Southwest
SW Morrison: Chef Gregory Gourdet of "Departure Restaurant":":http://departureportland.com/ (along with Depatrue sushi chef Sam James) took first place at the ninth annual Great American Seafood Cook-Off in New Orleans, making him the first chef from outside of the gulf states to win the competition. 525 SW Morrison St
Northwest
NW 13th: Riffle NW beverage manager Dave Shenaut (the shaker behind the spot's ambitious ice program) has left the catch-inspired seafood restaurant to pursue other opportunities. Bartender Brandon Josie—formerly of San Francisco's Romolo 15, Bloodhound, AQ, and Bourbon & Branch—will now helm the spot's cocktail program. In other RIffle news, the eatery has launched a weekly Sunday "Neighborhood Night," featuring one off-menu special inspired by favorite home cooked meals, family recipes, or whatever the crew at Riffle NW is craving that night. Expect everything from PNW Crab Boils to Barbeque Nights (and look forward to specials accompanied by buckets of beers or seasonal punches). 333 NW 13th St
NW Broadway: Michael Madigan's Bowery Bagels will soon expand production into a space adjacent to the Old Town bagelry. According to Eater, the new 1200-square foot space is set to open in September and will allow Bowery to accept more wholesale bagel clients, as well as offer new menu options including new bagel flavors, bialis, and "New York-style corn muffins". 310 NW Broadway
Got a food news tip? Send it my way at [email protected]!