NEIGHBORHOOD NEWS
Eat Beat's News to Chew
Top food news stories from around Portland, including the closing of Oregon Ice Works, the opening of Kitchen Dances and The Ocean's micro-restaurants, and a new Saturday Brunch at EaT: An Oyster Bar.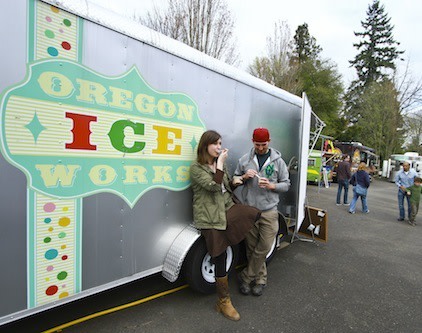 Southeast
SE Division: Kevin Bell's popular Oregon Ice Works scoop cart permanently closed on Tuesday, August 7th after two years of serving Portland's Italian-style ice fanatics. Bell shuttered his D Street Noshery ice shop in order to attend culinary school in New York City, and has sold the cart to Mallard Ice Cream in Bellingham, Washington. SE Division and 32nd
Northeast
NE Oregon: After a few weeks of business under the name "Mile 5 Diner", the restaurant inside Northeast Portland's Milepost 5 creative community has relaunched as the brick-and-mortar location of Kitchen Dances (previously a vegan food cart parked at Good Food Here on Belmont and at the Montavilla Farmers Market). The space will serve vegan dishes with many gluten free and raw options along with vegan desserts, Stumptown coffee, and pastries from SE Stark's Bi-Partisan Cafe. In addition to daily breakfast, lunch, and dinner service at the restaurant, Kitchen Dances owners Piper Dixon and Mandi Plumb will still operate their stand at the Montavilla Farmers Market. 8155 NE Oregon
NE MLK: Ox Restaurant's Greg Denton and Gabrielle Quiñonez Denton are expanding their bar program with a new adjacent bar/waiting area dubbed Whey Bar. The 500 square foot space will occupy a garage space next to Ox—head over to the full Eat Beat article for more information. 2225 NE Martin Luther King Jr. Blvd.
The Ocean: Here's a major wave of news from NE Glisan's upcoming micro-restaurant food court The Ocean: the previously reported taco concept from Autentica's Oswaldo Bibiano will indeed be joining The Ocean. According to OLCC paperwork, the 26-seat space dubbed Uno Mas will serve a variety of tacos from 11 am to 11 pm, seven days a week. In other Ocean news, Tabla's Adam Berger has announced that his micro-restaurant 24th and Meatballs will debut on August 10, serving meatball sandwiches and more, and Tails & Trotters pork specialists will also join the collective, according to owner Aaron Silverman, with a tentative opening date of October 1st. 2329 NE Glisan St.
North
North Williams: Tobais Hogan and Ethan Powell of EaT: An Oyster Bar have announced the launch of a Saturday Brunch—an extension of their regular Sunday Brunch service—available from 10 am to 2 pm every weekend. Diners can choose from bayou-inspired delights like fresh beignets, Eggs Sardou, Shrimp & Grits, Soft Shell Crab Po'Boys, and much more. 3808 N. Williams
Southwest
SW Washington: The team behind the popular Grilled Cheese Grill food cart mini-empire will open the Shotgun Sub Shop this summer next to their newest location in downtown's SW 10th and Washington pod. According to owner Matt Breslow, the new sub cart will serve sandwiches on ciabatta hoagie rolls from Portland French bakery and Pretzel rolls from Fressen Bakery. SW 10th and Washington
Northwest
Jeld-Wen: As the result of an online poll of Timbers Army fans, Jeld-Wen Field will host several Portland food carts over the next two months during Timbers home games. 808 Grinds was welcomed on August 5th, the Frying Scotsman will play on August 25th, followed by Pepper Box on August 31st and Big-Ass Sandwiches on September 15th. Each food cart will offer several signature dishes at the Soccer City Grill concession stand.
Citywide
Markets Rock: In response to the amazing success of Oregon's 160—and counting—farmers markets over the past decade, Governor John Kitzhaber has proclaimed August 5th to 11th Oregon Farmers' Market Week. This year's observance coincides with the 13th annual National Farmers' Market Week. According to Kitzhaber, "Farmers' markets provide hundreds of family-owned farms in Oregon with substantive income and provide fresh Oregon-grown produce to multitudes of market visitors each week during season." To check out the amazing offerings of Oregon's farmers markets, head to oregonfarmersmarkets.org.