BREAKING FOOD NEWS
Fifty Licks Lands Brick-and-Mortar Scoop Shop
Chad Draizin's retro-chic ice cream truck will grow into a scoop shop next April, with new flavors and a soft serve machine.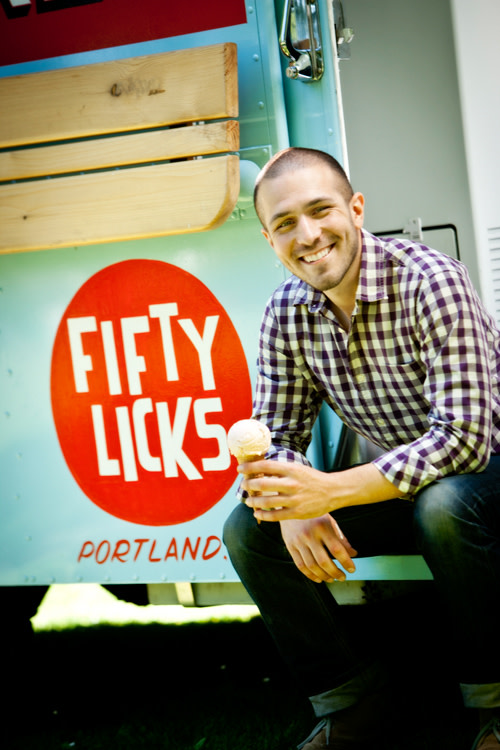 Continuing the trend of food carts growing into full-scale eateries, Fifty Licks owner and ice cream maker Chad Draizin will open a new brick-and-mortar scoop shop on Southeast Clinton early next year.
Draizin has garnered a solid following at his trucks—one currently parked at Southeast Belmont's Good Food Here pod and another roaming the city—serving scoops of hand-made premium ice cream with an emphasis on quality takes on traditional flavors since 2008.
Boasting outstanding Caramelized Apple ice cream with a caramel swirl boiled down from Washington apple cider, Stumptown Coffee ice cream (a pick-me-up in a cone), Slabtown Whiskey powered by goods from House Spirits Distillery, and a Tahitian Vanilla that raises the bar for America's favorite flavor, Fifty Licks has the formula for deliciously creamy scoops down to an artform.
This dedication to quality and old fashioned good taste will continue at the new scoop shop, located at 2021 SE Clinton Street in the former Camamu Soap space, a few doors down from St Jack. While the menu will still be a short-and-sweet selection of a few winning flavors, the larger space will certainly breed creativity and new concoctions.
"I needed something to complete my vision," says Draizin. "Although the food cart has been a huge success, I'va always felt like something was missing. I don't feel like the cart allows people to fully experience Fifty Licks, and we're limited from expressing what we are really capable of. With this new shop, Fifty Licks has the space to create new flavors, and people will have a place to come in and comfortably enjoy some ice cream."
Flavors will rotate seasonally—save for a few "classics"—and the shop will feature a soft-serve machine churning out a few special flavors at a time. In addition to on-the-go scoops, Draizin is committed to stocking many flavors by the pint.
The shop is set to open April 2013, so stay tuned for updates on the project here on Eat Beat.
Fifty Licks Scoop Shop
2021 SE Clinton Street
Fifty Licks Ice Cream Truck
4262 SE Belmont St. 954-294-8868
fifty-licks.com