Beervana
In the Beginning…
Starting with 1852, the year Portland's first brewery was founded, and ending with 2010, Portland Monthly has compiled a handy little time line charting Oregon's beer history through the ages.
THERE WAS BEER. The story of beer's ascent to become one of Portland's most beloved industries is now part of our state's folklore. But for most of us, the details are still a little fuzzy. Legend has it that Henry Weinhard appeared one day on the Columbia in the mid-19th century piloting a golden barge loaded with barrels of lager. And—presto!—the next thing you know, we're cutting up lemons to go in our hefeweizen. But there's more to it than that. To bring you up to speed, we offer this handy guide.
1852
German immigrant Henry Saxer arrives in Portland, an area that, not unlike his homeland, is rich with fertile fields for the cultivation of hops. Surrounded by thousands of thirsty loggers and dockworkers, Saxer founds Liberty Brewery. It doesn't take long to make acquaintance with the local workforce.
1856
After a stint as a brewer in Cincinnati, another German immigrant, Henry Weinhard, founds City Brewery in the present-day Pearl District. By 1875, Weinhard buys out Saxer's business and begins shipping beer as far away as Asia.
1912
Lumber titan Simon Benson donates 20 bronze drinking fountains to the city. With blue-collar workers having less of an excuse to slip into saloons to quench their thirst, alcohol consumption drops 25 percent.
1914
A full five years before the rest of America follows suit, Oregon votes to ban beer and liquor sales as well as production of both. Not coincidentally, Oregon women had just earned the right to vote two years earlier. (Thanks a lot, ladies.)
1928
Declining beer fortunes inspire a merger of Weinhard City Brewery and Arnold Blitz's Portland Brewing Co. The new Blitz-Weinhard partnership ekes out a living selling root beer and orange soda until the Eighteenth Amendment is repealed, in 1933. With Prohibition behind them, the company lasts until the close of the 20th century.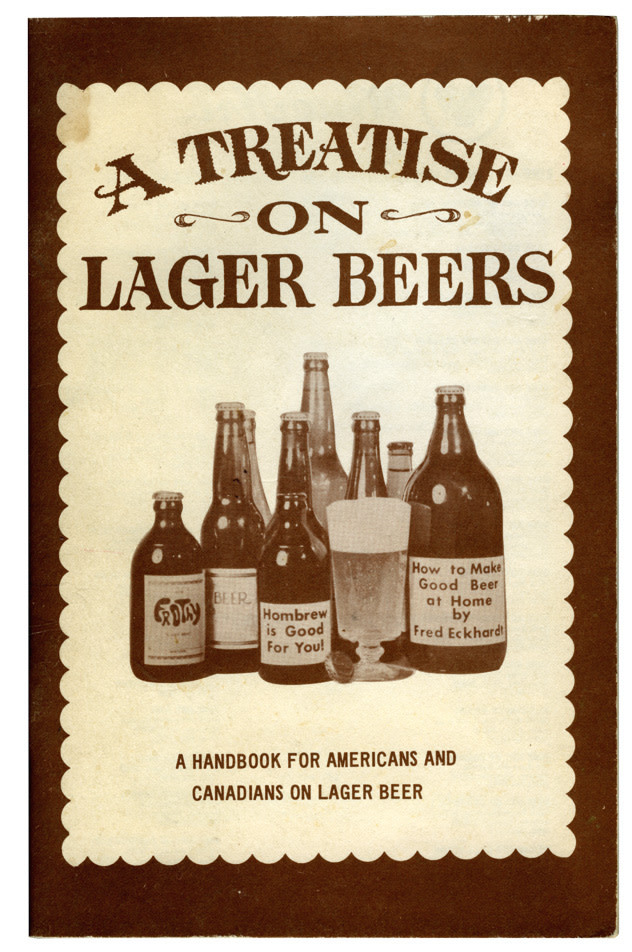 1940s
At the end of World War II, there are 421 breweries operating in the United States. By the mid-1970s, however, that number dwindles to 53. Perhaps it was a response to the lean times of rationing faced by Americans during the war years, but thus began the era of consolidation that would turn Budweiser, Coors, and Miller into titans.
1969
With the country's taste buds in hibernation, the earliest rumblings of craft brewing in Oregon really begin when a young writer and brewer named Fred Eckhardt (mentor to beer barons like Kurt and Rob Widmer) publishes A Treatise on Lager Beers, widely acknowledged as the country's first practical guide to homebrewing—an art that was still, technically, against the law.
1974
Publican Mike McMenamin takes over Produce Row, a small, funky tavern in Southeast Portland, where his clientele is introduced an exotic array of imported beers.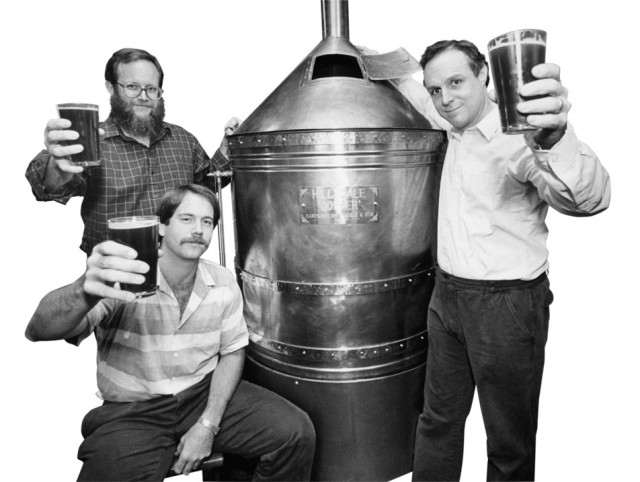 1979
Senator Alan Cranston's (D-California) bill that allows citizens to brew up to 200 gallons of beer annually is signed into law.
1980
A mere 48 breweries are still operating in the entire country. Industry experts predict that by 1990, only 10 will be left. But in Portland that same year, one operation, Cartwright's, the state's first true craft brewery, opens its doors. Unfortunately, by all accounts the suds here are virtually undrinkable and Cartwright's shuts down a few years later. 
1984
Started by winemaker Dick Ponzi and family, Bridgeport Brewing Co (then known as Columbia River Brewing) begins operations in industrial Northwest Portland. Now, with dozens of medals and a stable of nationally respected beers like Bridgeport IPA and Blue Heron Pale Ale, Bridgeport is Portland's oldest operating craft brewery.
1985
The Widmer brothers, along with Mike McMenamin, Dick Ponzi, and others, successfully band together to lobby Oregon's lawmakers for the right to sell beer directly to the public. (Prior to the bill's passage it was illegal to locate retail beer sales and beer manufacturing equipment on the same premises.)
1988
On the eve of the first Oregon Brewers Festival, 13 local brewers—including Bridgeport and Widmer—ready their finest ales, expecting 5,000 beer drinkers to show. Instead, nearly 15,000 flock to Gov. Tom McCall Waterfont Park to sample nearly 30 beers.
1999
Blitz-Weinhard Brewery shuts down after 143 years in business. Today the beer is brewed in Hood River, but the Weinhard name is owned by Wisconsin's Miller Brewing Co.
2006
Portland Mayor Tom Potter, along with Governor Ted Kulongoski, declares July to be Oregon Craft Beer Month. In stark contrast to the Prohibition years, the US House of Representatives (with Oregon's Peter DeFazio helping to lead the way) passes House Resolution 753, which officially recognizes America's craft brewers for their contributions to the country's economy, culture, and history.
2010
Today, the Oregon Brewers Festival is the country's largest outdoor craft beer festival, with some 70,000 beer geeks expected to turn out. And when they do, there's plenty to choose from: Oregon now claims over 100 breweries—approximately 35 of which reside in the Portland metro area—with more opening seemingly every day, each contributing to an industry that employs nearly 5,000 Oregonians and hauls in $2.33 billion annually.