HOMETOWN PRIDE
PDX Food in the News: Summertime Edition
Checking in on Portland's status in the national food scene, Portland's coolest scoop shops get major props.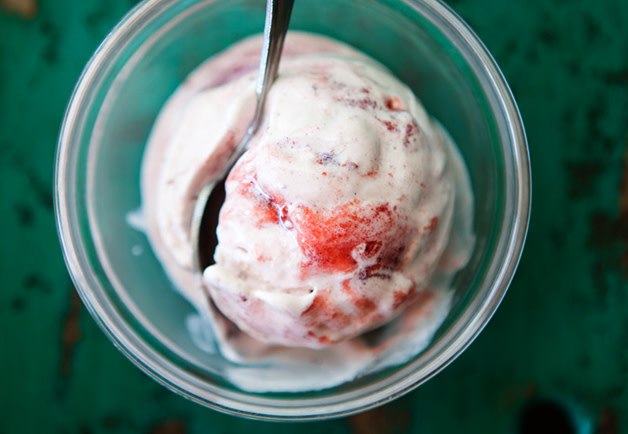 This summer, national media outlets are recognizing PDX as a veritable mecca for ice cream lovers. First up, Serious Eats picks its Six Ice Cream Scoop Shops We Love in Portland, tipping their cones to the liquid nitrogen-powered flavors at North Williams' What's the Scoop?, Ruby Jewel's fresh mint flavor, the Kaluha Marble at Rose's Ice Cream in Northeast, the "breakfast for dessert" option care of the Maple Bacon flavor at Fifty Licks parked in the Good Food Here pod, the Oatmeal and Brown Sugar at the Scoop Handmade Ice Cream truck, and the Fiery Chocolate—powered by cayenne pepper and cinnamon—at Cool Moon in the Peal.
In other frozen delights news, Salt & Straw (Portland's most visible ice cream empire, which is even drawing long lines at the cart in front of their SE Division location set to open next year) shares the spotlight with national scoopers in GQ's The 10 Ice Cream Shops You Need to Visit and in this week's Time Magazine. The Time article "Two Scoops of Ube" (which isn't available online) declares "Weird flavors—or at least the idea of them—have become so mainstream that customers expect a good ice cream shop to offer something unusual even if no one ever orders it" and goes on to herald Salt & Straw's Chevre with Marionberry Habanero Jam as "a perfect balance of sweet berries and zesty jam."
What are you waiting for? Summer is prime time for exploring the best of our city's cool gourmet creations, from the sweet corn ice cream at What's the Scoop—a true taste of Oregon summer, made by soaking fresh corn cobs in the ice cream base—to the brand-spankin-new Ruby Jewel Scoop Shop in the West End (428 SW 12th Avenue). And if you spot a new creative flavor—or a great take on a classic—you know what to do: tell us in the comments!