Editor's Note
Editor's Note: Parks Near and Far
Reflecting on Zari Santner's three-decade career at Portland Parks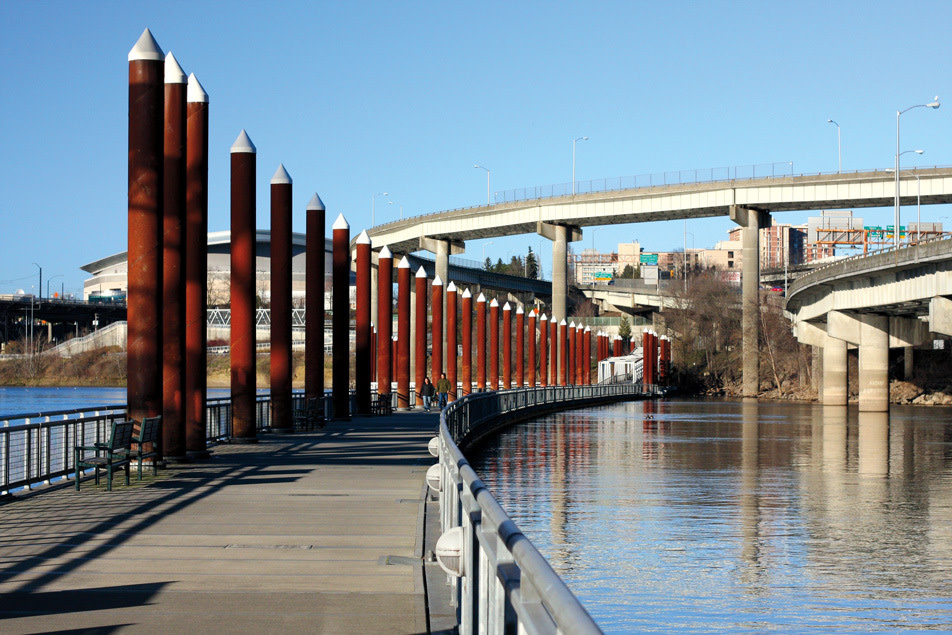 NOT LONG AFTER Zari Santner arrived at her job as a planner for Portland Parks & Recreation 30 years ago, her boss sent her to deal with an untamed cluster of cottonwood trees on the east bank of the Willamette River.
As Santner sidled down the little dead-end dirt trail between the river and freeway toward the trees, she recalls the epiphany of an entirely different vista on the city. And when she scrambled over the football-size stones of the riverbank, she discovered that the boneshaking roar of I-5's traffic became a skin-deep purr.
Santner excitedly told her boss of her realizations. Sure, the trees could go, but there was also a major opportunity at hand: what if the parks bureau built a path connecting the bridges and Waterfront Park to create a single, continuous loop linking the east and west sides of the river? For the next 17 years, Santner pushed past many barriers, from one of the city's most powerful men (Norm Winningstad, who wanted to put a heliport in the way) to local architects who lambasted the trail as a "$32 million jogging path." But Santner ultimately prevailed, creating the Vera Katz Eastbank Esplanade, completed in 2001.
This month, Santner winds up a three-decade career at Portland Parks, 22 years as a project planner and implementer, eight as parks director. She was the first woman to hold the post but, as she prefers to note, "only the second landscape architect." Under her leadership, Portland added Jamison Square, Tanner Springs Park, Director Park, Elizabeth Caruthers Park, the East Portland Community Center Pool, Holly Farm Park, and the Southwest Community Center.
Portland became one of the first major American cities to routinely integrate natural habitat and stormwater drainage in its parks. And, true to her training at Harvard Graduate School of Design, Santner turned the city into a veritable theme park of contemporary landscape architecture by such major figures in the field as Peter Walker, Laurie Olin, Herbert Dreiseitl, Cheryl Barton, and George Hargreaves.
As you might guess from such a productive tenure, Santner threw and took some elbows. Critics called her difficult, better at building than managing, and a supporter of architects' visions over the community's desires. But I'd argue that her legacy will be best measured years from now, against the first landscape architect to lead the bureau—Emanuel Mische, who gave us Laurelhurst, Mt Tabor, and Peninsula Parks. Will her parks be loved as much as his?
Indeed, a decade's retrospect puts the Eastbank Esplanade into an entirely different focus, even for Santner. Yes, she's proud of giving Portlanders wonderful views of downtown. But she's even prouder that it included the first restoration of fish habitat along this stretch of river, and that it was the first move toward a park-and-trail connection she hopes will eventually reach all the way from downtown to Mount Hood. Let's hope the next parks director has as much vision, both near and far.
Randy Gragg
Editor in Chief