Editor's Note
Editor's Note: The Birth of a Park
Parks have always been a battle between expenses and aesthetics.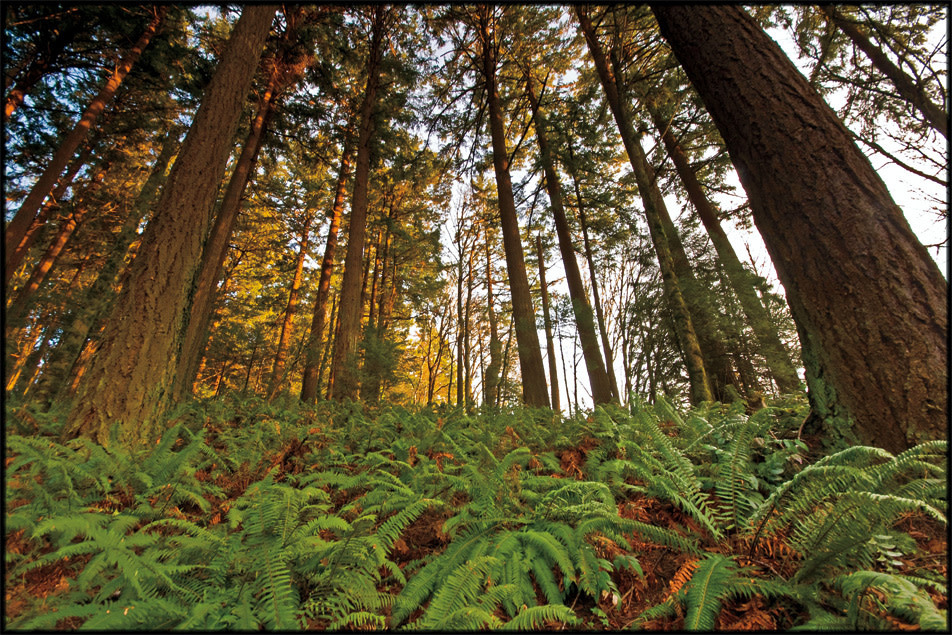 READING THE LETTERS OF JOHN OLMSTED, the man who created Portland's first parks plan in 1903, one quickly realizes that very little about the city has changed. As the eminent historian E. Kimbark MacColl once explained to me, "Portland is always looking for first-class passage on a steerage ticket." And nowhere is our thrifty urge for the finest better expressed than in the creation and management of Forest Park, first imagined by Olmsted.
The stepson of Frederick Law Olmsted, America's original landscape architect, who designed such wonders as New York's Central Park and Boston's Emerald Necklace, John Olmsted spent most of his career traveling across the United States creating City Beautiful plans and picturesque park designs for places ranging from New Orleans to Spokane. Hired by civic boosters to design the grounds for the Portland's 1905 Lewis & Clark Exposition and to lay out a citywide network of green spaces, Olmsted imagined Stumptown laced with parks connected by parkways from the Columbia River to Johnson Creek, the growing skyline set against steep surrounding hillsides preserved as verdant backgrounds. But he also saw the facts on the ground. "I have enjoyed my park reconnaissance very much as the landscape is fine and the possibilities for parks so far as land is concerned, are excellent," he wrote in one of his daily letters to his wife, "but I fear the money will be deficient."
Olmsted returned five times, but only fully realized one design for Portland: "Hillside Parkway," now known as Terwilliger Parkway. By 1910, he had become frustrated by stingy clients and a mayor "who would like show how smart he is by keeping expenses down." In his final daily letter from Portland, Olmsted consoled his wife about a boil and himself for being so ready to leave that he willingly turned down a $1,000 private job. "Economy is all right in its place," he wrote. "Boston would have saved millions by buying parks when it was the size Portland is now."
Yet, buried among the many ideas of his 1903 "Report to the Parks Board" was a section titled "Forest Park," calling for the preservation of a "succession of ravines and spurs covered with remarkably beautiful primeval woods." Future generations, he wrote in his report, "will bless the men who were wise enough to get such woods preserved."
The idea became a kind of echo, ricocheting forward in subsequent Portland city plans created by other esteemed outsiders, from Chicagoan Edward H. Bennett to the notorious New York freeway builder Robert Moses. And as fate would have it, the real estate boom triggered by the 1905 Exposition (which priced the land for Olmsted's plan out of reach) soon became the bust of the Great Depression, leaving hundreds of lots abandoned, particularly in the "succession of ravines and spurs" he had suggested could be Forest Park.
In 1944, the City Club of Portland formed a committee to research making a park from the swath of land Olmsted had long ago identified, first out of the 2,900 acres the city and county now owned through tax foreclosures, then from 2,500 more acres on steep hills unsuitable for any future development. Four years later—and 45 years after Olmsted first suggested it—the city dedicated Forest Park. "As ?proposed," reasoned the Oregonian, capturing Portland's steerage habit pitch-perfect, "costs could be no more than the city is spending now for fire protection, policing, road maintenance…." That thriftiness toward Forest Park never changed. In a 1960 report, the committee that would become the Forest Park Conservancy counted its cash expenditures to be "$10 or $15 a year." Last year, City Club discovered that, despite making up 45 percent of the city's parks acreage, Forest Park received only .5 percent of Portland Parks and Recreation's budget. It's now 1.5 percent—a mere $640,000.
In short, we all need to continue pitching in. If you bought this magazine on the newsstand, you already did. Portland Monthly is donating 65 cents from every newsstand copy sold to the Forest Park Conservancy.
It may sound a little corny, but there's another Portland saying coined by C.E.S. Wood that even the ever-wry historian MacColl often affectionately cites: "Good citizens are the riches of a city." With Forest Park (among other things), those riches are how Portland somehow keeps sputtering toward a future in first class.
Randy Gragg
Editor in Chief