Feature
Top Doctors 2010
Our annual list of Portland's Top Docs in 73 specialties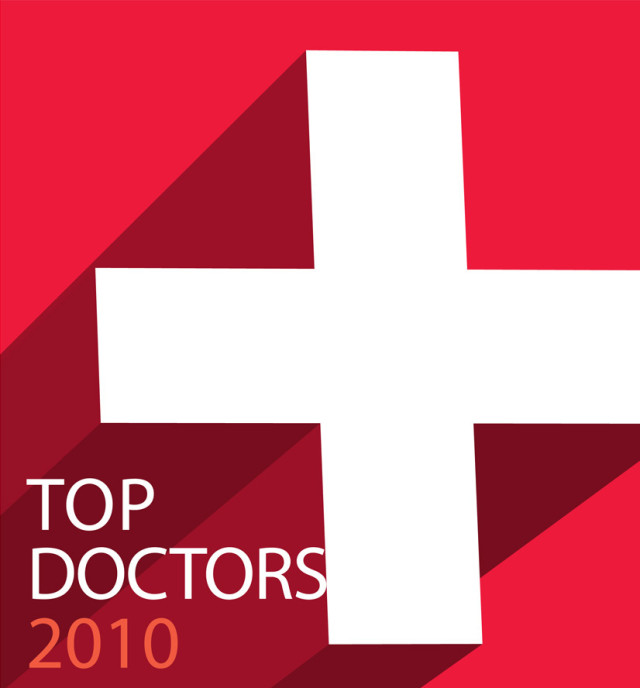 Frequently Asked Questions
Who picks the doctors on the list?
The local medical community does. This year, we chose roughly 5,000 doctors and 2,000 registered nurses in the tri-county area and southern Washington at random and invited them to participate in our online survey. We asked, "If you or a loved one were in need of medical help, which doctor would you choose?" Each participant could nominate one doctor in as many as 76 specialties. Of course, there were a few ground rules: you could vote only once, and you couldn't vote for yourself (yep, we checked). The doctors who received the most votes in each field made our top docs list.
Why doesn't your list include doctors of podiatry or alternative medicine?
Portland Monthly recognizes the contribution acupuncturists, naturopaths, chiropractors, and other doctors make to Portlanders' health (in fact, most of our staff members make regular visits to at least one of those specialists). But for the sake of standardization, we defined "doctor" as a licensed medical doctor (MD) or a doctor of osteopathic medicine (DO).
I am a doctor and my specialty doesn't ?appear on your list. Why not?
We chose the list of specialties primarily from those certified by the American Board of Medical Specialties, in consultation with Dr. John Evans, president of the Medical Society of Metropolitan Portland. They are the ones most commonly used by patients. Space considerations also prevent us from publishing every specialty selected.
Can doctors pay to be on the list?
Absolutely not. Our top doctors are chosen based on the number of nominations they receive from the physicians invited to participate in the survey.
But how can you be sure doctors aren't just voting for their friends?
Well, we can't. Some bias is inevitable. While we hope that everyone is giving the question thoughtful consideration, we allow each participant one vote to cast however he or she chooses. We hope the large number of respondents (more than 1,000 this year) will eliminate the buddy effect.
If my doctor isn't on the list, should I be concerned?
Not at all. Many good doctors don't appear on the list. Doctors working in large hospitals, department heads, and physicians who have been practicing a long time may be better known than doctors in a small or private practice.
Do you check the doctors' medical licenses?
Yes. Our research department independently verifies that each doctor's license is active (at press time) and in good standing with the Oregon Medical Board.
{page break}
Addiction Medicine
Bradley Anderson?
Kaiser Permanente
Interstate Medical Office East
3550 N Interstate Ave
503-249-3434
Andris Antoniskis
Providence Portland Medical Center
5288 NE Hoyt St
503-215-2548
Adolescent Medicine
Wayne Sells
OHSU Doernbecher Children's Hospital
3181 SW Sam Jackson Park Rd
503-418-5700
Melissa Weddle
The Vancouver Clinic at Salmon Creek
2525 NE 139th St
Vancouver
360-397-3820
Allergy and Immunology
Robert Lawrence
Kaiser Permanente
Interstate Medical Office East
3550 N Interstate Ave
503-331-6360
Anthony Montanaro
Oregon Health & Science University
3181 SW Sam Jackson Park Rd
503-494-8531
Renganathan Srinivasan
The Vancouver Clinic at Columbia Tech Center
501 SE 172nd Ave
Vancouver
360-397-3750
Anatomic Pathology
Christopher Corless
Oregon Health & Science University
3181 SW Sam Jackson Park Rd
503-494-6834
Kathleen Sunshine
The Vancouver Clinic
700 NE 87th Ave
Vancouver
360-377-3095
Anesthesiology
Robert Cross
Oregon Health & Science University
3181 SW Sam Jackson Park Rd
503-494-4908
R. David Farris
Oregon Anesthesiology Group
120 NW 14th Ave, Ste 300
503-299-9906
Jeffrey Kirsch
Oregon Health & Science University
3181 SW Sam Jackson Park Rd
503-494-4908
Jeffrey Leon
Oregon Anesthesiology Group
120 NW 14th Ave, Ste 300
503-299-9906
{page break}
Cardiac Surgery
Emery Charles Douville
The Oregon Clinic
1111 NE 99th Ave, Ste 201
503-963-3030
Yong Shin
Kaiser Permanente
Mt Talbert Medical Office
10100 SE Sunnyside Rd
Clackamas
503-571-7372
Matthew Slater
Oregon Health & Science University
3181 SW Sam Jackson Park Rd
503-494-7820
Cardiology
Joaquin E. Cigarroa
OHSU Center for Health & Healing
3303 SW Bond Ave
503-494-1775
John Greves
The Vancouver Clinic
700 NE 87th Ave
Vancouver
360-397-3177
John H. McAnulty
Legacy Good Samaritan Medical Center
2222 NW Lovejoy St
Ste 601
503-413-7970
Interventional Cardiology
Phillip Au
Kaiser Permanente
Mt Talbert Medical Office
10180 SE Sunnyside Rd
Clackamas
503-571-4213
Joaquin E. Cigarroa
OHSU Center for Health & Healing
3303 SW Bond Ave
503-494-1775
Steven Reinhart
The Oregon Clinic
1111 NE 99th Ave, Ste 201
503-963-3030
Pediatric Cardiology
Douglas King
Pediatric Cardiology Center of Oregon
501 N Graham St, Ste 220
503-280-3418
James Kyser
Pediatric Cardiology Center of Oregon
501 N Graham St, Ste 220
503-280-3418
Mark Reller
OHSU Doernbecher Children's Hospital
3181 SW Sam Jackson Park Rd
503-418-5750
Clinical Cardiac Electrophysiology
Ashkhan Babaie
The Oregon Clinic
1111 NE 99th Ave, Ste 201
503-963-3030
Benjamin John
The Vancouver Clinic
700 NE 87th Ave
Vancouver
360-397-3177
John H. McAnulty
Legacy Good Samaritan Medical Center
2222 NW Lovejoy St
Ste 601
503-413-7970
{page break}
Clinical Pathology
Christopher Corless
Oregon Health & Science University
3181 SW Sam Jackson Park Rd
503-494-6834
David Sauer
Oregon Health & Science University
3181 SW Sam Jackson Park Rd
503-494-9594
Colon and Rectal Surgery
Daniel Herzig
Oregon Health & Science University
3181 SW Sam Jackson Park Rd
503-494-4373
David Parsons
Kaiser Permanente
Sunnybrook Medical Office
9900 SE Sunnyside Rd
Clackamas
503-571-8238
Mark Whiteford
The Oregon Clinic
1040 NW 22nd Ave
Ste 560
503-281-0561
Critical Care Medicine
Jonathan Rettman
Kaiser Permanente
Sunnyside Medical Office
10180 SE Sunnyside Rd
Clackamas
503-571-2727
Thomas Schaumberg
The Oregon Clinic
1111 NE 99th Ave
503-963-3030
Pediatric Critical Care Medicine
Dana A. Braner
OHSU Doernbecher Children's Hospital
3181 SW Sam Jackson Park Rd
503-418-5800
Alan Graham
OHSU Doernbecher Children's Hospital
3181 SW Sam Jackson Park Rd
503-494-8311
Jim Lindsay
The Children's Hospital at Legacy Emanuel
2801 N Gantenbein Ave
503-413-2632
{page break}
Dermatology
Theresa Devere
Oregon Health & Science University
3181 SW Sam Jackson Park Rd
503-494-4713
Theresa Mah
The Vancouver Clinic at Columbia Tech Center
501 SE 172nd Ave
Vancouver
360-254-1240
Frank Parker
OHSU Center for Health & Healing
3303 SW Bond Ave
503-418-3376
Eric Simpson
Oregon Health & Science University
3181 SW Sam Jackson Park Rd
503-494-8311
Pediatric Dermatology
Alfons Krol
OHSU Doernbecher Children's Hospital
3181 SW Sam Jackson Park Rd
503-418-3376
Dawn Siegel
OHSU Doernbecher Children's Hospital
3181 SW Sam Jackson Park Rd
503-418-3376
Developmental-Behavioral Pediatrics
Sara Cuthill
Kaiser Permanente
Interstate Medical Office East
3550 N Interstate Ave
503-285-9321
Mark J. Merkens
OHSU Doernbecher Children's Hospital
Child Development and Rehabilitation Center
707 SW Gaines St
503-494-8095
David W. Willis
Artz Center for Developmental Health
1675 SW Marlow Ave
Ste 200
503-802-5286
Diagnostic Radiology
Marc Gosselin
Oregon Health & Science University
3181 SW Sam Jackson Park Rd
503-418-0990
Steve Primack
Oregon Health & Science University
3181 SW Sam Jackson Park Rd
503-494-8311
{page break}
Emergency Medicine
Tony Carnevale
Kaiser Permanente
Kaiser Sunnyside Medical Center
10180 SE Sunnyside Rd
Clackamas
503-652-2880
John Ma
Oregon Health & Science University
3181 SW Sam Jackson Park Rd
503-494-7008
Robert Vissers
Legacy Emanuel Medical Center
2801 N Gantenbein Ave
503-413-2200
Pediatric Emergency Medicine
Robert Cloutier
OHSU Doernbecher Children's Hospital
3181 SW Sam Jackson Park Rd
503-494-1475
Billy Lennarz
The Children's Hospital at Legacy Emanuel
501 N Graham St
503-413-2200
*Garth Meckler *
Oregon Health & Science University
3181 SW Sam Jackson Park Rd
503-494-8311
David Spiro
OHSU Doernbecher Children's Hospital
3181 SW Sam Jackson Park Rd
503-494-7551
Endocrinology
Harry Glauber
Kaiser Permanente
Interstate Medical Office West
3325 N Interstate Ave
503-331-6061
Michael Herson
Kaiser Permanente
Interstate Medical Office West
3325 N Interstate Ave
503-813-2000
Christina Orr
The Vancouver Clinic
700 NE 87th Ave
Vancouver
360-397-3290
Pediatric Endocrinology
Bruce Boston
OHSU Doernbecher Children's Hospital
3181 SW Sam Jackson Park Rd
503-494-1926
Scott Mandel
Kaiser Permanente
Beaverton Medical Office
4855 SW Western Ave
Beaverton
503-520-4977
Karin Selva
The Children's Hospital at Legacy Emanuel
501 N Graham St, Ste 375
503-413-1600
{page break}
Family Medicine
Eric Doerfler
The Vancouver Clinic at Battle Ground
2005 W Main St
Battle Ground
360-397-1500
Scott Fields
OHSU Center for Health & Healing
3303 SW Bond Ave
503-494-6620
Jessica Flynn
OHSU Center for Health & Healing
3303 SW Bond Ave
503-494-8575
Gastroenterology
M. Brian Fennerty
OHSU Center for Health & Healing
3303 SW Bond Ave
503-494-4373
Kevin Meitz
The Vancouver Clinic at Salmon Creek
2525 NE 139th St
Vancouver
360-397-4000
Robert Shneidman
Kaiser Permanente
Interstate Medical Office South
3500 N Interstate Ave
503-331-6170
Pediatric Gastroenterology
Jacqueline Fridge
NW Pediatric Gastroenterology
300 N Graham St
Ste 420
503-281-5139
William F. Marshall
NW Pediatric Gastroenterology
300 N Graham St
Ste 420
503-281-5139
Annie Terry
Oregon Health & Science University
3181 SW Sam Jackson Park Rd
503-494-1078
General Pediatrics
Gerald Bader
The Vancouver Clinic
700 NE 87th Ave
Vancouver
360-397-1500
Barbara Ferré
Metropolitan Pediatrics
1130 NW 22nd Ave
Ste 320
503-295-2546
Tara Schwab
OHSU Doernbecher Children's Hospital
3181 SW Sam Jackson Park Rd
503-418-5700
{page break}
General Psychiatry
George Keepers
Oregon Health & Science University
3181 SW Sam Jackson Park Rd
503-494-6153
General Surgery
General Surgery
Brett Sheppard
Oregon Health & Science University
3181 SW Sam Jackson Park Rd
503-494-1502
Steve Slovic
The Vancouver Clinic
700 NE 87th Ave
Vancouver
360-397-3119
John Zelko
The Oregon Clinic
1040 NW 22nd Ave
Ste 560
503-281-0561
Geriatric Medicine
Elizabeth Eckstrom
Oregon Health & Science University
3181 SW Sam Jackson Park Rd
503-494-8562
Marian Hodges
Providence Portland Medical Center
5050 NE Hoyt St
Ste 540
503-215-6600
Patricia Newton
Legacy Good Samaritan Medical Center
1200 NW 23rd Ave
503-413-7074
Gynecologic Oncology
Emily Berry
Oregon Health & Science University
3181 SW Sam Jackson Park Rd
503-418-4500
Fabio Cappuccini
Kaiser Permanente
Mt Talbert Medical Office
10100 SE Sunnyside Rd
Clackamas
503-571-3730
Paul Tseng
Northwest Cancer Specialists
Rose Quarter Cancer Center
265 N Broadway
503-274-4885
William Winter III
Northwest Cancer Specialists
Rose Quarter Cancer Center
265 N Broadway
503-274-4885
Hematology
Lynne Boshkov
Oregon Health & Science University
3181 SW Sam Jackson Park Rd
503-494-6594
Tom DeLoughery
OHSU Center for Health & Healing
3303 SW Bond Ave
503-494-6594
Jody Kujovich
Northwest Cancer Specialists
Rose Quarter Cancer Center
265 N Broadway
503-280-1223
Jeffrey Menashe
Northwest Cancer Specialists
Hematology Clinic
5050 NE Hoyt St, Ste 256
503-239-7767
Pediatric Hematology-Oncology
Kellie J. Nazemi
OHSU Doernbecher Children's Hospital
3181 SW Sam Jackson Park Rd
503-418-5150
Janice Olson
The Children's Hospital at Legacy Emanuel
501 N Graham St, Ste 355
503-413-2560
Linda Stork
OHSU Doernbecher Children's Hospital
3181 SW Sam Jackson Park Rd
503-418-5150
{page break}
Hospice and Palliative Medicine
Paul Bascom
Oregon Health & Science University
3181 SW Sam Jackson Park Rd
503-494-1174
Eric K. Fromme
Oregon Health & Science University
3181 SW Sam Jackson Park Rd
503-494-3854
Infectious Diseases
Joseph Kane
Kaiser Permanente
Sunnybrook Medical Office
9900 SE Sunnyside Rd
Clackamas
503-571-3165
Sarah Slaughter
Providence Portland Medical Center
5050 NE Hoyt St
Ste 540
503-215-6600
Lynne Strasfeld
Oregon Health & Science University
3181 SW Sam Jackson Park Rd
503-494-7735
Sally Williams
The Vancouver Clinic
700 NE 87th Ave
Vancouver
360-254-1240
Pediatric Infectious Diseases
Colleen Chun
Oregon Health & Science University
3181 SW Sam Jackson Park Rd
503-418-8100
Judith Guzman-Cottrill
Oregon Health & Science University
3181 SW Sam Jackson Park Rd
503-494-3305
John Paisley
The Children's Hospital at Legacy Emanuel
2801 N Gantenbein Ave
503-413-2042
Internal Medicine
Cyril Dodge
The Vancouver Clinic
700 NE 87th Ave
Vancouver
360-254-1240
George Feldman
Kaiser Permanente
Mt Scott Medical Office
9800 SE Sunnyside Rd
Clackamas
503-813-0378
Thomas R. Yackel
Oregon Health & Science University
3181 SW Sam Jackson Park Rd
503-494-8562
Maternal and Fetal Medicine
Leonardo Pereira
Oregon Health & Science University
3181 SW Sam Jackson Park Rd
503-494-2101
Sally Segel
Oregon Health & Science University
3181 SW Sam Jackson Park Rd
503-494-2101
Peter Watson
Women's Healthcare Associates
Northwest Perinatal Center
9701 SW Barnes Rd
Ste 299
503-297-3660
{page break}
Medical Genetics
Dana Kostiner
Kaiser Permanente
Interstate Medical Office West
3325 N Interstate Ave
503-331-6593
Jacob Reiss
Kaiser Permanente
Interstate Medical Office West
3325 N Interstate Ave
503-331-6596
Jone Sampson
OHSU Center for Health & Healing
3303 SW Bond Ave
503-494-4800
Medical Oncology
Michaelann Liss
The Vancouver Clinic
700 NE 87th Ave
Vancouver
360-397-3390
Richard Maziarz
Oregon Health & Science University
3181 SW Sam Jackson Park Rd
503-494-4606
Alan Sandler
Oregon Health & Science University
3181 SW Sam Jackson Park Rd
503-494-8534
John Smith II
Northwest Cancer Specialists
5050 NE Hoyt St, Ste 256
503-239-7767
Neonatal-Perinatal Medicine
JoDee M. Anderson
OHSU Doernbecher Children's Hospital
Neonatal Care Center
707 SW Gaines St
503-494-2613
Joseph Gilhooly
OHSU Doernbecher Children's Hospital
Neonatal Care Center
707 SW Gaines St
503-494-2613
Patrick K. Lewallen
The Children's Hospital at Legacy Emanuel
501 N Graham St
503-413-2304
Nephrology
David Ellison
Oregon Health & Science University
3314 SW US Veterans Hospital Rd
503-494-8490
John Rastall
The Vancouver Clinic
700 NE 87th Ave
Vancouver
360-379-3350
Micah Thorp
Kaiser Permanente
Lake Road Nephrology Center
6902 SE Lake Rd, Ste 100
Milwaukie
503-786-1167
{page break}
Pediatric Nephrology
Edward Guillery
The Children's Hospital at Legacy Emanuel
300 N Graham St
Ste 300
503-280-3620
Randy Jenkins
Northwest Pediatric Kidney Specialists
300 N Graham St
Ste 300
503-280-3620
Jeanne Mowry
Kaiser Permanente
Interstate Medical Office East
3550 N Interstate Ave
503-331-6577
David Rozansky
OHSU Doernbecher Children's Hospital
3181 SW Sam Jackson Park Rd
503-494-7327
Neurologic Surgery
Johnny Delashaw Jr
Oregon Health & Science University
3181 SW Sam Jackson Park Rd
503-494-4314
Richard Polin
Kaiser Permanente
Mt Talbert Medical Office
10100 SE Sunnyside Rd
Clackamas
503-571-6142
George Shanno
Rebound Orthopedics and Neurosurgery
200 NE Mother Joseph Place, Ste 300
Vancouver
360-256-8584
Neurology
H. Alexander Krob
The Vancouver Clinic at Salmon Creek
2525 NE 139th St
Vancouver
360-882-2778
Richard Rosenbaum
The Oregon Clinic
5050 NE Hoyt St, Ste 315
503-963-3100
Greg Zarelli
Kaiser Permanente
Sunnyside Medical Office
10180 SE Sunnyside Rd
Clackamas
503-571-3664
Child Neurology
Jennifer Huffman
Legacy Pediatric Neurology Clinic
The Children's Hospital at Legacy Emanuel
501 N Graham St
Ste 330A
503-413-3600
Joseph Pinter
OHSU Doernbecher Children's Hospital
707 SW Gaines St
503-494-9113
Parvez Pohowalla
Providence St. Vincent Medical Center
9427 SW Barnes Rd
Ste 390
503-216-1280
Colin Roberts
OHSU Doernbecher Children's Hospital
707 SW Gaines St
503-494-5856
{page break}
Neuroradiology
Jim Anderson
Oregon Health & Science University
3181 SW Sam Jackson Park Rd
503-494-7266
Bronwyn Hamilton
Oregon Health & Science University
3181 SW Sam Jackson Park Rd
503-494-7576
Gary Nesbit
Oregon Health & Science University
3181 SW Sam Jackson Park Rd
503-494-7576
Nuclear Medicine
Alexandru Bageac
Providence Portland Medical Center
4805 NE Glisan St
503-215-7015
Robert Nance
Oregon Health & Science University
3181 SW Sam Jackson Park Rd
503-494-8468
Jeffrey Stevens
Oregon Health & Science University
3181 SW Sam Jackson Park Rd
503-494-2570
Obstetrics and Gynecology
Ronnie-Gail Emden
The Vancouver Clinic
700 NE 87th Ave
Vancouver
360-397-3470
Catherine Leclair
OHSU Center for Women's Health
3181 SW Sam Jackson Park Rd
503-418-4500
Mark Nichols
OHSU Center for Women's Health
3181 SW Sam Jackson Park Rd
503-418-4500
Ophthalmology
James Wentzien
Kaiser Permanente
Interstate Medical Office Central
3600 N Interstate Ave
503-331-6330
David J. Wilson
OHSU Casey Eye Institute
3375 SW Terwilliger Blvd
503-494-3051
Orthopedic Surgery
Jay Crary
Rebound Orthopedics and Neurosurgery
200 NE Mother Joseph Place, Ste 210
360-254-6161
Dennis Crawford
OHSU Center for Health & Healing
3303 SW Bond Ave
503-494-4000
Jung Yoo
Oregon Health & Science University
3181 SW Sam Jackson Park Rd
503-418-9888
{page break}
Otolaryngology
Peter Andersen
Oregon Health & Science University
3181 SW Sam Jackson Park Rd
503-494-5355
Colin Cave
Kaiser Permanente
Beaverton Medical Office
4855 SW Western Ave
Beaverton
503-643-7565
Joshua Schindler
Oregon Health & Science University
3181 SW Sam Jackson Park Rd
503-494-5947
Pediatric Otolaryngology
James Cuyler
Head & Neck Surgical Associates
1849 NW Kearney St
Ste 200
503-553-3664
Carol MacArthur
OHSU Doernbecher Children's Hospital
3181 SW Sam Jackson Park Rd
503-494-5350
Henry Milczuk
OHSU Doernbecher Children's Hospital
3181 SW Sam Jackson Park Rd
503-494-5350
Pain Medicine
Julio Gonzalez-Sotomayor
Oregon Health & Science University
3181 SW Sam Jackson Park Rd
503-494-2656
David Sibell
OHSU Center for Health & Healing
3303 SW Bond Ave
503-494-8311
Brett Stacey
OHSU Center for Health & Healing
3303 SW Bond Ave
503-494-8311
Pediatric Surgery
David Bliss
The Children's Hospital at Legacy Emanuel
501 N Graham St
Ste 300
503-460-0065
Garret Zallen
Oregon Health & Science University
3181 SW Sam Jackson Park Rd
503-227-2409
Andrew Zigman
Kaiser Permanente
Mother Joseph Plaza
9427 SW Barnes Rd
503-203-2176
{page break}
Physical Medicine and Rehabilitation
Jerod Cottrill
Rebound Orthopedics and Neurosurgery
1 Center Ct
Ste 110
503-732-6863
Molly Hoeflich
Providence Portland Medical Center
4805 NE Glisan St
503-230-2833
Edward Kim
The Vancouver Clinic at Salmon Creek
2525 NE 139th Ave
Vancouver
503-494-5759
Plastic Surgery
Clifford Canepa
9155 SW Barnes Rd,
Ste 532
503-292-9737
Juliana Hansen
Oregon Health & Science University
3181 SW Sam Jackson Park Rd
503-494-7824
Daniel Ladizinsky
Kaiser Permanente
Sunnybrook Medical Office
9900 SE Sunnyside Rd
Clackamas
503-331-6182
Public Health and Preventive Medicine
Alan Melnick
Oregon Health & Science University
3181 SW Sam Jackson Park Rd
503-494-0756
Gary Oxman
Multnomah County Health Department
426 SW Stark St
503-988-3674
{page break}
Pulmonary Disease
Christopher Fraley
The Vancouver Clinic
700 NE 87th Ave
Vancouver
360-397-3380
Louis Libby
The Oregon Clinic
1111 NE 99th Ave
503-963-3030
Jonathan Rettman
Kaiser Permanente
Sunnyside Medical Office
10180 SE Sunnyside Rd
Clackamas
503-571-2727
Pediatric Pulmonary Disease
John McQueston
Legacy Pediatric Pulmonology Clinic
501 N Graham St, Ste 320
503-459-4540
William Nichols
Legacy Pediatric Pulmonology Clinic
501 N Graham St, Ste 320
503-459-4540
Michael R. Powers
OHSU Doernbecher Children's Hospital
3181 SW Sam Jackson Park Rd
503-494-8023
Radiation Oncology
Christine Cha
The Oregon Clinic
4805 NE Glisan St
503-215-6029
John Holland
Oregon Health & Science University
3181 SW Sam Jackson Park Rd
503-494-8756
Carol Marquez
Oregon Health & Science University
3181 SW Sam Jackson Park Rd
503-494-8756
Greg Patton
Northwest Cancer Specialists
265 N Broadway
503-528-5013
Charles R. Thomas jr
Oregon Health & Science University
3181 SW Sam Jackson Park Rd
503-494-8758
Pediatric Radiology
Katharine Hopkins
OHSU Doernbecher Children's Hospital
3181 SW Sam Jackson Park Rd
503-418-5252
Paul Marten
Legacy Emanuel Medical Center
2801 N Gantenbein Ave
503-227-2409
Kelli Schmitz
OHSU Doernbecher Children's Hospital
3181 SW Sam Jackson Park Rd
503-418-0990
{page break}
Reproductive Medicine
John Hesla
Oregon Reproductive Medicine
2222 NW Lovejoy St, Ste 304
503-274-4994
David Lee
OHSU Center for Health & Healing
3303 SW Bond Ave
503-418-3700
Rheumatology
Peter Bonafede
Providence Portland Medical Center
5050 NE Hoyt St, Ste 155
503-215-6819
Atul Deodhar
Oregon Health & Science University
3181 SW Sam Jackson Park Rd
503-494-8963
Joji Kappes
Kaiser Permanente
Interstate Medical Office East
3550 N Interstate Ave
503-249-3442
Marcia Sparling
The Vancouver Clinic
501 SE 172nd Ave
Vancouver
360-397-3606
Pediatric Rheumatology
Victoria Cartwright
The Children's Hospital at Legacy Emanuel
501 N Graham St, Ste 315
503-413-3930
Daniel Kingsbury
The Children's Hospital at Legacy Emanuel
501 N Graham St, Ste 315
503-413-393
Sleep Medicine
Robert Fischer
Pacific Sleep Center at the Vancouver Clinic
501 SE 172nd Ave
Vancouver
360-397-3606
Michael Lefor
The Oregon Clinic
1111 NE 99th Ave, Ste 200
503-963-3030
Louis Libby
The Oregon Clinic
1111 NE 99th Ave, Ste 200
503-963-3030
Sports Medicine
James Chesnutt
Oregon Health & Science University
3181 SW Sam Jackson Park Rd
503-494-6400
Jeremy Chrisman
The Vancouver Clinic at Salmon Creek
2525 NE 139th St
Vancouver
360-397-3970
Mark Colville
Rebound Orthopedics and Neurosurgery
1 Center Ct, Ste 110
503-732-6863
{page break}
Surgery of the Hand
Mark Buehler
Providence Portland Medical Center
5050 NE Hoyt St
Ste 660
503-239-8430
Adam Mirarchi
Oregon Health & Science University
3181 SW Sam Jackson Park Rd
503-494-6400
Jerry Nye
Legacy Good Samaritan Medical Center
2222 NW Lovejoy St
Ste 401
503-274-4865
Joel Solomon
OHSU Center for Health & Healing
3303 SW Bond Ave
503-494-6687
Thoracic Surgery
James Bisio
Kaiser Permanente
Sunnybrook Medical Office
9900 SE Sunnyside Road
Clackamas
503-652-2880
John Handy
The Oregon Clinic
1111 NE 99th Ave, Ste 201
503-963-3030
Paul Schipper
Oregon Health & Science University
3181 SW Sam Jackson Park Rd
503-494-7820
Trauma Surgery
Richard Mullins
Oregon Health & Science University
3181 SW Sam Jackson Park Rd
503-494-5300
Martin Schreiber
Oregon Health & Science University
3181 SW Sam Jackson Park Rd
503-494-6518
Jennifer Watters
Oregon Health & Science University
3181 SW Sam Jackson Park Rd
503-494-5300
Urology
Michael Conlin
Portland VA Medical Center
3710 SW US Veterans Hospital Rd
503-220-8262
Sia Daneshmand
OHSU Center for Health & Healing
3303 SW Bond Ave
503-346-1500
David Menashe
The Oregon Clinic
5050 NE Hoyt St, Ste 514
503-215-2399
Pediatric Urology
David B. Lashley
Northwest Urological Clinic
2239 NW Pettygrove St Ste 210
503-223-6223
Patrick O'Hollaren
The Children's Hospital at Legacy Emanuel
501 N Graham St
Ste 500
503-413-3525
Steven Skoog
OHSU Doernbecher Children's Hospital
Child Development and Rehabilitation Center
745 SW Gaines Rd
503-494-4808
{page break}
Vascular and Interventional Radiology
Stanley Barnwell
Oregon Health & Science University
3181 SW Sam Jackson Park Rd
503-494-7736
John Kaufman
Oregon Health & Science University
3181 SW Sam Jackson Park Rd
503-494-7660
Atanu Prasad
Kaiser Permanente
Sunnyside Medical Office
10180 SE Sunnyside Rd
Clackamas
503-571-2880
Vascular Surgery
Homayon Hajarizadeh
Kaiser Permanente
Mt Talbert Medical Office
10100 SE Sunnyside Rd
Clackamas
503-571-2710
Gregory Moneta
Oregon Health & Science University
3181 SW Sam Jackson Park Rd
503-494-7593
Kent Williamson
Providence St. Vincent Medical Center
9155 SW Barnes Rd
Ste 321
503-292-0070