HEALTH & WELLNESS
Oregon's Pre-Existing Condition
Freelancers may love Portland's creative lifestyle, but when it comes to getting insurance, only the healthy need apply.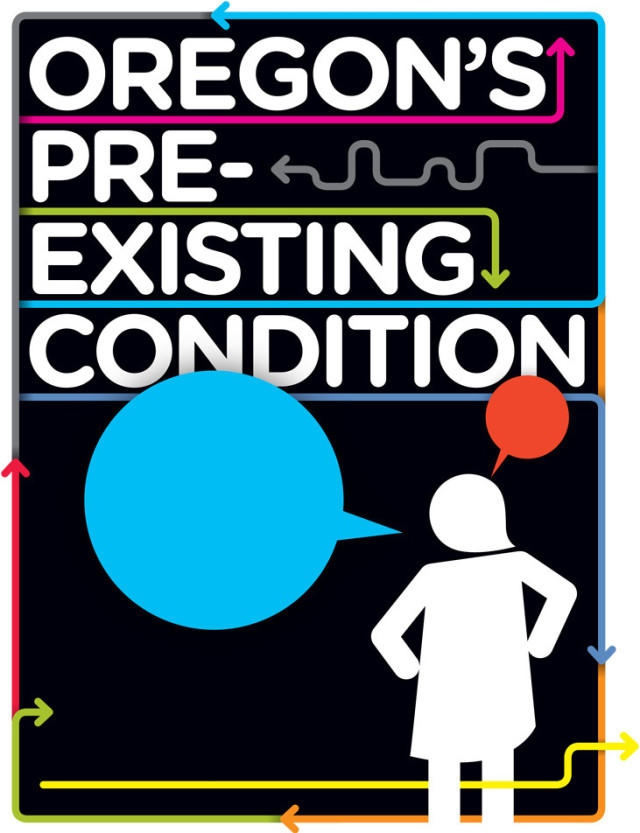 When I moved to Portland from Brooklyn, I hardly gave a thought to finding an affordable health insurance plan. Assuming that Oregon, like New York, would have a range of options for its legions of freelancers, I'd grown nonchalant about my situation: self-employed and the unlucky possessor of a chronic but manageable autoimmune disease.
For a writer living in New York state, there were plenty of reasonably priced plans, among them the Freelancers Union and Healthy NY, a state-run program for people who don't quite qualify for Medicaid. Sure, I'd heard of backward places like Mississippi that still allowed insurance companies to reject you for having a "pre-existing medical condition"—but naively assumed that green, progressive Oregon took care of its medically challenged citizens, especially those contributing to its much ballyhooed creative economy.
The truth is, if you're self-employed, or run a small business, and have a pre-existing condition (and who doesn't?), the Beaver State's pickings are pretty slim. That's largely because in Oregon, "medical underwriting"—during which insurance companies cherry-pick healthier customers—is alive and well, so insurers still deny coverage to those who come to them with ailments. (Comparatively, New York is nirvana: it's one of five states with so-called "guaranteed-issue" laws that mandate insurance companies cover anybody regardless of health status.)
Of course, Portland in particular has an enormous number of freelancers of all sorts: 73,816 self-employed workers, according to the Census Bureau's 2009 American Community Survey. That's 7 percent of the employed population. Just walk into Crema Coffee and Bakery, or the Fresh Pot, or one of the city's other Wi-Fi-enabled coffee shops, any day of the week and you'll see us hammering away at our laptops or hosting ad hoc business meetings.
To those of you employed with full benefits, the multitude of insurance-deprived freelancers deserve more than your sympathy, according to Laura Etherton, a health care advocate at the consumer advocacy organization Oregon State Public Interest Research Group (OSPIRG). Very small businesses, of which freelancers are an important part, "are the sector of our economy that has traditionally gotten us out of the recession—it's nimble and entrepreneurial," she notes. "The last thing we want to be doing as a state is hampering that sector with high insurance costs. It's exactly the wrong way to stimulate the economy."
Yet this is precisely what Oregon is doing by not providing affordable health insurance options. And unless the current state Legislature takes dramatic action, the situation could persist until last year's federal package of health reforms finally takes effect (if it does) … in 2014.
The only plan I can find here that would cover my pre-existing condition costs more than half my rent—a reality that may force me, even though I'm employed, to take a job I don't want just so I don't become one of the 51 million Americans who are uninsured.
"You hate to have people making decisions about how they will make a living be dependent on getting health coverage," Etherton says. "It holds back people from becoming self-employed—and doing their life's work."
For freelancers like me, there are three options: I can pay a lot; I can pay a little less for a lot less care; or I can move.
My search for some kind of health insurance comparable to the $320 I paid each month for my Healthy NY Aetna plan (with no deductible and $20 co-pays) became a wild goose chase. And whether looking to the Oregon Health Plan or so-called "catastrophic coverage" insurance, either my modestly middle-class income or my pre-existing condition led me mostly to dead ends.
Nancy Metcalf, senior program editor at Consumer Reports Health, hears stories like mine all the time, only worse, via her "Ask Nancy" column at consumerreports.org/health. 
"What really needs to happen for you is that it needs to be 2014," Metcalf tells me.
That's when the new Patient Protection and Affordable Care Act, jeeringly called "ObamaCare" by conservative pundits, will eventually force insurance companies to cover everyone, pre-existing conditions or not. They have had to cover sick children since September; adults, however, have to wait until January 1, 2014—three long years away.
In the interim, Oregon, like many other states, received federal money for high-risk patients, also known as the Federal Medical Insurance Pool. But before you get too excited, as I did, know this: in order to qualify, you need to have gone without health insurance for six months or more and been denied coverage based on medical underwriting criteria, or have one of 75 medical conditions (see page 63). That means, if you've moved here from somewhere else where you had prior insurance, tough luck. Or if, like a lot of people, you lost your job and now your COBRA—the government-mandated continuation of your group health
coverage from a former job, which usually lasts 18 months—is running out, tough luck, too.
Bottom line: until the new federal health legislation fully kicks in, Metcalf says, "which state you live in matters way more than you think it does."
For freelancers, she says, Massachusetts is mecca, or at least the future.
Massachusetts basically has "what everyone in the country is going to have in 2014. And they've had it for four years," Metcalf says. Indeed, Obama's Affordable Care Act was shaped in large part by the experience of Massachusetts, where everyone who can afford health insurance is required to buy it and no one can be denied coverage for having a pre-existing condition. When you enroll for insurance online via Massachusetts's health insurance exchange, called the Health Connector, you aren't even asked any questions about your health history. The Connector, regulated by the state, is a competitive marketplace where private insurance companies present their plans side by side in a standardized format so consumers and employers can compare apples to apples.
If you buy insurance via the Connector and your income is below $32,508 (300 percent of the federal poverty level for an individual) you get subsidies on premium costs, and if your income is half that you can get a plan with no monthly premium. Granted, Massachusetts's health reform has its flaws—namely a shortage of primary-care doctors and specialists, but also spiraling costs. However, at the end of the day, the state has the highest rate of coverage in the nation: 97.3 percent of the population is insured. Because the costs are spread out over a larger group of people, premiums (if you're one of the people paying them) are actually reasonable: they start at $39 a month.
Jealous yet? I am. The more I read about Massachusetts's far-reaching health care overhaul, which passed in 2006 under then-Governor Mitt Romney, the more I wondered why Oregon—a similarly educated, liberal, creative state—hasn't yet implemented such reforms. After all, our new-old Governor John Kitzhaber fathered the Oregon Health Plan (OHP) in the early '90s, when he was the president of the Oregon Senate. By prioritizing certain medical procedures (like checkups), Kitzhaber significantly expanded Medicaid coverage and earned a national profile for doing so. His reforms, which slashed the uninsured rate from 18 percent in 1992 to 11 percent in 1996, made Oregon a beacon of American health policy. But during his last term as governor, Kitzhaber's attempt to expand the health plan to residents at 185 percent of the poverty level ran head-on into the state's 2003 budget crisis. The result became the current "OHP Standard Plan" which shrunk benefits and lowered enrollment caps. The number of people covered sharply declined. In short, the once-vaunted Oregon Health Plan completely unraveled. By 2009, the portion of Oregon's population that is uninsured was back at 18 percent.
Since then, Oregon's health reformers have hatched a new plan for a health care overhaul. In 2009, the Legislature passed a bill that set up the Oregon Health Authority and the Oregon Health Policy Board—a nine-member citizen board charged with improving quality of and access to health care. The bill also called for creating an insurance exchange similar to Massachusetts's Health Connector.
Over the past two years, the health policy board has been diligently devising this exchange, drawing from Massachusetts's experience but putting Oregon's own unique stamp on it. After holding a series of meetings across the state, the board is focusing on controlling costs and increasing quality, "delivery system reform" (improving health at a lower cost without sacrificing quality of care), and workforce development—that is, making sure Oregon has enough doctors, nurses, and physicians' assistants to meet what will surely be a skyrocketing number of insured Oregonians. (An estimated 150,000 previously uninsured Oregonians are expected to buy insurance through the exchange by 2019.) At press time, the board was expecting to hand over its action plan to the Legislature as early as late December.
The state received $1 million from the feds this fall to set up the exchange, and Sean Kolmer, deputy administrator for the office of health policy research at the Oregon Health Authority, says the exchanges will be ready to enroll Oregonians by early 2013 to meet the federal deadline of January 1, 2014. (This is the magic date when federal tax credits for buying insurance through a health exchange will go into effect, in addition to being the date when insurance companies across the land will be required to cover everyone with pre-existing medical conditions.)
This all sounds tremendously exciting, but many of us with chronic conditions can't wait years for health insurance. Is there any chance Oregon's exchange can be up and running any sooner?
As it happens, the Affordable Care Act includes funding for states that come up with innovative pilot projects—particularly those that save money. Governor-elect John Kitzhaber intimated that he is on the case at an Oregon Health Policy Board meeting in mid-November. Describing all the political sniping over the act as merely a debate over how to pay for the existing health system rather than on how to "improve the health of Americans," Kitzhaber predicted "system failure" if the focus remains on "acute care" rather than "prevention, wellness, and the appropriate home and community-based management of people with chronic conditions."
"This provides a great opportunity for Oregon," he added, "to provide the bold innovation needed to meet this challenge and bring our health care system back under control." 
For now, my only Oregon insurance option is the state administered Oregon Medical Insurance Pool for "high-risk" people. The cost: $465/month. A friend who lives in LA and has several chronic medical conditions says that it's a deal. Others tell me to be grateful that there's a plan that will cover my pre-existing condition at all. On a good day, I trust that Oregon legislators and health care advocates will craft a superior health insurance exchange, but I can't help but feel jilted: why not an affordable exchange now?
I'm not going to move to Massachusetts. Nor do I want to find a "real" job—I'm happy with the one I have. I'm lucky: my career as a freelance journalist is a choice—and I've got family who will help me if I'm unable to pay for the medical care I need. Finding work that provides health insurance—or pays enough for them to afford an individual plan—isn't within the grasp of the 373,197 uninsured folks in the Portland-Vancouver area.
In the meantime, I'll frequent Mercy & Wisdom (see "The Last Safety Net," below), a low-cost integrative medicine clinic I discovered on W Burnside Street and Third Avenue. Or maybe I'll face up to the fact that while Stumptown is a fabulous place for cultural creatives of all stripes, the Big Apple trumps this fine city when it comes to offering affordable health plans. At least until 2014.