Market Watch
A More Than Nice Salad
With green beans in their prime, it's time to show them off in a Salade Nicoise, the classic salad of the French Cote d'Azur.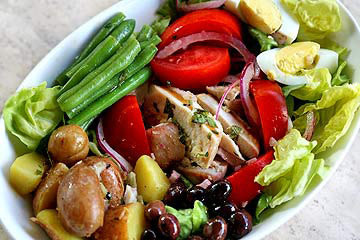 Green beans this time of year are so beautiful, they beg to become part of a Salade Nicoise. The French-named salad – pronounced "nee-swahz" – comes from the Mediterranean coastal city of Nice – pronounced "neece" – definitely not exactly what the word means in English. The salad from Nice isn't mild and agreeable, it's assertive and colorful, memorable to the eyes and the tastebuds.
My own primal memory of Salade Nicoise dates back to college years, when I was lucky enough to take the cliché backpacking trip across Europe. A few weeks into the trip, the traveling student diet of bread, cheese, pastry, and the occasional apple had gotten a bit old. By the time I got to Munich, I was craving something more…shall we say, substantial?
Well, actually I was craving a hamburger. But Munich's University District appeared not to have such an item on offer that night. I settled for second choice, the healthy-sounding veggie-filled Salade Nicoise. Little did I know that it would become a lifelong favorite.
Salade Nicoise is a "salade composee," wherein the items are artfully arranged on a platter, not tossed. The essential ingredients are green beans, tomatoes, potatoes and hard-cooked eggs. Or maybe the basics are the tomatoes and eggs plus peppers? Tuna and/or anchovies – are both allowed or is that not kosher? Must all items be raw (except the eggs, of course), or can the green beans be blanched?
Perhaps it's to be expected that a regional dish from France would be prepared with any number of variations, and that the relative merits of each would be hotly debated. For me, the Proustian memory of Salade Nicoise matches Julia Child's recipe, and she seems a good enough authority for an American gal like me to go by. Her version consists of Boston lettuce topped with an array of fresh tomatoes, steamed green beans, potatoes (cooked, of course), hard-boiled eggs, capers, olives, tinned anchovies, and canned olive oil-packed tuna.
Cookbook writer David Lebovitz, who lives in France, recommends following the nothing-cooked-but-eggs variation, with a vinegar-less dressing. He's deferring to Provencal cooking authority Jacques Medecin's book, Cuisine Nicoise.
Seems to me, what's essential is that Salade Nicoise be a beautiful display of strong, constrasting flavors, colors, and textures, making every bite a memory.