Article
Smile Science: The Anatomy of a Smile
What's behind a perfect smile?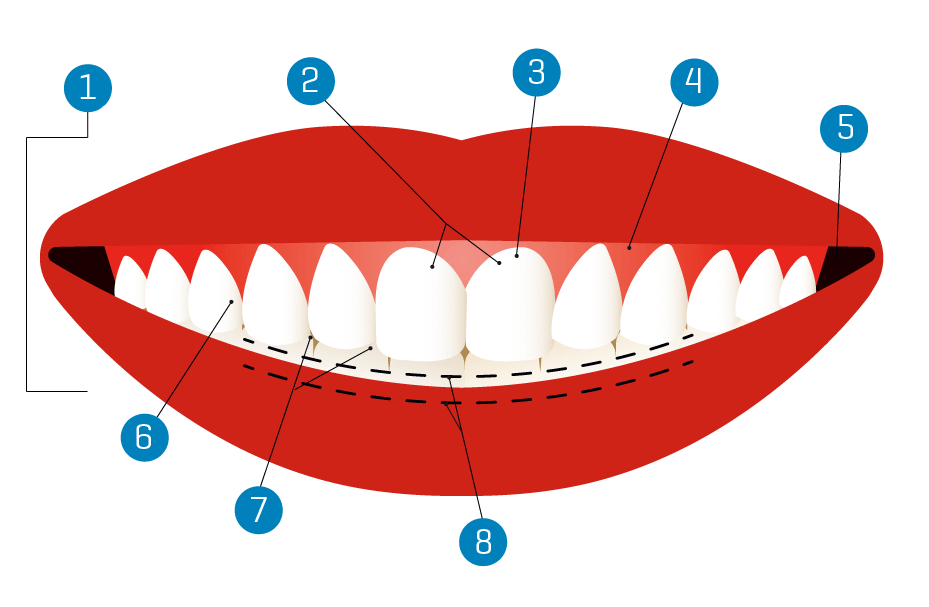 BEAUTY may well be in the eye of the beholder, but when it comes to a winning smile, it also in the numbers—in the length of your teeth, the amount of gum showing, and many other measurable factors. We checked in with several local dentists—Tom Hilton and Juliana da Costa, professors in OHSU's School of Dentistry, as well as Bling Dental's smile makeover specialists Raymond Frye and Katie Ball—to give us some insight on just what makes an ideal smile. While the answer varies with tastes and trends (the favored look in Hollywood today, for instance, shows significantly more teeth than smiles 20 years ago), some basic principles apply. Of course, one of the most important factors in creating an ideal smile is a healthy foundation. (So brush, floss, get regular cleanings.) And equally important to attaining an ideal smile? The confidence with which you wear it.
1. EXPOSE YOURSELF
In an ideal smile, 100 percent of your central and lateral upper incisors and your canines should be visible, Hilton says. Usually your upper premolars and part of your first molar should be on display. Men tend to show less of their upper teeth (hence the expression "stiff upper lip"). Veneers—essentially custom-made slipcovers bonded to your teeth that can be cut to any shape and size—can elongate teeth so more of them show in your smile.
2. SYMMETRY S'IL VOUS PLAIT
Not only should your central incisors meet in a straight line, but the teeth also should be mirror images of each other. Ditto for the lateral incisors and canines.
3. THE GOLDEN RULE
Most central incisors (your two front teeth) are between about 10.5 and 12.5 mm long and are roughly 20 percent longer than wide. Another interesting tidbit: rounded teeth shapes are considered more feminine, square teeth more masculine. If you're not happy with yours, veneers are one way to alter the shape of your teeth.
4. LESS IS MORE
In an ideal smile, no more than 2 mm of gums should show above the teeth. More than that creates a "gummy" smile a la Jon Heder in Napoleon Dynamite. Gummy smiles are sometimes caused by overactive levator labii muscles, Ball explains, which raise the curtain on your grin just a little too high. One solution: a shot of Botox ($50 a pop) can tame your burly lip lifter.
5. A LITTLE NEGATIVITY IS A GOOD THING
You want a little bit of negative space between the corner of your lips and your upper back teeth. Anatomists gave this the sexy name "buccal corridor." Balance is everything when it comes to buccal corridors: too little and you've got a toothy grin, too much and your smile could end up looking narrow. (Broader smiles are considered more attractive.)
6. SHADE OF SUCCESS
White is right. Or at least right now. Today's aesthetics call for lighter-colored teeth, although to be realistic, says da Costa, the shade should transition from slightly darker along the gum line to lighter toward the edge of the tooth. Among the most popular whitening products are custom-crafted whitening trays, fabricated to fit you perfectly. How white? Da Costa offers this advice: "Teeth ought not be whiter than the sclera (white part) of the eyes."
7. EMBRACE SPACE
Another term to add to your Architecture of the Smile glossary: "incisal embrasure," the notch where the edge of one tooth meets the edge of the next tooth. It is usually small where the central incisors meet, Hilton explains, then wider where the central incisors meet the lateral incisors and even wider where the lateral incisors meet the canines. This gives a (highly desirable) rounded shape to your teeth. Teeth with uniform or little incisal embrasure form more of a straight line and don't look natural.
8. BE CURVY
Specifically, the curve of your upper front teeth should be roughly parallel to the curve of your bottom lip. This is called your smile arc.