WHAT'S UP, DOC?
Portland's Top Doctors 2012
312 of Portland's best physicians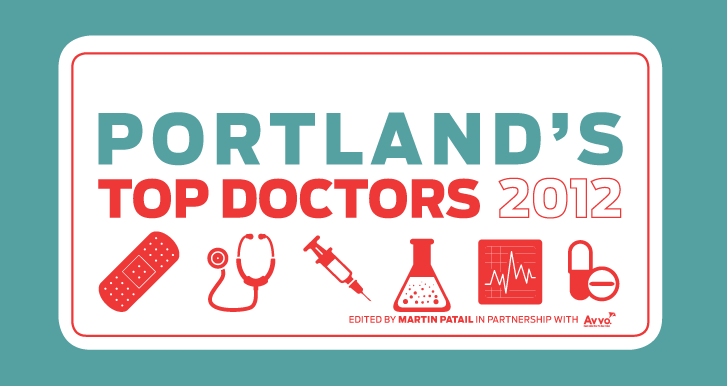 OUR ANNUAL TOP DOCTORS RANKINGS ARE IN.
Nearly 6,300 doctors in the Portland metropolitan area were considered in our new and improved survey, the result of a partnership between Portland Monthly and Avvo, a Seattle-based company that has been rating medical professionals since 2007. Avvo rates and profiles 90 percent of doctors in the US, including all medical doctors* in Multnomah, Washington, Clackamas, and Clark Counties. The doctors on the pages that follow represent the top 5 percent of practitioners in their fields.
OUR METHODS
Avvo proprietary algorithm rates all doctors on a 10-point scale, factoring in peer endorsements as well as experience, education, training, research, and awards. These dynamic ratings are regularly refreshed based on new information gleaned from doctors as well as from certifying and licensing boards. As of press time, all the practitioners on our list were certified to practice in their fields by their respective medical licensing board.
While the list in the pages that follow is a wide-ranging and carefully researched, many good doctors don't appear on the list, especially those not actively engaged in research. This reference is best used as just one step in the careful journey toward finding the doctor who is right for you.
*While we fully recognize that acupuncturists, naturopaths, chiropractors, and other practitioners are vital to many Portlanders' health, for this survey we defined "doctor" as a licensed medical doctor (MD) or a doctor of osteopathic medicine (DO). Certain specialties, like emergency medicine and trauma surgery, were also omitted because patients do not typically choose their own doctors in those fields, or because of low sample size. Doctors can appear twice on the list if they split their time equally between two fields.
DOCTOR

BY

SPECIALTY
Allergy and Immunology
Daniel G. DeMerell
Allergy, Asthma, and Dermatology Associates
9701 SW Barnes Rd, Ste 130
503-297-4779
Mark O'Hollaren
The Allergy Clinic
511 SW 10th Ave, Ste 1301
503-228-0155
Cardiology
Sanjiv Kaul
OHSU Center for Health & Healing
3303 SW Bond Ave
503-494-1775
Jack Kron
OHSU
3181 SW Sam Jackson Park Rd
503-494-8750
Jonathan R. Lindner
OHSU
3181 SW Sam Jackson Park Rd
503-494-1775
James Mudd
OHSU Center for Health & Healing
3303 SW Bond Ave
503-494-1775
Merritt Raitt
Portland VA Medical Center
3710 SW US Veterans Hospital Rd
503-220-8262
Michael D. Shapiro
OHSU
3181 SW Sam Jackson Park Rd
503-494-1775
Richard H. Sohn
Providence St. Vincent Heart Clinic
9427 SW Barnes Rd, Ste 498
503-216-0900
Eric C. Stecker
OHSU Center for Health & Healing
3303 SW Bond Ave
503-494-1775
Cardiothoracic Surgery
Steven W. Guyton
OHSU
3181 SW Sam Jackson Park Rd
503-494-7820
Paul Schipper
OHSU
3181 SW Sam Jackson Park Rd
503-494-7820
Child Psychiatry
Kyle P. Johnson
OHSU
3181 SW Sam Jackson Park Rd
503-494-8617
Robert S. McKelvey
OHSU
5520 SW Macadam Ave
Ste 265
971-219-8363
Craigan Usher
OHSU
3181 SW Sam Jackson Park Rd
503-418-5775
Clinical Genetics
Jone Sampson
OHSU Center for Health & Healing
3303 SW Bond Ave
503-494-2446
Richard G. Weleber
OHSU Casey Eye Institute
3375 SW Terwilliger Blvd
503-494-8386
Colon and Rectal Surgery
Kim C. Lu
OHSU Digestive Health Center
3303 SW Bond Ave
503-494-4373
Mark H. Whiteford
The Oregon Clinic
1040 NW 22nd Ave
Ste 560
503-281-0561
Dermatology
Anna A. Bar
OHSU Center for Health & Healing
3303 SW Bond Ave
503-418-3376
Benjamin D. Ehst
OHSU Center for Health & Healing
3303 SW Bond Ave
503-418-3376
Ken Lee
Portland Dermatology Clinic
1414 NW Northrup St, Ste 600
503-223-3104
Neil Swanson
OHSU Center for Health & Healing
3303 SW Bond Ave
503-494-6483
Kevin P. White
OHSU Center for Health & Healing
3303 SW Bond Ave
503-418-3376
Diagnostic Radiology
Lawrence C. Chow
OHSU
3181 SW Sam Jackson Park Rd
503-418-0990
Sean C. Fell
Legacy Salmon Creek Medical Center
2211 NE 139th St, Vancouver
360-487-1600
Erik Foss
OHSU
3181 SW Sam Jackson Park Rd
503-494-2570
Bryan R. Foster
OHSU
3181 SW Sam Jackson Park Rd
503-494-2570
Alice Fung
OHSU
3181 SW Sam Jackson Park Rd
503-418-0990
Bronwyn E. Hamilton
OHSU
3181 SW Sam Jackson Park Rd
503-494-7596
Katharine Hopkins
OHSU
3181 SW Sam Jackson Park Rd
503-418-0990
Mark D. Kettler
OHSU
3181 SW Sam Jackson Park Rd
503-494-2570
Elena Korngold
OHSU
3181 SW Sam Jackson Park Rd
503-418-0990
Blaine E. Kozak
Legacy Emanuel Medical Center
2801 N Gantenbein Ave
503-413-4032
William G. Kuhle
Columbia Imaging Group
3215 SE Mill Plain Blvd, Ste C8-901
Vancouver
360-892-9664
Gary M. Nesbit
OHSU
3181 SW Sam Jackson Park Rd
503-494-7736
Karen Oh
OHSU
3181 SW Sam Jackson Park Rd
503-418-0990
Jeffrey M. Pollock
OHSU
3181 SW Sam Jackson Park Rd
503-494-7576
Kelli R. Schmitz
OHSU
3181 SW Sam Jackson Park Rd
503-418-0990
Nora Dobos
OHSU
3181 SW Sam Jackson Park Rd
503-418-0990
*Not currently accepting new patients
Ear, Nose, and Throat
Peter E. Andersen
OHSU Physicians Pavilion
3181 SW Sam Jackson Park Rd, Ste 250
503-494-5355
Edsel U. Kim
The Oregon Clinic
9155 SW Barnes Rd, Ste 536
503-935-8100
Anh T. Nguyen-Huynh
OHSU
3181 SW Sam Jackson Park Rd
503-494-8135
Joshua S. Schindler
OHSU
3181 SW Sam Jackson Park Rd
503-494-5947
Timothy L. Smith
OHSU Center for Health & Healing
3303 SW Bond Ave
503-494-7413
Endocrinology, Diabetes, and Metabolism
Jonathan Purnell
OHSU
3181 SW Sam Jackson Park Road
503-494-3273
Kathryn G. Schuff
OHSU
3181 SW Sam Jackson Park Rd
503-494-5355
Elizabeth Stephens
Providence Medical Group Northeast
5050 NE Hoyt St, Ste 540
503-215-6600
Family Medicine
Mark Bajorek
PSU Center for Student Health and Counseling=
1880 SW Sixth Ave
503-725-2800
Cliff A. Coleman *
OHSU Family Medicine at Richmond
3930 SE Division St
503-418-3900
Jennifer C. Edman
OHSU Student Health Center
3181 SW Sam Jackson Park Rd
503-494-8665
Scott A. Fields
OHSU Center for Health & Healing
3303 SW Bond Ave
503-494-8573
Jessica M. Flynn *
OHSU Center for Health & Healing
3303 SW Bond Ave
503-494-8573
Nick Gideonse *
OHSU Family Medicine at Richmond
3930 SE Division St
503-418-3900
Lori Gluck
Providence Medical Group – Bethany
15640 NW Laidlaw Rd, Ste 102
503-764-0100
Robert W. Gobbo
Providence Family Medicine SE
4104 SE 82nd Ave, Ste 250
503-215-9850
Michelle C. Hall
Providence Tanasbourne_
18610 NW Cornell Rd, Ste 300
Hillsboro
503-216-9300
Meg Hayes
OHSU Center for Health & Healing
3303 SW Bond Ave
503-494-8573
Laura P. Jordhen
Portland Adventist Medical Center
10000 SE Main St, Ste 224
503-255-2186
Tim A. Joslin
OHSU Center for Health & Healing
3303 SW Bond Ave
503-494-8573
Yale Y. Liang
Adventist Health Sandy Clinic
17055 SE Ruben Ln, Sandy
503-668-8002
Cat Livingston
OHSU Family Medicine at Richmond
3930 SE Division St
503-418-3900
Holly Marie Milne
OHSU Center for Health & Healing_
3303 SW Bond Ave
503-494-8573
Emily Myers
Legacy Medical Group – Tualatin
19875 SW 65th Ave, Ste 100
Tualatin
503-692-7785
Monica Myklebust
Providence Medical Group
16180 SE Sunnyside Rd, Ste 102
Happy Valley
503-582-4900
Doug Niehus *
Providence Medical Group Bridgeport
18040 SW Lower Boones Ferry Rd, Ste 100, Tigard
503-216-0700
Pamela L. Pentin
OHSU Family Medicine at Gabriel Park
4411 SW Vermont St
503-494-9992
David Pierce
The Portland Clinic
15950 SW Millikan Way
Beaverton
503-646-0161
Josh Reagan
Providence Medical Group Milwaukie Family Medicine
10330 SE 32nd Ave, Ste 205
503-513-8950
John William Saultz
OHSU Center for Health & Healing
3303 SW Bond Ave
503-494-8573
Thomas M. Schwartz *
Providence Family Medicine SE
4104 SE 82nd Ave, Ste 250
503-215-9850
Cynthia Shaff-Chin
Portland Family Practice
541 NE 20th Ave, Ste 210
503-233-6940
Ariel Smits
OHSU Family Medicine at Gabriel Park
4411 SW Vermont St
503-494-9992
David Solondz
Providence Medical Group Cascade Family Practice
5050 NE Hoyt St, Ste 240
503-215-6480
Elizabeth Steiner *
OHSU Family Medicine at Gabriel Park
4411 SW Vermont St
503-494-9992
William L. Toffler
OHSU Center for Health & Healing 3303 SW Bond Ave
503-494-8573
Ann G. Tseng
OHSU Family Medicine at Gabriel Park
4411 SW Vermont St
503-494-9992
Lydia Villegas
Providence Medical Group Cascade
5050 NE Hoyt St, Ste 240
503-215-6480
Jonathan L. Vinson
Providence Medical Group – The Plaza
5050 NE Hoyt St, Ste 240
503-215-6405
Johanna Warren
OHSU Family Medicine at Gabriel Park
4411 SW Vermont St
503-494-9992
Brett White
OHSU Family Medicine at Gabriel Park
4411 SW Vermont St
503-494-9992
*Not currently accepting new patients
Gastroenterology
Jeremy P. Holden
The Oregon Clinic
1111 NE 99th Ave, Ste 301
503-963-2707
Betty Kim
The Oregon Clinic
1111 NE 99th Ave, Ste 301
503-963-2707
Kandice L. Knigge
OHSU Center for Health & Healing
3303 SW Bond Ave
503-494-4373
Michael M. Owens
The Oregon Clinic
9701 SW Barnes Rd, Ste 300
503-297-8081
Sarah "Betsy" Rodriguez
The Oregon Clinic
9701 SW Barnes Rd, Ste 300
503-297-8081
General Surgery
Kevin G. Billingsley
OHSU Center for Health & Healing
3303 SW Bond Ave
503-494-5501
James P. Dolan
OHSU Center for Health & Healing
3303 SW Bond Ave
503-494-4373
Christy M. Dunst
The Oregon Clinic
4805 NE Glisan St, Ste 6N60
503-281-0561
Valerie J. Halpin
Legacy Weight Management Institute
1040 NW 22nd Ave. Ste 520
503-413-7557
Paul D. Hansen
The Oregon Clinic
4805 NE Glisan St, Ste 6N60
503-281-0561
John G. Hunter
OHSU Center for Health & Healing
3303 SW Bond Ave
503-494-4373
Richard L. Jamison
The Oregon Clinic
4805 NE Glisan St, Ste 6N60
503-281-0561
Robert George Martindale
OHSU Center for Health & Healing
3303 SW Bond Ave
503-494-4373
John Mayberry
OHSU
3181 SW Sam Jackson Park Rd
503-494-5300
Robert W. O'Rourke
OHSU Center for Health & Healing
3303 SW Bond Ave
503-494-4373
Susan L. Orloff
OHSU
3181 SW Sam Jackson Park Rd
503-494-7810
Kayvan Roayaie
OHSU
3181 SW Sam Jackson Park Rd
503-494-8500
Martin A. Schreiber
OHSU
3181 SW Sam Jackson Park Rd
503-494-5300
Blayne A. Standage
Legacy Good Samaritan Medical Center
1130 NW 22nd Ave, Ste 300
503-413-5725
Jennifer M. Watters
OHSU
3181 SW Sam Jackson Park Rd
503-494-5300
Geriatric Medicine
Elizabeth Eckstrom
OHSU
3181 SW Sam Jackson Park Rd
503-494-8562
Lisa N. Miura *
Legacy Emanuel Medical Center
2800 N Vancouver Ave, Ste 230
503-413-4340
Gynecologic Oncology
Elizabeth G. Munro
OHSU
3181 SW Sam Jackson Park Rd
503-418-4500
William Winter III
Compass Oncology
265 N Broadway
503-274-4885
Hand Surgery
Samuel V. Bartholomew
The Oregon Clinic
5050 NE Hoyt St, Ste 221
503-488-2345
Douglas S. Musgrave
Rebound Orthopedics & Neurosurgery
200 NE Mother Joseph Pl, Ste 110
Vancouver
360-254-6165
Hematology Oncology
Tomasz M. Beer
OHSU Knight Cancer Institute
3303 SW Bond Ave
503-494-6594
Andy Chen
OHSU
3181 SW Sam Jackson Park Rd
503-494-5058
Stephen Y. Chui
OHSU Center for Health & Healing
3303 SW Bond Ave
503-494-6812
Todd Crocenzi
Oncology & Hematology Care Clinic
4805 NE Glisan St, Ste 6N40
503-215-5696
Thomas Deloughery
OHSU Center for Health & Healing
3303 SW Bond Ave
503-494-6594
Brian J. Druker
OHSU
3181 SW Sam Jackson Park Rd
503-494-5058
Lucy R. Langer
Compass Oncology
9555 SW Barnes Rd, Ste 150
503-297-7403
Charles D. Lopez
OHSU
3181 SW Sam Jackson Park Rd
503-494-6594
Shiuh-Wen Luoh
OHSU Knight Cancer Institute
3303 SW Bond Ave
503-494-6594
Christopher W. Ryan
OHSU Knight Cancer Institute
3303 SW Bond Ave
503-494-6594
*Not currently accepting new patients
Infectious Disease
Lynne Strasfeld
OHSU
3181 SW Sam Jackson Park Rd
503-494-7735
John M. Townes
OHSU
3181 SW Sam Jackson Park Rd
503-494-7735
Internal Medicine
Stephanie Anderson
Legacy Good Samaritan Internal Medicine Clinic
1200 NW 23rd Ave
503-413-7074
Stephen F. Baugh
Legacy Medical Group Northwest
1130 NW 22nd Ave, Ste 220
503-413-8988
Katie L. Bensching
OHSU
3181 SW Sam Jackson Park Rd
503-494-8562
Charles Bentz
Fanno Clinic
2400 SW Vermont St
503-452-0915
James Biemer
Providence St. Vincent Medical Office Building
9135 SW Barnes Rd, Ste 863
503-384-0316
Michael Flynn Bonazzola
OHSU
3181 SW Sam Jackson Park Rd
503-494-8562
Elizabeth A. Bower
OHSU
3181 SW Sam Jackson Park Rd
503-494-8562
Roger Chou
OHSU
3181 SW Sam Jackson Park Rd
503-494-8562
Brinton C. Clark
Providence Medical Group NE
5050 NE Hoyt St, Ste 540
503-215-6600
George B. Demetrion
Fanno Creek Clinic
2400 SW Vermont St
503-452-0915
Paul W. Denouden
Multnomah County Health Department
426 SW Stark St, 4th Floor
503-988-5020
Albert R. DiPiero
OHSU
3181 SW Sam Jackson Park Rd
503-494-8562
Martin T. Donohoe *
Kaiser Sunnyside Medical Center
10181 SE Sunnyside Rd
Clackamas
503-652-2880
David Dorr
OHSU
3181 SW Sam Jackson Park Rd
503-494-8562
Charles R. Elder
Kaiser Division Medical Office
7705 SE Division St
503-777-3311
Diane Elliot *
OHSU
3181 SW Sam Jackson Park Rd
503-494-6813
Sean Friend *
Rose City Clinic
5635 NE Alameda St
503-282-0979
Donald E. Girard
OHSU
3181 SW Sam Jackson Park Rd
503-494-8562
Ruben O. Halperin
Providence Medical Group NE
5050 NE Hoyt St, Ste 540
503-215-6600
Elizabeth Haney
OHSU
3181 SW Sam Jackson Park Rd
503-494-8562
Joseph Hardman *
OHSU
3181 SW Sam Jackson Park Rd
503-494-8562
David H. Hickam
Portland VA Medical Center
3710 SW US Veterans Hospital Rd
503-273-5305
Anne Hirsch *
Broadway Medical Clinic
4212 NE Broadway
503-249-8787
Emily Hitchcock *
Providence St. Vincent Medical Center
9205 SW Barnes Rd, Ste 2800
503-216-2621
Todd Korthuis
OHSU Physicians Pavilion
3147 SW Sam Jackson Park Rd
503-494-8562
Tracy Laidley *
Cascade Physicians
501 N Graham St, Ste 100
503-249-5780
Claudia S. Leonard
Providence St. Vincent Medical Center
9205 SW Barnes Rd, Ste 2800
503-216-2621
Michael Lieberman
OHSU Physicians Pavilion
3147 SW Sam Jackson Park Rd
503-494-8562
Laura Loertscher
Providence St. Vincent Medical Center
9205 SW Barnes Rd, Ste MT-2800
503-216-2621
Nanette Kuenzel Marty
OHSU Physicians Pavilion
3147 SW Sam Jackson Park Rd
503-494-8562
Dennis John Mazur
Portland VA Medical Center
3710 SW US Veterans Hospital Rd
503-220-8262
Michael T. Moore
Westside Internal Medicine
9155 SW Barnes Rd, Ste 205
503-297-4831
Melinda Muller *
Legacy Good Samaritan Hospital
1200 NW 23rd Ave
503-413-7074
Christina M. Nicolaidis *
OHSU
3181 SW Sam Jackson Park Rd
503-418-2070
Mary Pickett
OHSU Physicians Pavilion
3147 SW Sam Jackson Park Rd
503-494-8562
Y Pritham Raj
OHSU Physicians Pavilion
3147 SW Sam Jackson Park Rd
503-494-8562
Pulla Raghuram Reddy
St. John Medical Center
1615 Delaware St.
Longview
360-494-2733
M. E. Beth Smith
OHSU Physicans Pavilion
3147 SW Sam Jackson Park Rd
503-494-8562
Mindy Sobota
OHSU
3181 SW Sam Jackson Park Rd
503-418-2070
Shirin R. Sukumar
Portland VA Medical Center
3710 SW US Veterans Hospital Rd
360-905-1741
Peter D. Sullivan
OHSU
3181 SW Sam Jackson Park Rd
503-494-6101
Richard Tsai
Providence Medical Group Sunset
417 SW 117 Ave, Ste 200
503-216-9400
Lee Walters
Providence Medical Group Glisan
5330 NE Glisan St, Ste 100
503-215-9700
Cornelia Taylor
OHSU
3181 SW Sam Jackson Park Road
503-494-6101
Susan Tolle *
OHSU
3181 SW Sam Jackson Park Rd
503-494-8562
Todd V. Wise
Adventist East Side Medicine
10000 SE Main St, Ste 128
503-251-6313
Melaura Wittemyer
Greenfield Health Clinic
9427 SW Barnes Rd, Ste 590
503-292-9560
Lorraine Woskow
Cascade Physicians
2222 NW Lovejoy St, Ste 505
503-226-4091
Thomas Yackel *
OHSU
3181 SW Sam Jackson Park Rd
503-494-8562
Julie Yeggy
Legacy Emanuel Medical Center
2800 N Vancouver Ave, Ste 230
503-413-4340
*Not currently accepting new patients
Maternal and Fetal Medicine
Mary Ames
OHSU Physicians Pavilion
3147 SW Sam Jackson Park Rd
503-346-0640
Aaron Brandon Caughey
OHSU
3181 SW Sam Jackson Park Rd
503-494-4200
Neonatal and Perinatal Medicine
JoDee M. Anderson
OHSU Child Development & Rehab Center
707 SW Gaines St
503-494-8122
Nicole M. Schmidt
NW Newborn Specialists
501 N Graham St, Ste 265
503-282-7002
Nephrology
Amira Al-Uzri
OHSU Doernbecher Children's Hospital
700 SW Campus Dr
503-494-7327
David J. Rozansky
OHSU Doernbecher Children's Hospital
700 SW Campus Dr
503-494-7327
Micah L. Thorp
Kaiser Lake Road Nephrology Center
6902 SE Lake Rd, Milwaukie
503-786-1167
Neurology
Jeremy D. Fields
OHSU
3181 SW Sam Jackson Park Rd
503-494-7736
Paula Gerber-Gore
The Oregon Clinic
5050 NE Hoyt St, Ste 315
503-963-3100
Kimberly Goslin
The Oregon Clinic
5050 NE Hoyt St, Ste 315
503-963-3100
John G. Nutt
OHSU
3181 SW Sam Jackson Park Rd
503-494-7772
Richard B. Rosenbaum
The Oregon Clinic
5050 NE Hoyt St, Ste 315
503-963-3100
David C. Spencer
OHSU
3181 SW Sam Jackson Park Rd
503-494-8311
Neurosurgery
Jefferson W. Chen
Pacific Neurosurgical at Legacy Emanuel Medical Center
501 N Graham St, Ste 580
503-528-0704
Nathan R. Selden
OHSU Center for Health & Healing
3303 SW Bond Ave
503-494-4314
Monica C. Wehby
Legacy Emanuel Medical Center
501 N Graham St
503-413-3690
Obstetrics and Gynecology
Anya Bailis
Legacy Center for Maternal-Fetal Medicine
300 N Graham St, Ste 100
503-413-1122
Robin W. Barrett
Legacy Good Samaritan Center
2222 NW Lovejoy St, Ste 619
503-416-9922
Paula Bednarek
OHSU Kohler Pavilion
808 SW Campus Dr
503-494-8842
Michelle Berlin *
OHSU Kohler Pavilion
808 SW Campus Dr
503-418-4500
Mary Anna Denman
OHSU Kohler Pavilion
808 SW Campus Dr
503-418-4500
Alison Edelman
OHSU Kohler Pavilion
808 SW Campus Dr
503-418-4500
S. Renee Edwards
OHSU Kohler Pavilion
808 SW Campus Dr
503-418-4500
W. Thomas Gregory
OHSU Kohler Pavilion
808 SW Campus Dr
503-418-4500
Jeanne-Marie Guise
OHSU Physicians Pavilion
3147 SW Sam Jackson Park Rd
503-494-2101
Sarah Hamilton
Providence St. Vincent Medical Center
9155 SW Barnes Rd
503-297-4123
Angela Keating
Providence Columbia Women's Clinic
9427 SW Barnes Rd, Ste 395
503-216-2602
Catherine M. Leclair
OHSU Kohler Pavilion
808 SW Campus Dr
503-418-4500
Laura Y. Morrison
Women's Healthcare Associates, LLC.
9555 SW Barnes Rd, Ste 100
503-292-3577
Liberato V. Mukul
NW Gynecology Center
9701 SW Barnes Rd, Ste 150
503-734-3535
Meg O'Reilly
OHSU Kohler Pavilion
808 SW Campus Dr
503-418-4500
Richard Rosenfield
Pearl Women's Center
140 NW 14th Ave
503-771-1883
Alfred Henry Seekamp III
The Vancouver Clinic
2525 NE 139th St, Vancouver
360-882-2778
Kimberly K. Vesco
Kaiser Sunnyside Medical Center
10100 SE Sunnyside Rd, Clackamas
503-652-2880
*Not currently accepting new patients
Occupational Medicine
Thomas G. Carver
http://or-lake-oswego.doctors.at/
6405 SW Rosewood, Ste B
Lake Oswego
503-675-7603
Melanie M. C. Sauvain *
OHSU
3181 SW Sam Jackson Park Road
503-494-8562
Ophthalmology
Michael F. Chiang
OHSU Casey Eye Institute
3375 SW Terwilliger Blvd
503-494-7830
Roger A. Dailey
OHSU Casey Eye Institute
3375 SW Terwilliger Blvd.
503-494-3020
Frederick Fraunfelder
OHSU Casey Eye Institute
3375 SW Terwilliger Blvd
503-494-7674
Daniel J. Karr
OHSU Casey Eye Institute
3375 SW Terwilliger Blvd
503-494-7830
Andreas K. Lauer
OHSU Casey Eye Institute
3375 SW Terwilliger Blvd
503-494-7891
Leah Greenhill Reznick
OHSU Casey Eye Institute
3375 SW Terwilliger Blvd
503-494-7830
Tim Stout
OHSU Casey Eye Institute
3375 SW Terwilliger Blvd
503-494-2435
Eric B. Suhler
OHSU Casey Eye Institute
3375 SW Terwilliger Blvd
503-494-5023
David J. Wilson
OHSU Casey Eye Institute
3375 SW Terwilliger Blvd
503-494-7881
Orthopedic Surgery
Todd Borus
Rebound Orthopedics & Neurosurgery
1 Center Court, Ste 110
360-254-6863
Alexander Ching
OHSU Center for Health & Healing
3303 SW Bond Ave
503-418-9888
Jay L. Crary
Rebound Orthopedics & Neurosurgery
1 Center Court, Ste 110
360-254-6863
Dennis C. Crawford
OHSU Center for Health & Healing
3303 SW Bond Ave
503-494-4000
Gregory D. Gramstad
Rebound Orthopedics and Neurosurgery
1 Center Court, Ste 110
503-732-6863
Robert A. Hart
OHSU Center for Health & Healing
3303 SW Bond Ave
503-418-9888
Andrea Herzka
OHSU Center for Health & Healing
3303 SW Bond Ave
503-494-6400
Don Roberts
Rebound Orthopedics and Neurosurgery
1 Center Court, Ste 110
503-732-6863
Jung U. Yoo
OHSU
3181 SW Sam Jackson Park Rd
503-418-9888
Pain Medicine
Jeffrey L. Koh
OHSU
700 SW Campus Dr
503-346-0640
David M. Sibell
OHSU
3181 SW Sam Jackson Park Rd
503-494-4910
Pathology
Christopher L. Corless
OHSU
3181 SW Sam Jackson Park Rd.
503-494-6776
Thomas Deloughery
OHSU Center for Health & Healing
3303 SW Bond Ave
503-494-6594
Jody E. Hooper
OHSU
3181 SW Sam Jackson Park Rd
503-494-6776
Alicia F. Liang
OHSU
3181 SW Sam Jackson Park Rd
503-494-8276
Terry K. Morgan
OHSU
3181 SW Sam Jackson Park Rd
503-494-8276
David A. Sauer
OHSU
3181 SW Sam Jackson Park Rd
503-494-8276
Curtis T. Thompson
CTA Lab
12254 SW Garden Place
503-906-7300
Megan Leigh Troxell
OHSU
3181 SW Sam Jackson Park Rd
503-494-6776
Randall Lee Woltjer
OHSU
3181 SW Sam Jackson Park Rd
503-494-8276
*Not currently accepting new patients
Pediatric Cardiology
Laurie Bertanyi Armsby
OHSU Doernbecher Children's Hospital
700 SW Campus Dr
503-418-5750
Brendan P. Kelly
OHSU Doernbecher Children's Hospital
700 SW Campus Dr
503-418-5750
Pediatric Endocrinology
Bruce Boston
OHSU Doernbecher Children's Hospital
700 SW Campus Dr
503-418-5710
Daniel L. Marks
OHSU Child Development & Rehab Center
707 SW Gaines St
503-494-1927
Pediatric Hematology and Oncology
Bill H. Chang
OHSU Doernbecher Children's Hospital
700 SW Campus Dr
503-418-5150
Susan J. Lindemulder
OHSU Doernbecher Children's Hospital
700 SW Campus Dr
503-494-1543
Pediatric Infectious Disease
Judith A. Guzman-Cottrill
OHSU Doernbecher Children's Hospital
700 SW Campus Dr
503-494-3305
Deborah A. Lewinsohn
OHSU Doernbecher Children's Hospital
700 SW Campus Dr
503-494-3305
Pediatric Neurology
Joseph D. Pinter
OHSU
3181 SW Sam Jackson Park Road
503-494-5856
Colin Matthew Roberts
OHSU
3181 SW Sam Jackson Park Rd
503-494-5856
Pediatric Surgery
Mark L. Silen
OHSU
745 SW Gaines St
503-494-7764
Garret Zallen
OHSU
745 SW Gaines St
503-494-7764
Pediatrics
Megan Aylor
OHSU Doernbecher Children's Hospital
700 SW Campus Dr
503-494-8311
Jennifer L. Bass
Kaiser Interstate Medical Office East
3550 N Interstate Ave
503-285-9321
Gregory Blaschke *
OHSU
3181 SW Sam Jackson Park Rd
503-418-5700
Peter A. Blasco
OHSU Child Development & Rehab Center
707 SW Gaines St
800-494-8086
Lydia Ko Chiang
OHSU
3181 SW Sam Jackson Park Rd
503-418-5700
Kristan C. Collins
Broadway Medical Clinic
4212 NE Broadway
503-249-8787
Cynthia L. Ferrell *
OHSU Doernbecher Children's Hospital
700 SW Campus Dr
503-418-5700
Benjamin Hoffman
OHSU
3181 SW Sam Jackson Park Rd
503-418-5700
Arthur C. Jaffe *
OHSU Doernbecher Children's Hospital
700 SW Campus Dr
503-418-5700
Leesa Linck
Kaiser West Interstate Medical Office
3325 N Interstate Ave
503-331-6589
Rasjad Lints *
Kaiser Salmon Creek
14406 NE 20th Ave, Vancouver
360-260-9083
Barbara Long
OHSU
3181 SW Sam Jackson Park Rd
503-418-5700
Mary S. Minette
OHSU Doernbecher Children's Hospital
700 SW Campus Dr
503-418-5750
Kathleen Mooney
Metropolitan Pediatrics
9300 SE 91st Ave Ste 200
Happy Valley
503-261-1171
Lindsey E. Nicol
OHSU
3181 SW Sam Jackson Park Rd
503-418-5710
Carrie Anne Phillipi *
OHSU Doernbecher Children's Hospital
700 SW Campus Drive
503-494-3000
Natasha Polensek
OHSU Center for Health & Healing
3303 SW Bond Ave
503-494-8573
James M. Resk
Oregon City Pediatric Building
14279 S Glen Oak Rd, Oregon City
503-657-1871
Wayne Sells
OHSU
3181 SW Sam Jackson Park Rd
503-418-5700
Robert Steelman
OHSU Doernbecher Children's Hospital
700 SW Campus Drive
503-418-5800
Robert D. Steiner
OHSU Child Development & Rehab Center
707 SW Gaines St
503-494-7859
Ellen Stevenson
OHSU Doernbecher Children's Hospital
700 SW Campus Dr
503-418-5700
Thomas J. Valvano
OHSU Doernbecher Children's Hospital
700 SW Campus Dr
503-418-5700
Katharine E. Zuckerman
OHSU
3181 SW Sam Jackson Park Rd
503-418-5700
*Not currently accepting new patients
Physical Medicine and Rehabilitation
Hans L. Carlson
OHSU
3181 SW Sam Jackson Park Rd
503-494-6400
Nels L. Carlson
OHSU
3181 SW Sam Jackson Park Rd
503-494-6400
Erika Finanger
OHSU
3181 SW Sam Jackson Park Rd
503-494-5856
Plastic Surgery
Juliana E. Hansen
OHSU
3303 SW Bond Ave
503-494-6687
Anna A. Kuang
OHSU Doernbecher Children's Hospital
700 SW Campus Dr
503-494-8088
Reid Mueller
OHSU Center for Health & Healing
3303 SW Bond Ave
503-494-6687
Preventive Medicine
Michelle Berlin *
OHSU
3181 SW Sam Jackson Park Rd
503-418-4500
Cat Livingston
OHSU Family Medicine at Richmond
3930 SE Division St
503-418-3900
Psychiatry
Greg Berman
http://gregbermanmd.com/
4039 N Mississippi Ave
Ste 207
503-227-7555
Joseph D. Bloom *
OHSU
3181 SW Sam Jackson Park Rd
503-494-6689
Laurence Colman *
Oregon Psychoanalytic Center / Greater Oregon Behavioral Health, Inc.
2386 NW Hoyt St
503-228-5909
Marvin D. Fickle
OHSU
3181 SW Sam Jackson Park Rd
503-288-8066
Thomas E. Hansen *
Oregon State Hospital
1121 NE 2nd Ave
503-731-8659
George A. Keepers
OHSU
3181 SW Sam Jackson Park Rd
503-494-6153
Paul K. Leung
OHSU Behavioral Clinic
621 SW Alder St
503-494-4745
Maureen Nash
Tuality Forest Grove Hospital
1809 Maple St, Forest Grove
503-359-6153
Jane Gregory Payne
OHSU
3810 SE Division St, Ste C
503-208-2207
Kevin R. Smith
OHSU
3181 SW Sam Jackson Park Rd
503-418-5320
Ronald N. Turco
http://www.ronaldturco.com/
9011 SW Beaverton-Hillsdale Hwy, #2B
503-292-3991
R. Dale Walker
OHSU One Sky Center
840 SW Gaines St, Rm 151
503-494-3703
William H. Wilson
OHSU
3181 SW Sam Jackson Park Rd
503-494-7514
Kathryn Zerbe
Oregon Psychoanalytic Center
4800 SW Macadam Ave, Ste 340
503-295-9909
Pulmonary Disease
William Bowerfind
The Oregon Clinic
1111 NE 99th Ave, Ste 200
503-236-0775
Peter Y. Hahn
Tuality Eighth Avenue Medical Plaza
364 SE Eighth Ave, Ste 301A
Hillsboro
503-681-4139
David Hotchkin
The Oregon Clinic
1111 NE 99th Ave, Ste 200
503-963-3030
Michael J. Lefor
The Oregon Clinic
1111 NE 99th Ave, Ste 200
503-963-3030
Holger W. Link
OHSU Doernbecher Children's Hospital
700 SW Campus Dr
503-346-0640
*Not currently accepting new patients
Radiation Oncology
Eric K. Hansen
The Oregon Clinic
9205 SW Barnes Rd
503-216-2195
Steven Seung
The Oregon Clinic
4805 NE Glisan St, Level G
503-215-6029
Charles R. Thomas Jr.
OHSU Kohler Pavilion
808 SW Campus Dr
503-494-8756
Reproductive Endocrinology/ Infertility
Aimee S. Chang
Oregon Fertility Institute
9370 SW Greenburg Rd, Ste 412
503-292-7734
David M. Lee
OHSU Center for Health & Healing
3303 SW Bond Ave
503-418-4500
Rheumatology
James T. Rosenbaum
OHSU
3181 SW Sam Jackson Park Rd
503-494-5023
Kenneth J. Scalapino
Portland VA Medical Center
3710 SW US Veterans Hospital Rd
503-220-8262
Sleep Medicine
William Bowerfind
The Oregon Clinic
1111 NE 99th Ave
503-236-0775
Holger W. Link
OHSU Doernbecher Children's Hospital
700 SW Campus Dr
503-346-0640
Sports Medicine
Jim Chesnutt
OHSU Center for Health & Healing
3303 SW Bond Ave
503-494-4000
Jerod A. Cottrill
Rebound Orthopedics
200 NE Mother Joseph Pl, Ste 110
Vancouver
360-254-6165
Urology
Christopher L. Amling
OHSU Center for Health & Healing
3303 SW Bond Ave
503-346-1500
Christopher Austin
OHSU Doernbecher Children's Hospital
700 SW Campus Dr
503-494-4808
Michael Conlin
Portland VA Medical Center
3710 SW US Veterans Hospital Rd
503-220-8262
David B. Lashley
Northwest Urological Clinic
2226 NW Pettygrove St
503-223-6223
Vascular / Interventional Radiology
John A. Kaufman
OHSU Dotter Interventional Institute
3181 SW Sam Jackson Park Rd
503-494-7660
Michael E. Pfister
Interventional & Vascular Consultants at Tualatin Medical Office
19250 SW 65th Ave, Ste 240
Tualatin
503-612-0498
Vascular Surgery
Gregory Landry
OHSU Physicians Pavilion
3147 SW Sam Jackson Park Rd
503-494-7593
Timothy K. Liem
OHSU
3181 SW Sam Jackson Park Rd
503-494-7593
*Not currently accepting new patients