Rainmaker
Raising the Barre
A new fitness player exports ballet bodies and Portland principles.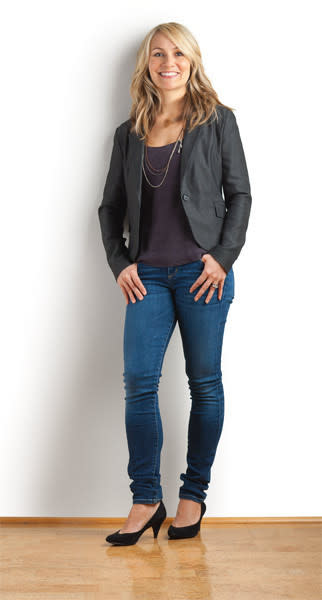 IN 2007 SADIE LINCOLN, a Bay Area exercise instructor, knew she had the chops to start a business. True, her concept—a ballet workout inspired by the rehabilitative legwork of European dancer Lotte Berk—had competitors selling similar ideas. But standing out came naturally for a "hippie kid" raised in Eugene by a yogi mom. Fusing Berk's exercises with Pilates and yoga techniques, Sadie and husband Chris Lincoln honed a regime for today's om-chanting world.
"We wanted to create a job that could take us somewhere without compromising our values," says Sadie, 40, a mother of two.
Somewhere may prove to be everywhere. The couple relocated to Portland in 2008 to open Barre3's first studio, overlooking Tanner Springs Park in the Pearl. That location was soon packed with a mostly female clientele, drawn by Sadie's "highly efficient" 60-minute workout. After praise for Barre3 in magazines like Shape and Marie Claire, word leaked that Madonna was a fan. By early 2010, other would-be fitness entrepreneurs lined up to pay Barre3's $30,000 franchise fee.
In addition to the Lincolns' own two new studios in Southeast Portland and Lake Oswego, Barre3's franchised territory now spans Oklahoma City to the Philippines—nearly two dozen satellites so far, with at least 10 new locations planned this spring. The couple introduces all prospective franchisees to their version of Portland, a tight-knit world of businesses focused on family, sustainability, fitness, and food.
"We give them the full Portland experience—Abby's Table, Prasad, Lovejoy Bakery," says Sadie. "We constantly weave in lifestyle principles born here in Portland."
The Lincolns say that their personal Portland dream doesn't include near-term cashing out. "When we make more money, we hire more people," says Chris, 40, the only man within a local Barre3 employee corps that now numbers 35. "We'd like to build a team here, so we can travel and get to know the cities where we have franchises."
Thanks to strong DVD sales and a just-launched series of subscription-based online workouts, the duo is well poised for a more mobile lifestyle. Yet the Lincolns insist that their focus is on tweaking their product for quality, rather than growth. Unlike competing workouts such as Bikram Yoga, with its "monologue" of 26 poses, Sadie says the Barre3 concept is built for continued improvement.
"For me, Barre3 symbolizes balance," she says. "People do lose weight here. But it's not about hard bodies; it's about graceful bodies."