Dressed to the Canines
Pet-á-Portland
Whether your dog has an eye for some new duds or your cat needs a place to get away from it all, our roundup of the latest in pet paraphernalia should keep tails wagging and spirits from sagging.
About Our Models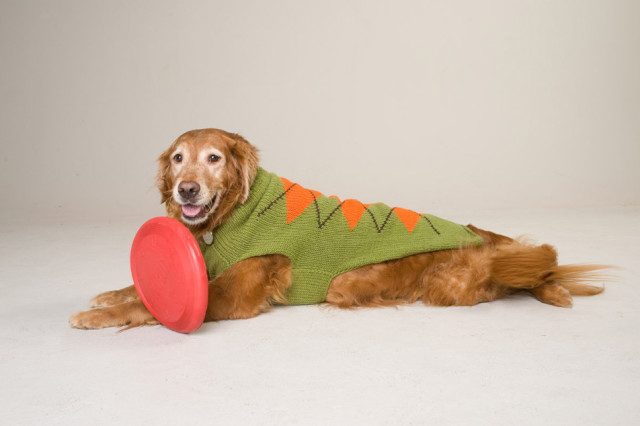 Kopi is an eight-year-old golden retriever and is the mascot of Furever Pets Inc, a pet shop on Northeast Broadway. She has the run of the store and gladly swipes turkey strips from the shelves and devours them quickly. She is a fanatic about fetching sticks thrown into the river, making snow angles, and sniffing out treats during her daily walks. She takes pride in extracting squeakers from almost every single stuffed toy she has received or stolen from Isabella.?? 
Isabella is a West Highland Terrier, four years old. She lives with Kopi and is the feisty one of the two, always guarding the sidewalk from her perch in the front window at home. She has an obsession with her favorite toy, a rubber purple ball. While on the daily walks she likes to push Kopi around when she isn't distracted by squirrels on telephone wires. She also insists on meeting any new dog that crosses her path while ignoring the ones she has already met.
Lily is a nine-year-old Sheltie rescue adopted from a craigslist ad in 2005. She loves attention, treats, walks—especially along the river—and rolling in the snow. She keeps her house running efficiently, always reminding her humans about impending mealtimes. She is very calm and easygoing, unless breakfast or dinner is late, in which case it's a national emergency. We're very grateful that she is so food motivated, or we wouldn't have had a chance when it came time for her to pose.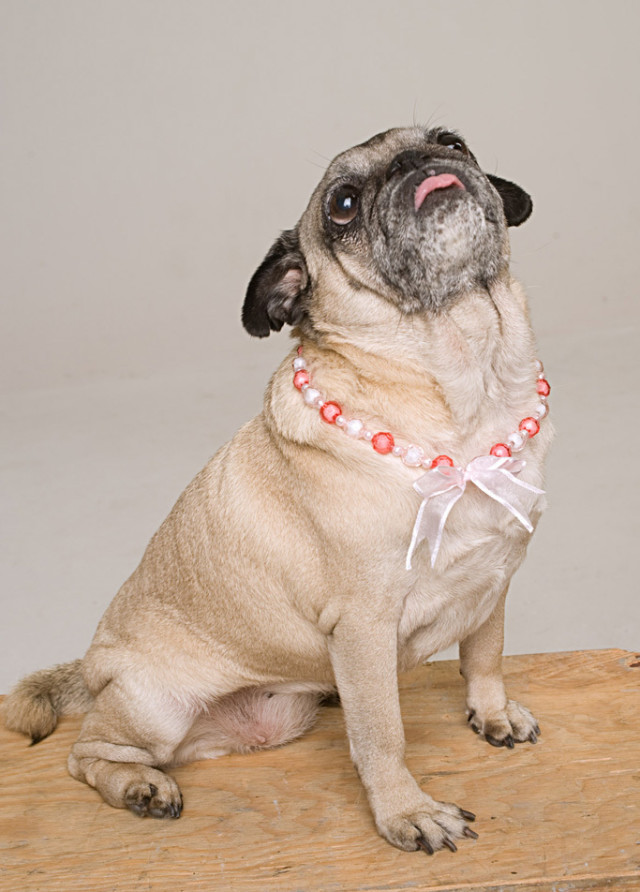 Ming is a seven-year-old pug rescue adopted from Pacific Pug Rescue pacificpugrescue.org in 2006. Ming is a true character in every way. No beverage, whether it's coffee, tea, or bourbon can be left at pug height in her house. She can often be spotted wearing coats and sweaters, not for fashion, but because she gets cold easily. Ming can usually be found flopped on the central heating grates soaking up all the warm air in her house. Her favorite summertime activity is sunbathing, which her humans supervise and limit for her safety. Too much heat is dangerous for short-nosed breeds like pugs, bulldogs and boxers. But a star has to be tanned!?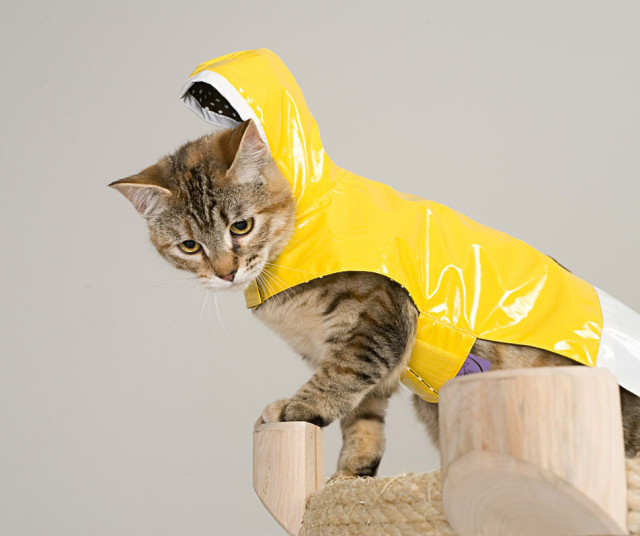 The kitten in the ruffle guard and the raincoat is Salmon. She's part Tabby and part Persian and is only five months old. Fortunately she models like a seasoned professional and is unusually tolerant about wearing clothes—a pretty tall order for a feline diva.
The indomitable Miss Rigby Gidget was born on a farm in 2005. She is a Manx mix who came to live in the big city when she was eight weeks old. She has encountered a great many hair-raising adventures in her short life, triumphing over them all with uncommon aplomb and dignity. Some of her favorite things are cuddling with her human and playing chase and pounce with her dog friend Lily.