Best of the City
Progress Report
Our Best Schools 2007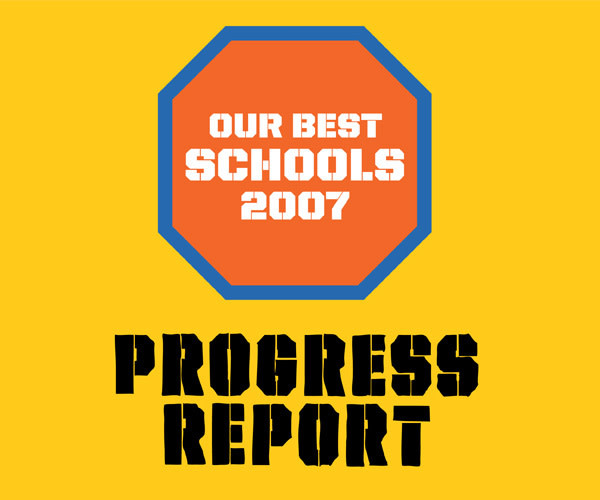 IT WAS A ROUGH YEAR for the Oregon Department of Education. The agency released incorrect statewide student test scores in October owing to a software programming error. And after ODE became embroiled in a protracted dispute with its online testing service, students were forced to take the Oregon Statewide Assessment—the standardized test used to award Oregon Report Card grades—with paper and pencil. Since students were unaccustomed to the old-fashioned, fill-in-the-bubble method, ODE decided their scores may have been affected, and lowered its grading benchmarks.
Despite such mishaps, Oregon's students perservered: Sixth, seventh and eighth graders state-wide showed improved reading, writing and math scores, and 78 percent of Oregon's schools measured up to federal achievement targets for Adequate Yearly Progress under the No Child Left Behind Act, breaking the state's previous record of 71 percent. In Portland Public Schools, there was good news as well: Students' reading scores rose in six of the seven grades tested, and fourth and seventh graders in the district far outperformed state averages in writing. On the other hand, math scores dropped in the elementary grades, reflecting a statewide trend.
While this tells us how Oregon is doing as a whole, we know that parents want the nitty-gritty details about their children's schools. So, as we have for the past three years, we've crunched the test scores, analyzed federal rankings and evaluated school demographics for 631 public and private schools in the metro area. The result is this easy-to-navigate Progress Report—everything you need to see how far your school has come, and to make the best decisions about your child's future.
Find the complete list of Oregon school data in our Neighborhood by the Numbers feature. School information is listed by neighborhood.
Special thanks to: ?The Oregon Department of Education & Washington's Office of Superintendent of Public Instruction.