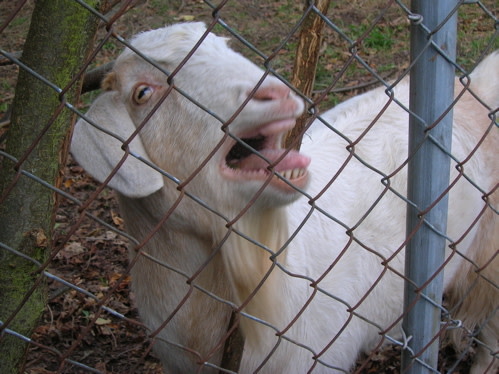 I returned from my Antipodal travels to a teetering stack of mail, on top of which sat the Portland Community College Winter 2010 class schedule. Naturally, I opened it up to the horticulture section to see what was on offer.
I was excited to see some really great classes. Quickie classes include "Goats in the City" (Sat 2/20, 9-1, Cascade campus); "How to Build a Compost Pile" (Mon 2/1, 6-8 pm, NW Portland campus); "Hands-On Bamboo" (Sat 3/6 10-12, NE Portland campus); "Garden Design for the Small Yard" (Wed 3/3 and 3/17, Willow Creek campus); and "Classic Soil Science" (Mon 3/1, 6-8 pm, NW Portland campus). Wow! Such classes would make fabulous holiday gifts: useful, fun and not too pricey (about $30 to $100).
A class or class series on canning and preserving the garden harvest would also make a great gift for any aficionado of food gardening. Learning to preserve the food you grow is the next step towards self-sustaining gardening and eating practices. There are many places to take canning and preserving classes, including Urban Growth Bounty, Zenger Farm, and Growing Gardens. These sources were suggested to me by Harriet Fasenfest, the creative energy behind Preserve and Portland's First Lady of food preservation. Her "householding" classes may or may not happen next spring, but if they do, you will know it first by signing up on the Preserve website for her newsletter.
Florist Françoise Weeks offers classes throughout the year on flower arranging techniques and concepts. Her 2010 offerings should be posted right after Christmas. While the fall series is close to finished, there are two more gorgeous holiday wreath decorating classes (Mon Dec 7 and Tues Dec 8, 6:30-9pm, $75 includes an evergreen wreath plus orchids, cones, fruit, seed pods and other truly luxe decorating materials).
Finally, if you're in the holiday mood and want to do some decorating, some local nurseries are offering relevant classes. They include Portland Nursery, which has wreath-making classes (Sat Dec 5 and Sun Dec 6, 1 pm, $20 includes wire wreath form and greenery, bring clippers) and Garden Fever. Garden Fever's classes include creating "tiny winter gardens" composed of plants (Sat Dec 12, $29) and wreath-making (Sat Dec 19 and 20 from 1-2 pm, $20 includes wire wreath form and greenery, bring gloves).
Most classes can be purchased as gifts, either by paying for the individual class or by purchasing a gift certificate.
Have fun giving – or taking (classes)!