Article
Frozen Landscapes
frozen but not necessarily dead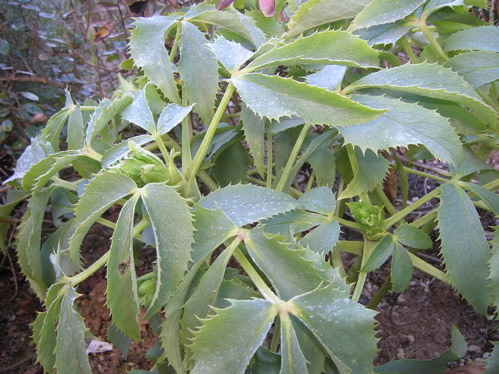 The ground may still be rock-hard and cold but all is not lost. This morning, I noticed plenty of lovely hellebores that are frozen solid but by no means dead – just hanging on until the the weather warms up so they can return to the slow, inexorable process of producing flowers.
Yes, there is damage and more will show up over the coming months. I can see the signs of it: the sad off-color of cell damage on the leaves of February daphne and some rock roses and hebes.
This has been a historic cold spell: Portland's low of 13 degrees Thursday morning broke a record for cold that had been standing for 37 years. It was the seventh consecutive day of below freezing in Portland. And while the lack of wind during the past few days helped prevent some damage, it also permitted the Arctic air to really settle in. It remains to be seen what defoliates and what bites the dust this year.
…And we thought last year was bad…
Of course, while it's fun to take risks and try growing interesting plants of unknown or untested hardiness, there are plenty of fabulously beautiful plants that are quite unfazed by the cold.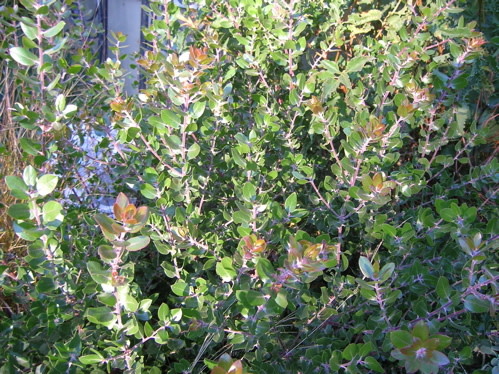 Undamaged and smashingly beautiful in my own garden right now are several rusty and bronze-tipped Arctostaphylos, silvery Olearia macrodonta, and bright golden and white variegated Elaeagnus pungens 'Hosoba Fukurin'. Golden-flowered Mahonia x media 'Winter Sun' is even blooming away, if a bit limply!
And that's just a little sampler: there are just so many fantastic cold-tolerant winter flowering plants – and even more winter-interest plants whose bark, stems or berries offer color and sparkle in the winter garden.
If you're thinking of adding some winter flowering plants to your garden, check out witch hazel (Hamamelis ); winter hazel (Corylus ); wintersweet (Chimonanthus ); winter viburnum (Viburnum x bodnantense and Viburnum farreri ); early spiketail (Stachyurus praecox ); Mahonia x media hybrids as well as our beautiful native Mahonia (known as Oregon grape), and winter apricot tree (Prunus mume ). And those, my friends, are only a few suggestions.
OK, so the ground's too hard to plant right now. But there's no harm looking!
This weekend, I plan to stop in at a couple of local nurseries and have a wander around. Maybe I'll visit somewhere I haven't been in a while. I'll bundle up, wear my mittens, pick up some hot chocolate or coffee, and enjoy the bracing air and the sweet scent of violas in the greenhouses.
If there's a lucky gardener on your holiday shopping list, maybe you could do the same – and find just the right gift at a local nursery for a gardener you know. For as you, you garden-lover, know, there's nothing more entrancing to someone who loves to dig in the ground than the promise of new life – in the form of a gift certificate to a plant nursery! And after this winter, there are bound to be a few empty spaces in our gardens.