Learning Curve
Retro Grades
Portland Public Schools' plan to fix its high school system takes a page out of the past. And not everyone is happy about it.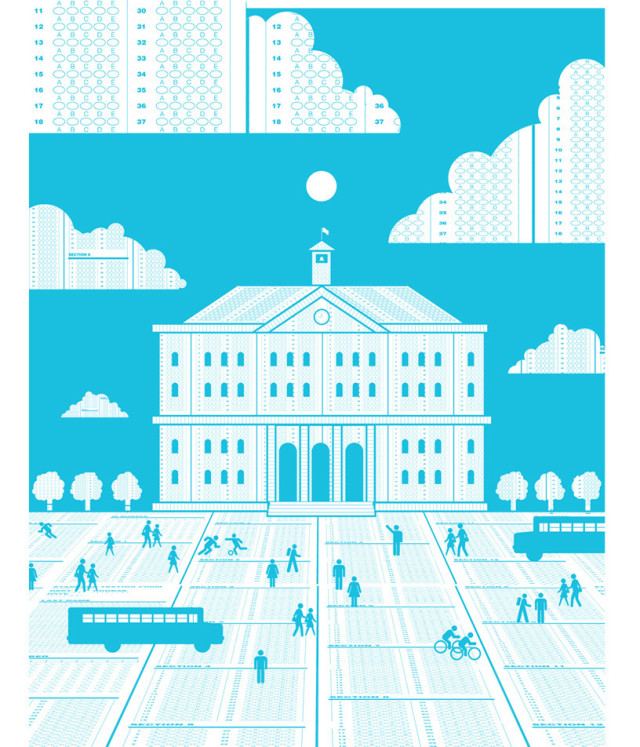 The cafeteria at Jefferson High School is not exactly a monument to the glories of public education. Fluorescent lights, faded Garfield posters, and a broken wall clock evoke gloomier associations with urban decline and freezer-burned tater tots. Still, the crowd I join at the North Portland school on a frigid fall evening could serve as a modern Norman Rockwell depiction of civic-mindedness: a few hundred strong, roughly equal parts black and white, with Mandarin, Vietnamese, Somali, Russian, and Spanish translators suggesting a liberal sprinkling of "other."
We are gathered to hear Portland Public Schools (PPS) officials explain how they plan to fix the city's high schools: by turning their back on the past decade or so of ed-reform trendiness, in which everyone from the Gates Foundation to New York Mayor Michael Bloomberg insisted the way to fix the schools was to make them small—really small—and specialized. But we are being told that Portland is different. Here, the schools need to become bigger.
They surely need to become something. Better would be a start. Carole Smith, the district's superintendent, explains the problem. PPS once educated 13,000 high schoolers; now it teaches about 11,000, spread across nine comprehensive campuses. Almost half of those students fail to graduate in four years. But the figures only hint at the real issue: Portland has not one high school system, but two. Some kids go to schools that work and, consequently, are packed to the gills. Others attend shrinking institutions, where art, advanced classes, and marching bands are forgotten luxuries. Who goes where is increasingly determined by economic class and race. Eighty-four percent of white PPS students attend schools that offer specialized college-prep programs; barely half of minority kids, and less than half of all poor kids, have the same opportunities. Steve Rawley, one of my North Portland neighbors and author of the blog PPS Equity (ppsequity.org), puts matters in sharp perspective: "Why do we have one kind of school for wealthy, mostly white students and another kind of school for poor and mostly black and Hispanic kids? It's not just wrong—it's a serious civil rights violation."
The situation evolved, in part, from the district's generous transfer policy: students can leave their neighborhood school for any other one, provided there's room. Higher-achieving, wealthier students flee ailing schools, and poor schools lose teachers, classes, and programs as their populations plummet (schools receive money on a per-student basis). Jefferson is Exhibit A, with about 600 students rattling around its campus this year. By contrast, Grant, just across an imaginary line in Northeast Portland, is crammed with 1,600 kids. At Grant, students can take four years of Spanish, French, Latin, or Japanese. Jefferson's kids get one choice: Spanish, which is offered only through the third year.
The district has spent 18 months pondering this problem, Smith explains. And its solution is achingly simple, strikingly traditional, and very contentious: make kids go to their neighborhood high school.
PPS proposes an overhaul—beginning in 2011—that would create six to eight comprehensive campuses, each roughly the same size, each offering a full academic menu. Each would serve somewhere between 1,200 and 1,350 kids. Small special-focus and alternative schools would fill out the system, but the neighborhood schools would be every-one's default option. Transferring between them would become more or less impossible.
"[In the current system], every school has been given maximum autonomy," says Sarah Singer, the project manager of the redesign. "We don't want to be overly rigid, but there has to be some consistency."
When I went to school in Missoula, Montana, in the '90s, a few hippie theorists sent their kids to the hippie-theory school (à la Waldorf), and a few Catholics attended Catholic school. Everyone else just went to a public school—the closest one. So part of me likes the sound of consistency. But the parent in me worries that PPS's plan looks backward, not forward. Today, the vogue is for small, designer schools. While the trend remains controversial, the idea certainly made a national impact over the past 10 years: of Newsweek's top 100 public schools in 2008, 22 follow small-school models; Bill Gates pumped billions into creating boutique high schools with a couple hundred kids; and even here, troubled schools like Roosevelt and Madison have been split into specialized micro-academies.
When I called Thomas Toch, a respected education reformer who wrote the book High School on a Human Scale and who runs an alliance of independent schools in the Washington, DC, area, his uncertainty over the Portland plan was audible. "If all the schools in your new system are equally mediocre, you won't have accomplished much," he said. "They need to break up the big schools and encourage entrepreneurialism. Don't create 7 schools, create 50."
Toch pointed me to New York and Boston, where students choose from a dizzying array of specialty schools. New York offers more than 600, like the Bronx High School of Business and the Frank Sinatra School of the Arts. From afar, the system does look racy and postmodern. And, as I sit in Jefferson's cafeteria, I can't help but wonder: in today's niched world, shouldn't we have kids reading The Iliad in Greek over here, and kids building robots over there?
In other cities, perhaps. But Portland's 30-plus years of neighborhood revival have engendered a different spirit among the newest generation of parents. "When we started this process, I thought we'd end up in the New York direction," PPS's Singer says. "But people almost revolted. There is a very marked preference here for the neighborhood school, which you don't see in other cities."
The district, though, seems to be doing a very poor job of selling people something they allegedly want, at least if the tense atmosphere at the Jefferson meeting is any indication. Jefferson sits at the educational nexus of black Portland, but it is equally at the heart of a nouveau Portland filling up with middle-class people now having children. A plan to keep all those future Madisons and Aidens, along with their Type A parents, in neighborhood schools seems custom-designed to reverse Jefferson's long slide. Yet as Smith talks, stiff body language and a distinct sense of unease pervade the room.
When the crowd divides into small groups, I sit with a guy with kids in the Jefferson feeder schools who worries that Jeff will end up padlocked as district officials select those schools that will join the redesign and those that won't. We're joined by two Grant student mothers, who fear for advanced programs like the school's Constitution Team. (Schools that lose students under the new plan will also lose money.) This has been the reaction at meetings held across the district. Poor school, rich school—the proposed redesign seems to inspire uniform hostility, but for different reasons. "It's a tough sell," Rawley says. "No one knows what's going to happen, so there's anxiety everywhere."
Then there's me. My wife and I live just a few blocks from Jefferson. We have a 2-year-old. Thus we are pondering the problem of a Portland education, wherein large-scale social issues collide with our hopes that our child—if not a genius, as we currently suspect—can at least become employable someday. We don't plan to be academic fanatics, but we're also not going to send our kid into a school with horizons as limited as Jefferson's are right now. The district clearly hopes that the new system will prevent parents like us from having to face those kinds of decisions at all.
But as I take a look around the Jefferson cafeteria, I am seized by the notion that it just might work. The crowd impresses me, on some visceral level, because it embodies a different, less demographically fractured America. Here we are, a bunch of people of different races, languages, and classes, coming to grips with a fundamental problem. The worried faces and pained questions inspired by the district's vagueness and—it must be said—disheartening track record also speak to something deeper and more hopeful: the Romans would have called it civitas, a complicated mixture of self-interest and communal concern. That mongrel impulse powers democracy and, in this case, demands that Portland address its high schools' inequities.
Of course, that impulse does not always produce the best results, and the district's proposed salvage effort undoubtedly has problems. But then again, so does the current system. What the redesign has to recommend it is a sense of communalism: it would force Portlanders to work together rather than hive off into their own little educational worlds. So instead of letting a thousand academic flowers bloom, the plan—if it works—would plant a sturdy oak tree in the heart of every neighborhood. Then the question becomes: how rich is Portland's soil?