upcoming events
Yard, Garden & Patio Show
this could be the best yet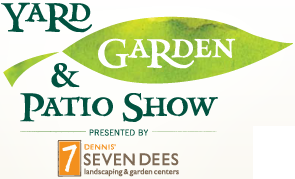 I'm not usually one to rave about garden shows. In fact, I've been a bit garden show-shy in recent years. In a previous post, I had a had a mini-rant about my frustration with the typical, old-fashioned garden show displays – chock full of plants that wouldn't grow side-by-side in a real garden setting and inevitably buried under oceans of old-school "beauty bark".
It might be oppositional-defiance or it might be generational, I don't know. But I was determined to be open-minded this year and having spoken with the organizers and hearing that extra-special efforts were being made to update and "green" the show for 2010, I explored the website for the Yard, Garden & Patio Show taking place this weekend at the Oregon Convention Center.
And honestly, I'm blown away by the quality of the seminar speakers, by the vendors and by the interesting new additions to this year's line-up. The OAN 's organizers have gone to great lengths to focus on local products (even down to the booze!) and to bring sustainable products to the show floor. This is going to be a gem of a weekend for plant and garden lovers of all ages.
Here are some highlights:
*A full schedule each day of excellent talks by local favorites like Maurice Horn (Joy Creek Nursery), Mike Darcy ("In the Garden" radio program on KXL AM), and Lucy Hardiman (Principal, Perennial Partners Design) as well as national experts. Top billing goes to Heronswood founder and plant explorer Dan Hinkley, now gathering plants from the far reaches of the world for Monrovia Nursery. His talk on Friday from 12-1 will focus on his remarkable garden at Windcliff near Indianola, WA. I suspect long lines for this talk so get there early and stake out a seat. (Just save one for me!)
*Big display gardens, a group of smaller "vignettes" created by members of the ANLD, and container gardens to provide inspiration and ideas. I'm looking forward to seeing a full-on display garden created by Sean Hogan of Cistus Design Nursery, which will showcase a wide array of plants that are ideally suited to our winter wet-summer dry, mediterreanean climate. To my knowledge, this will be Sean's first full-on garden show display garden at this event. Get ready – it will not be your typical display garden.
*Over 250 exhibitors ranging from the best of the WIllamette Valley's specialty nurseries like Joy Creek Nursery, Dancing Oaks Nursery, Northwest Garden Nursery to local craftspeople making baskets, trugs, garden art and tools to various soils and contraptions designed to, well, make plants grow better.
*A brand-new partnership this year with Cracked Pots, an environmental non-profit supporting artists making garden art from recycled materials. Cracked Pots is a fantastic organization and I'm thrilled to see this lively new energy infusing the Show.
*Oregon wine and beer gardens (also selling local spirits this year), with wine tastings and wine sold by the bottle as well as by the glass. I'm told there will be a large-screen TV to watch the Olympics (perhaps if you need somewhere to park your non-gardeny partner while you breeze about on the Show floor) and listen to live music. Even the live music promises to be good this year – Brazilian Choro, Flamenco, Gypsy jazz, some Latin fusion, and more.
*A winter garden display created by the Hardy Plant Society of Oregon showing the diversity of winter-interest plants that grow in the Willamette Valley.
*A kids play area for all ages of children. Native plants, hiking safety and camping basics will be provided by the Cascade Pacific Council Boy Scouts of America. There will also be face painting fun learning activities and play structures for romping.
*Experts. There will be gardening experts milling about, eager to answer your gardening questions. Bring your questions, problems, and ideas. You're bound to gain some insights or information.
*Give-aways – everybody likes give-aways! Apparently, prizes this year include a garden "make-over" valued at $7,500 by Dennis 7 Dees Landscaping and a pair of diamond earrings… for those of us that like to wear our diamonds in the garden. Also, the first 300 people to arrive at the Show each morning receive a free gift.
Details:
When: Friday & Sat February 12-13 from 10 am to 7:30 pm. and Sun February 14 from 10 am to 5 pm
Where: The Oregon Convention Center, 777 N.E. Martin Luther King Jr. Blvd. in Portland. Here are transportation details and maps. Note that the maximum payment for all-day parking at the Convention Center lot is $8.
Admission: $11 for adults and free for kids 12 and younger accompanied by a paying adult.
Advanced tickets $7 at Dennis' 7 Dees locations through Feb. 11
Advanced tickets $9 available at select retailers. See website for locations.
$2 Off Coupons at www.ygpshow.com
For more information: Call 360-210-5275 or go to ygpshow.com