Article
Well Hello, Sweet Pea!
it's pea-planting time in Western Oregon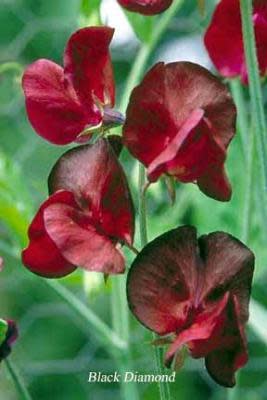 Wise old salts say you should plant your sweet peas – and edible peas, while you're at it – around Presidents' Day in our region. But there are still many good weeks of planting time. It's just that, the later in spring you plant, the fewer weeks you'll have to enjoy the results. Late March is usually still good… but mid- to late February is perfect.
Sweet peas are easy little annual vines. They grow during the cool, wet days of spring and flower in late spring and early summer. By the time the heat of July hits, they usually peter out. But they are so gloriously fragrant and beautiful that it's all worth it. They are also incredibly easy to grow.
So pick up some packets of sweet peas. I say "packets" because who are we kidding? The pictures are gorgeous and sweet peas really are picture perfect in the garden. Why stop at the Royal Family mixed colors when you can also try the heirloom Painted Lady (hot pink and pale pink bicolor), Cupani's Original (purple and mauve bicolor) and the indescribably lovely Saltwater Taffy Swirls (white stripes on apricot, purple and pink)?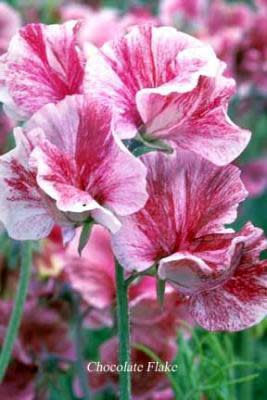 Fantastic local sweet pea vendors include Fragrant Garden Nursery (Roseburg, OR), Nichols Garden Nursery (Albany, OR), and – a little less local but still fabulous – Renee's Garden (Felton, CA). You can order them directly on line too but most local nurseries carry a great selection.
You can lightly sand the seed coat and/or soak the seeds for an hour in warm (110 F) water to help soften the seed coat but it isn't necessary. Also, some people start them indoors. I usually plant them directly in the ground.
To plant sweet peas outdoors, here's what to do:
* get your sweet pea seeds. Also, a sack of mushroom compost or composted cow manure (or use your own home-made garden compost) and some non-toxic, pet-safe Sluggo slug bait to protect sprouts from slugs.
* grab a shovel and a trowel. Maybe a pair of gloves.
* find a spot that receives at least a full morning of sun and where there's something for the sweet pea plants to climb. This could be a trellis, chain link fence, or other plants (sweet peas will scramble up a sturdy shrub in a loose, rambly kind of way). If your fence is flat surfaced, drive nails on the top and bottom and tie rough string between the nails so the vines have some thing to climb. Or – after digging (next step) – make a bamboo stake "tee-pee" with rough string encircling it so the tiny tendrils can cling to something.
* dig up the ground at least a foot deep and wide – more if you're planting a whole packet of seeds. Sweet peas really show off if you enrich the soil – so pile on the compost and dig away! Do chop up native soil clods so the soil feels nice and crumbly and is dark with the fresh compost you've added. Space seeds about two inches apart.
* Press the seeds in with your fingers, about an inch deep. They are pretty large and easy to handle. If the forecast predicts rain in the next 24 hours, you don't even need to water them in.
WIthin 10-20 days, your sweet peas will sprout. Scatter some Sluggo around the sprouts when they come up. It's amazing to watch how quickly they rise out of the ground so keep an eye out!