upcoming events
The Northwest Flower & Garden Show 2010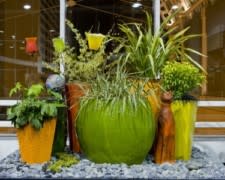 I have a confession to make: I haven't gone to the Northwest Flower & Garden Show in Seattle in at least ten years. I simply got turned off by all the garden shows at some point. The shows didn't seem relevant to me or my garden. I'd find myself in dark, sterile, gloomy exhibition halls packed with people and products, smelling weird chemicals and eating icky hot dogs, when all I really wanted was to be was… well, in the garden, surrounded by my plants, animals (chickens, cats, dog) and trowel. I wanted to see something inspiring – not walk around looking at fake gardens arranged under a blanket of bark dust.
Having gotten that out of my system… I'm actually going this year with higher expectations. There are some speakers I want to hear, some container gardens I want to see, and (of course) some plants I want to buy. I'm feeling some energy around this event and I'm hoping it will turn out to be fun. I'm committing a whole, marathon day to the Show, in fact – leaving extremely early and returning very late – and there will be non-stop activity during those 12 hours or so that I'm wandering the Show.
So what is it all about? Why commit a day – or a weekend – to this garden show?
This year, there will be a strong emphasis on sustainable gardening. There will be a variety of plant nurseries, including some I haven't visited before, like the fabled Fancy Fronds fern nursery. Plus, Fergus frigging Garrett will be speaking! He's the clever and wise gardener who worked for many years at Great Dixter in England, a garden that is dear to my heart, in part because of the giant topiary squirrels dotted around the place. (I'll never forget asking a distinguished elderly fellow working in the garden at Great Dixter what a certain tree was: he merely barked, "EUCRYPHIA!" It was my one and only conversation with the renowned owner of Great Dixter, Christopher Lloyd.) And I am interested to see what kinds of new products and tools will be showing up to make life easier and better for vegetable gardeners, organic gardeners, and people who want to start their own seeds. There will be over 200 nurseries and other exhibitors displaying their wares – and selling them, right then and there. I'll be looking for unusual ferns, more winter-flowering shrubs, and anything drought-tolerant. I might pick up some new orchids. And I'm relieved to learn that the Show provides free package check locations for stashing your acquisitions while wandering the rest of the Show. Whew.
SHOW DETAILS:
WHAT: The Northwest Flower & Garden Show
WHEN: Wednesday, February 3 through Sunday, February 7, 2010
WHERE: Washington State Convention and Trade Center 7th & Pike, Seattle, WA 98101
HOURS: Wednesday – Saturday (February 3?6) 9 a.m. to 8 p.m. & Sunday (February 7) 9 a.m. to 6 p.m.
ADMISSION:
$20 Adult (regular admission at door)
$16 Early Bird (purchased at participating ticket outlets or online through February 2nd)
$15 Group (per ticket; minimum purchase of 20 tickets)
$10 Half?Day (purchased online or at the door after 3:00 p.m. Wed. – Sat., 2:00 p.m. Sun.)
$5 Youth (ages 13 – 17)
Free Children (ages 12 and under)
Multi?day tickets will also available
Buy tickets here!