GARDEN ENVY
Yards Apart
Six Portland households find renewed purpose for that familiar American space between sidewalk and front door.
FRONT YARDS, THOSE MOST PUBLIC OF PRIVATE SPACES, HAVE EVOLVED MIGHTILY since their earliest incarnations. In the 1950s, a front yard was something you simply maintained. At most, it consisted of a clipped lawn, a concrete walk, and some ornamental shrubs to camouflage the foundation. As long as you kept it free of trash and feral cats, you—and your neighbors—were happy. They're now elaborate mediums of self-expression—stages on which lavender and manzanita tell the world you're a responsible water user, while salmonberries and salal showcase a fluency in Northwest ecosystems. We stake an identity through our front yards.
The phenomenon is a 19th-century invention. That's when Portland, like many American cities, started expanding at a rapid pace, and broad development forces, including streetcar lines and fire-safety codes, began shaping the crowded tenements and cramped urban yards of yore into the spacious grid of dwellings, each neatly set back on four sides, that we know today.
So we Americans are front-yard people. And here in Portland, some of us transform those yards in ways that are quite compelling. Like building a luxury resort for birds and bees. Helping to create a local food economy. Sharing beauty with our neighbors, and making the city a better place. Here are six approaches that may inspire you to rethink your own.
1 To Stop Traffic 
YOUNGE, A GARDEN DESIGNER, and Hopkins, a retired design-agency owner, created their yard from scratch when they rescued this house from a bulldozer and moved it to a vacant lot (it was in the way of a soon-to-be-built I-405 freeway on-ramp). Initially, a small lawn and some potted azaleas fulfilled their criteria for a neat, attractive yard that signaled to visitors where the front door was. But the lawn also attracted too many neighborhood dogs, so Younge, inspired by a friend's boxwood hedge, came up with a different solution: a boxwood parterre.
Why It Works: To introduce a sense of calm in a small yard like this one, Younge recommends minimizing the number of visual focal points. "It's a big design for a small space," he says.
Get the Look: Younge planted two-gallon dwarf boxwoods 12 inches apart and had a filled-out hedge in two years. He tidies up the shape with a mechanical shearer once in late spring and again at summer's end.
Formal Education: For more inspiration, peruse one of Younge's favorite sources, The Gardens of Russell Page (Stewart, Tabori, & Chang, 1991), for images of this 20th-century British landscape architect's masterful formal designs.
Hot Tip: To prevent tender interior leaves from getting sunburned, shape your hedge with a shearer while the weather is cool and wet.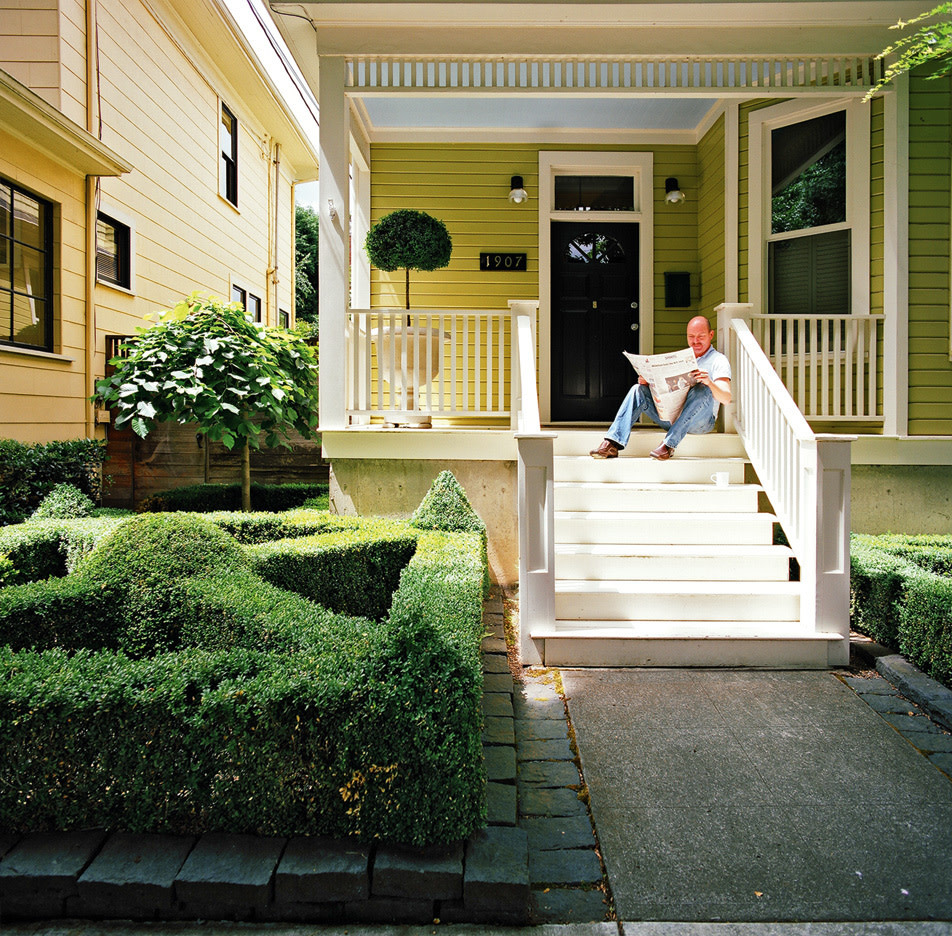 2 To Make the Old New Again 
SERGIO, A DESIGN DIRECTOR for Nike's Innovation Kitchen, let stay-at-home mom Sheri take charge of remodeling their house and garden when they bought the 1968 ranch in 2004. To surmount the challenge presented by the broad front yard, Sheri turned to landscape architect Sam Williamson.
Expert Solution: An easy-care, drought-tolerant design that features lawn and ornamental cherry trees and couples beautifully with the home's modern architecture and horizontal lines.
Payoff: Instead of a boring concrete path, arriving guests enjoy what Sheri describes as "seam-less transitions through a series of different experiences," including, during summer months, a taste of the sweet, bright-orange raspberries that Williamson used as ground cover. Even better, Lucas gets a place to practice his "caveman" jump (pictured above).
3 To Invite Intimacy 
LIVING CLOSE TO A BUSY COMMERCIAL thoroughfare—"one house away from urban chaos," as Levine describes it—and lacking a backyard on her small lot, this expert gardening author and horticultural correspondent for NPR turned her front yard into a refuge for outdoor relaxation and entertaining.
Big Move: For Levine to gain privacy without alienating her neighbors, a carefully designed fence was critical. A mostly transparent wooden structure marks the perimeter of her yard, "creating a boundary but also letting a view in."
Plant Matters: Choosing evergreen trees and shrubs with airy foliage patterns (such as the long-and-toothy-leafed Lomatia myricoides pictured here) for perimeter plantings helped ensure that Levine didn't come off as "the crazy old lady behind a wall of greenery." Such necessities were of less concern, though, within her outdoor living space, where Levine instead focused on creating a "gallery" of visually bold specimens, including the vibrant yucca pictured above.
4 To Create Refuge 
SHORTLY BEFORE MARRYING IN 2008, Wynton and Pajunas ripped out their front lawn and installed raised planting beds and a gravel swale to capture stormwater—the bones of a front-yard habitat garden. Within a year, the beds were blooming with native plants that provide food and refuge for insects and birds, from dragonflies to tiger swallowtails.
Why: With much of the earth's surface converted to human uses, we're rapidly depleting biodiversity. By allotting about 50 percent of their garden to native plants, Wynton and Pajunas are sustaining wildlife while also creating space for people-friendly staples—like the fragrant jasmine and clematis climbing their front fence.
Spreading the Word: Wynton joined with the Three Rivers Land Conservancy's Backyard Habitat Certification Program and the Audubon Society of Portland to help 30 other households in her neighborhood follow her lead.
Hot Tip: "Just putting out an elevated bowl of water for birds to drink from is a great step," says Wynton.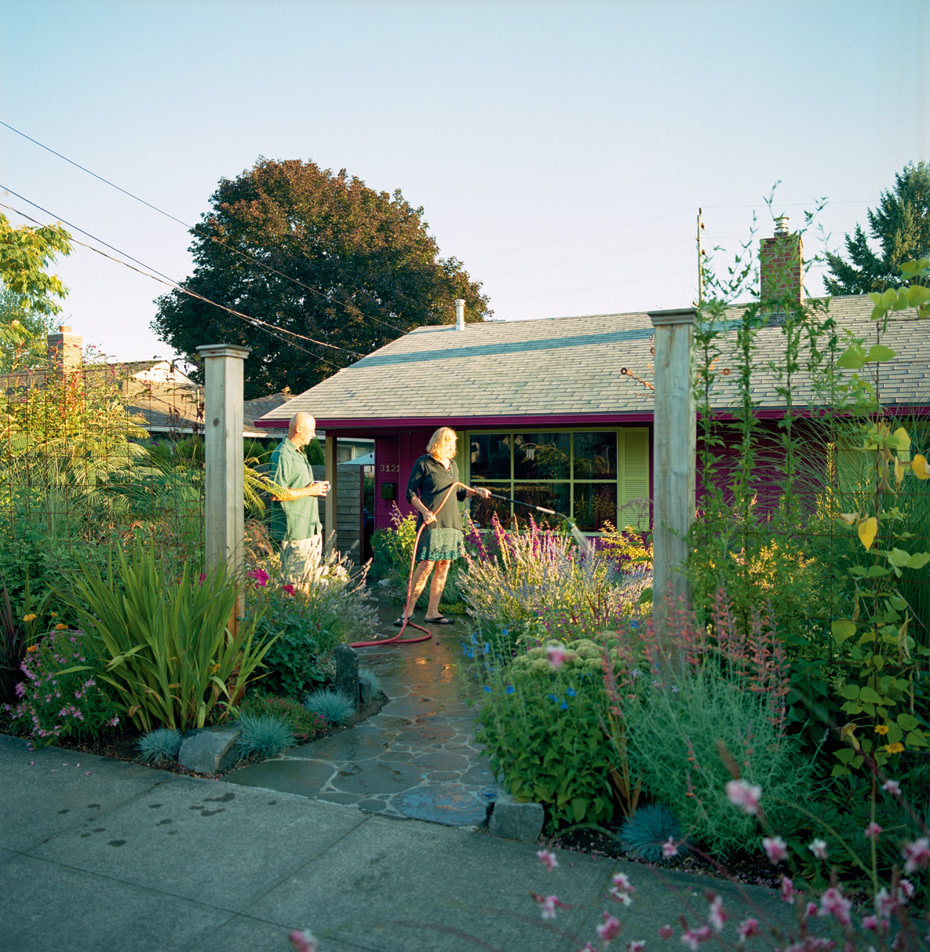 5 To Eat Healthfully 
WEBB AND GRIMMETT have put a fair share of sweat into their steeply sloping front yard, building terraced retaining walls and adding artful touches with materials recycled from their art-glass manufacturing company, Glass Alchemy. But this busy couple has limited time for grocery shopping, let alone growing their own food. So they passed the trowels to Donna Smith and Robyn Streeter of Your Backyard Farmer.
The Deal: Your Backyard Farmer does everything from hauling compost to sowing seeds, watering, weeding, harvesting, and putting the garden to bed for winter. In exchange for a fee of about $1,500 per year, Webb and Grimmett get to keep the harvest.
Net Benefit: Though the couple has relinquished the dirty work of vegetable gardening, they retain complete control over what gets grown, including lots of pepper varieties and red Aztec spinach (an obscure Mexican green). "Instead of being tempted by fast food," Webb says, "I can drive home, step out of my car, and pick an armload of vegetables on my way to the front door."
Neighboring Effects: Excess harvest goes to neighbors, who often return the favor. "One neighbor is getting chickens," Webb says. "So next year, maybe I won't even have to shop for eggs." 
6 To Sustain Tradition
IT TOOK 20 YEARS OF PRODDING from her mother-in-law before Sherrol took up the rarified hobby of growing prize roses, but today the active member of the 122-year-old Portland Rose Society wins awards for favored grandifloras and floribundas like 'Candelabra' and 'Marmalade Skies' (both pictured flanking the front walk).
Floral Philosophy: "Use 'em or lose 'em." Sherrol's favorite thing to do with blooms from her 200 or so bushes is "cutting them and giving them away"—and since she and her husband are both real estate agents, they put cut arrangements in clients' homes, too.
Secret Weapon: Every morning Sherrol walks three blocks to the International Rose Test Garden, where she finds the park's chief horticulturalist, Harry Landers, making his rounds. "I chat with him almost every day," Sherrol says, "and what he does, I go home and do."