Get Dirty
Get Out and Plant Your Veggies!
beans, squash, and cukes – oh my!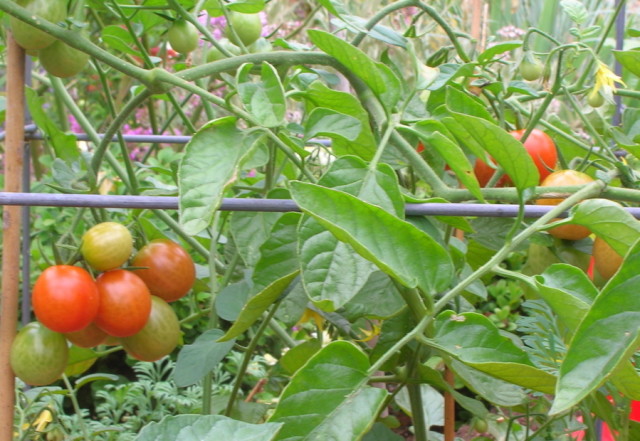 Yup, it's time – or darn near time – to start planting your summer vegetable garden.
Right now, you can direct-sow carrots, beets, celery, radishes, and greens like lettuce and spinach.
Starting this weekend, if your soil is consistently 65F or more, you can also direct-sow beans and maybe squash, pumpkins and cucumbers if you have a nice, warm spot. If your garden's like mine (a little on the cool side), wait a week. There's nothing worse than waiting for little seeds to sprout and then discovering they've rotted.
We're right on the cusp of being able to plant basil, cucumbers and tomato starts. It's been chilly lately but if you have an extra-warm spot near a wall or surrounded by concrete (=reflected heat) or use plastic mulch or tents, you should be fine. I just wait 'cause I hate seeing my plants sit and do nothing at first.
Now's also a good time to set up a Wall-O-Water, Cozy-Kote or plastic mulch for a few days to warm the ground ahead of time for eggplants, peppers, and melons. These plants require soil temperatures to be consistently above 70F to really take off. Get that soil thermometer (about $10-15 at Portland Nursery) and check. (It's good to keep a soil thermometer handy in the veg garden year-round, anyway.) My garden soil's still at 64F (oops, typo – it was 54F) – not quite ready. But we're getting there, folks. If your veg garden receives loads of reflected heat or you have a plastic greenhouse cover or a little hoop-house, your soil temperatures could be nearing 70F and you can soon get started with the more tender stuff.
Sweet corn germinates at soil temperatures over 65F but I would still wait a bit. The super-sweet types need soil to be even warmer. Locals usually plant regular sweet corn around June 1.
So do wait a couple more weeks to plant out starts of peppers, eggplants, and melons, unless you have had your soil-warming plastic tents or mulches up for a while and the soil's above 70F. These are really hot-weather crops and will just sit and sulk if it isn't warm enough.
So there you go – your work's cut out for you. Get planting!