plant of the week
Relax – It's Lavender Time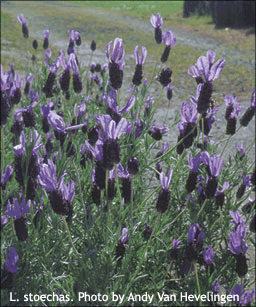 Early July is the height of the lavender flowering season – the perfect time to learn about the many different lavender types.
Lavender is a plant of many virtues. It's a beautiful evergreen herb with a scent that leaves some of us susceptible types weak-kneed. It has interesting culinary uses – not just in jams and jellies but in pastry and savory dishes, as well. (A friend of mine makes a delectable lavender shortbread.) The scent of lavender is said to be relaxing – and actually, has been proven to be so (in part because we associate it with being relaxing – the human mind is a wondrous thing!) As a landscape plant, lavender is tough, drought-tolerant, fast-growing and useful in myriad garden settings, particularly low-water, mediterranean-style plantings.
But there's even more that's interesting about lavender. For one, there are over three hundred species and varieties in cultivation and, within those 300 some plants, there's great variety in flowering time, form, flower and foliar color and even fragrance.
I asked herb expert and grower Andy Van Hevelingen of Van Hevelingen Herb Nursery for a summary of the three main types and their best uses.
1. Spanish lavender (Lavandula stoechas types)
Blooming in May, Spanish lavenders make 3-4 foot free-flowering landscape plants producing pine cone-like flower with two "flags" or "rabbit ears" on top – striking in bouquets and in the garden. Flowers range from pure white to purple, pink and reddish purple and bicolors with blues, whites and various shades of purple. It has a resinous, camphor-y scent.
2. English lavender (Lavandula angustifolia)
Flowering in June and July, English lavenders make perfectly mounded, knee-high shrubs to 8-10 inches high with relatively short flower spikes rising just above that height. Flowers range from pure white to pink, blue, purple and deep purple. Flowers may be dried, enjoyed fresh in bouquets, and used in cooking and oils. These are also the cold-hardiest lavenders – at least one down to -25F without cover. English lavender, with its classic, sweet scent, produces the most desirable oil and is used in higher quality lavender products.
3. Lavandin (Lavandula x intermedia)
Flowering in July, lavandins are hybrids between L. angustifolia and L. latifolia and don't produce seed – instead, plants are propagated by cutting. Colors are limited to pure whites and medium purple shades. These are big, dramatic shrubs, reaching hip or chest height when in flower. Because they are larger, they produce more flowers and oil and are important commercially. A classic lavandin, Grosso, is the source of 70% of the world's lavender oil market, much of which is used in detergents and soaps.
Andy's lavender tips:
Plant lavender in full sun (6-8 hours of sun keeps plants compact and free-flowering)
Provide excellent drainage to improve longevity and survival through extra-wet winters such as the one we just experienced.
Shear or trim lavenders back directly after flowering. For Spanish lavender, cut it back in late June (or now); for English lavender, cut it back in a week or so; and the lavandins can be cut back in about 3 or 4 weeks, as they finish blooming.
Additional thoughts: Hedge shears speed up the job. Go for a slightly rounded yet flattened, pancake-like form. Lavenders rarely respond well to cutting deep into old wood so light annual shearing works better than a radical haircut when the plant's already too far gone.
Visit Andy Van Hevelingen's booth at this weekend's Yamhill Lavender Festival in historic Yamhill running Saturday July 10 from 10 – 9 and Sunday July 11 from 10 – 5. Since it's in the heart of wine country, be ready to tipple – there will be local wine tasting, as well as booths with specialty lavender treats, crafts, and bouquets.
Or check out this list for lavender destinations all over the greater Willamette Valley during the Oregon Lavender Festival. Lavender farms will be open from Hood River to Sauvie Island and the West Hills nearly down to Southern Oregon. During the festival, each farm will offer its own lavender specialties, whether plants, crafts, or bouquets.
Final note: I've been asked about the beautiful, deep purple, compact lavenders flowering around town right now. These are English lavender types – Andy said some of the darkest include the old-fashioned Hidcote, as well as some seven or eight other dark purple cultivars including Royal Velvet, Lodden Blue, Baby Blue and a new (patented), very compact dark purple called Thumbelina Leigh.