horticultural ed
Design Tips from Dan Hinkley
notes from the 2010 PPA conference in Portland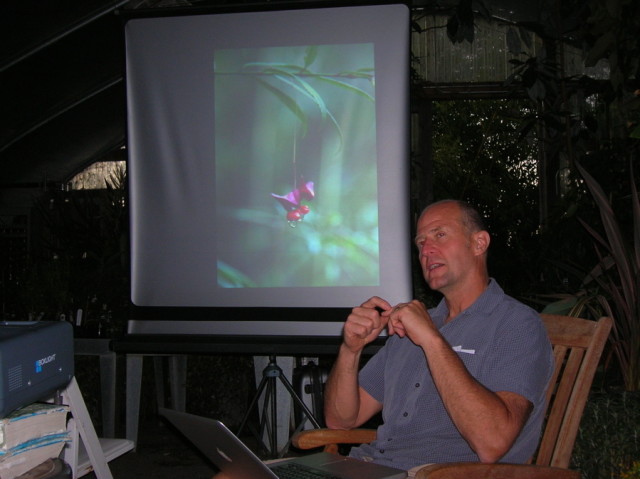 I try to avoid joining groups and engaging in activities where I have to wait in lines, sit in chairs for hours at a time and dutifully clap between endless rounds of announcements.
But late last week, I got a call from the plant-savvy Dan Heims, owner of Terra Nova Nursery, breeder and wholesale producer of new perennial plants (especially famous for Heuchera and Echinacea). He was at the Doubletree Hotel at Lloyd Center where the Perennial Plant Association was holding its annual conference. "You need to get down here," he said. "there are some really cool containers in the lobby that you should see…"
This is not the first time Mr. Heims has egged me into getting my sorry self to attend an official horticulture-related conference – and I must say, I've always been glad I went when all was said and done. So I huffed over to the Doubletree Hotel at Lloyd Center lobby on Thursday, only to learn that Dan Hinkley – superstar plant explorer and lecturer – would be speaking that afternoon. I had no option: I joined the PPA and forked over an additional $75 to hear the afternoon's remaining lectures. All previous plans fell by the wayside.
As well as the containers designed by local nurseries on display in the lobby, there were several other lectures to attend before Dan Hinkley's time at the lectern: I learned about the best performing garden bamboos from wholesaler Boo-Shoots owner Jackie Heinricher (good resources on that website, especially about good clumping bamboos) and about the complexities of fern nomenclature from the irresistible and outspoken Judith Jones of Fancy Fronds. (She's the ultimate fern advocate and her website fern descriptions are enough to make even the most mediterranean-oriented gardener fall in love with ferns.) But I'm a sucker for Dan Hinkley's talks because he always sneaks some crazily beautiful rare plants into his presentations and, well… he's so funny!
His talk was titled "Plant Marriages: Exceptional Combinations Using Foliage Aspects".
He opened his talk by asking: How do you place plants to make them sing?
He showed slides from his old garden at Heronswood: the first, what he called "a vomitous combination" of perennials in a border, with no structure or grace. It was, he said, "like a large whale had washed up on shore and rotted". He showed an image of the same border a year later, when he'd made some improvements. It was okay but, as he pointed out, no great shakes. His third image, taken a few years later, demonstrated what he'd learned in the intervening years: to build balance, height differentials, foliar texture, and repetition (of color or plant form) into his gardens. So how did he do it?
His talk outlined three simple garden design principles he had used to make his borders "sing":
- Punctuation (a bold-leafed plant)
Sometimes adding just one bold-leafed plant like a cardoon (Cynara sp., Gunnera sp., Darmera peltata, Nicotiana sylvestris, or Fatsia can completely shift the look from drab to dazzling. For his audience, he digitally altered the photo of the garden, adding and subtracting various large-leaved plants to show what a difference its presence made. Wow!
- Exclamation (a "statement" plant)
Whether used as a single statement (look at me!, says a dramatic clump of bright red, 5-foot tall Lobelia tupa) or a sustained conversation used throughout the garden to break up the sky (scattered Green Arrow Chamaecyparis nootkatensis or narrow holly (Ilex crenata'Sky Pencil'), exclamation plants need breathing room and will lose their punch if crowded. But are brilliant at creating the sense of height and dimension in a space by drawing the eye upward. Again, he popped plants in and out digitally and the difference was extraordinary.
- Accentuation (repetition of particular plants or plant colors or textures)
This is the hardest principle to enact for those of us who are plant collectors. But it's one of the best – and easiest – ways to tie a garden together by creating a common link and knitting the whole together. I liked his observation that you can actually borrow a color in a neighbor's yard and build on it in your own yard. He also added that repetition doesn't have to come from plants but can be created by placing similarly colored pots throughout a garden, hanging buoys or lanterns, stoneware balls, or other objects that are meaningful to you and the site. The digital appearance and disappearance of objects helped illustrate his point.
If you haven't done it before, remember that the old-fashioned method of simply shifting potted plants in and out of your own garden to see how they look in various spots works perfectly well when designing. It's nice to give yourself a few days to live with something in a particular spot to see if you like it there. Just remember to water it while you're deciding!